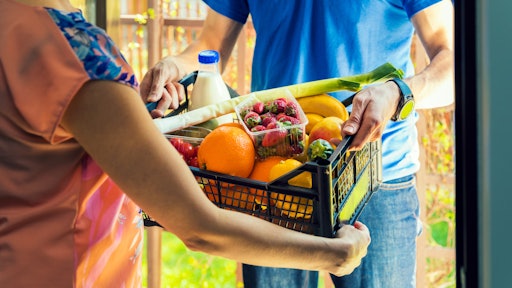 Getty Images
Food waste is a critical topic right now, and the conversation applies to the supply chain as well. Current challenges in getting food supplies where they need to be, heightens the importance of minimizing food waste, and data has new ways to help solve that problem.
Lockdowns early in the pandemic turned consumer behavior on its head, slowing and even closing food processing plants. From there, problems have only grown.
Ongoing labor shortages and logistics bottlenecks excessively affect goods with limited shelf life, while more volatile weather patterns continue to disrupt farming and distribution operations. Geopolitical tensions are spiking cross-border costs, criminals are taking advantage of capacity shortages, consumers are demanding greener supply chains and the Ukraine war has increased commodity prices. These factors combine to raise the specter of a global food shortage.
Recent analytics feed off advancements
Data is central to reducing the growing impact of these risks. But what does "data" mean exactly? Here it means the ability to create, absorb and analyze the right information to make better decisions to reduce costs and waste and improve consumer safety and experience.
Reinventing food supply chains using data is now possible thanks to two recent developments:
1.      The availability of new, more granular, more dynamic and more trusted data sources.
2.       The ability to apply advanced analytics to transform this data into actionable insights.
Most new data sources that create these opportunities relate to the Internet of Things (IoT); the millions of devices that sense and capture the location and conditions of static assets and goods in transit. For example, the ability to measure temperature and temperature excursions in real-time ensures that spoiled products can be taken out of circulation and quickly replaced or fast remedial action taken to avoid the loss of a load.
Predictive analytics drive action
Advanced analytics have given us the ability to create predictive and prescriptive analytics to get ahead of potential problems. Many companies are now combining historical shipment data with predictive-lane risk scores and using machine learning models to arrive at more accurate ETAs, often called risk-adjusted ETAs. These companies are seeing value in fewer on-time/in-full (OTIF) fines, lower costs and better customer service.
Another example of predictive analytics that reduces costs is where a load may or may not need refrigeration, depending on the ambient temperature.
Many companies still use static lane calendars to decide when refrigerated transportation will be used, but as weather patterns become more volatile there is a growing risk that loads are spoiled when the temperature is unseasonably high or low. The solution is a predictive model that forecasts the temperature along the planned route at the date and time of the shipment weeks before the shipment departs, allowing for the correct equipment to be selected and ensuring that loads are not damaged.
The flipside of this is where immediate savings occur when the model indicates that refrigeration is not needed when it otherwise would have been used, reducing transportation costs significantly and lowering emissions
Network discovery and mapping underpins supply chain analytics
Another necessary evolution being driven both by the market and by technology is multi-tier visibility. In the case of product recalls, it is necessary to be able to quickly and with certainty trace the impacted food back through the supply chain to the farm or individual field. This has been a slow, time-consuming and inaccurate process in the past but new regulations have driven the adoption of track-and-trace technology that is changing the dynamic. It is also one of the more promising uses of blockchain technology, increasing trust in the data.
Leading food companies are mapping their multi-tier supply chains pre-emptively so that they can get ahead of product quality issues and other risks. But it has been difficult to discover the identity of Tier 2 suppliers and beyond simply by surveying Tier 1 suppliers. Again, data and modern technology offer a solution to this previously intractable challenge.
The aggregation of billions of supply chain transactions such as shipping records and the application of powerful entity resolution technology builds a multi-tier map of a company's supply chain. Layers of risk data can then be applied to this model to show suppliers or areas of high risk that warrant action or further diligence.
The biggest lift comes from sharing
The final innovation may be the hardest because it requires data sharing. The safety and efficiency of food supply chains will be enhanced dramatically through deeper collaboration during planning and execution. Blockchain technology shows promise in enabling this, while the more accurate data and insights available today increase the value of data sharing.
Technology alone cannot create the necessary level of trust that such collaboration requires, and it may be that a global pandemic or a war is what it takes to show companies and governments the need and opportunity to collaborate more.
Compounded layers of disruption have created unprecedented challenges in the food supply chain, particularly for those tasked with the movement of food and raw materials. But necessity drives innovation, so now is the time for companies to rethink supply chain operations, particularly when technology is reaching a maturity that allows mass adoption.