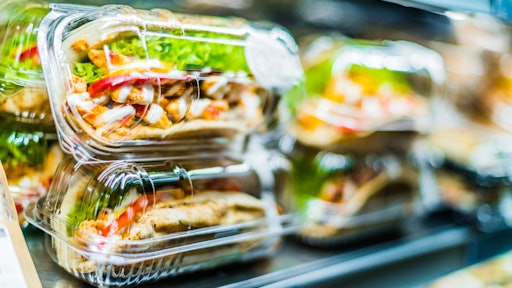 monticellllo
Packaging is an important part of any goods transaction, especially when dealing with food. Packaging protects food during the logistics process, directly impacting the health and safety of the transported food. In the foodservice industry, these products are directly consumed, which adds another level to the importance of food packaging.
In the current climate throughout a prominent pandemic, packaging's ability to protect against tampering as well as outside pathogens or germs rises to the top of concerns, but changing consumer values in the last few years have also made ethical and sustainable packaging another significant trend. Packaging companies are now faced with the task of keeping food exceptionally safe while maintaining sustainable practices and reducing pollution.
"Consumers want ethical and environmental initiatives to be at the forefront of foodservice strategies, with sustainably minded consumers saying that such issues significantly [impact] choice of location," says Mike Hughes, head of research and insight at FMCG Gurus. "In recent years, much attention has been given to the role of packaging within the foodservice channel, with consumers often having negative attitudes to the use of certain materials and also the volume of packaging. As such, there is a major focus on reducing the amount of packaging used and switching to more environmentally friendly materials such as paper.
"Food safety is a massive concern to consumers and something that has been heightened by the COVID-19 crisis," he adds. "Consumers are now more conscious about the country of origin of products, how products have been handled, distributed and stored along the supply chain and the quality of packaging used. As such, consumers want more information than ever, meaning that foodservice outlets should have dedicated forms of media to offer assurance about the safety of products. Moreover, brands should look to eliminate the length of supply chains where possible, use local manufacturers and reaffirm the role that packaging plays from a safety perspective."
Sustainable packaging
Focusing on sustainability alone is arduous, as there are many factors to consider such as food waste and the waste of the packaging itself in addition to regulations requirements.
"The highest and most sustainable use for any type of packaging is to protect the product," says Ashley Elzinga, director of sustainability and outreach at Foodservice Packaging Institute (FPI). "Foodservice packaging can help keep items fresher, longer creating less food waste. Many foodservice items can be recycled or composted where facilities exist. FPI has been hard at work for almost 10 years to get foodservice packaging recovered."
When it comes to compliance, sustainability regulations vary from region to region throughout the United States.
"For example, California passed Proposition 65 and has different requirements on their packaging and labels," says Kevin Williamson, RJW Logistics Group CEO. "Suppliers for the most part understand those requirements, but you should consider the importance of packaging durability through the supply chain. While you can take components out of your packaging to be more sustainable, you need to ensure the product can ride safely through the supply chain, meet the retailers' specifications and be able to hold up on the shelf. It's up to those that fulfill the retail orders like a 3PL to understand how to manage those goods as well."
Hughes says that while legislation can vary on a country-by-country basis, the focus from an industry perspective is whether a proactive or reactive approach is adopted.
"For instance, many brands opting to eliminate the use of plastic has been driven by consumer concern about packaging waste," he continues. "As such, it is crucial that foodservice outlets are seen to be proactive and innovative toward sustainability, constantly looking for ways to help address the planet through supply chain management. Indeed, in recent years, many emerging foodservice outlets have appealed to an audience, especially younger adults, because corporate and social responsibility is at the forefront of strategy. Ultimately, foodservice operators should be looking to raise awareness of environmental issues, as opposed to responding to them."
The COVID-19 effect
The Coronavirus disease (COVID-19) pandemic greatly impacted the packaging industry in foodservice beyond the need to make a show of safety, but also the need to cater to the immediate shift to take-out servicing instead of dine-in.
"Like many things, this year's trends revolved around COVID," says Elzinga. "Seeking safe and sanitary solutions in the face of infectious disease are the exact reason why foodservice packaging was created in the first place–to reduce touchpoints and keep our edible items secure. This was heightened by lockdowns and executive orders where restaurants had to move to take-out only. As we see more customers opt for drive-thru, curbside pick-up or third-party delivery, we will continue to see innovation around 'tamper-evident' or 'tamper-resistant' foodservice packaging.
"We've seen a slowdown of breakfast and daypart sectors due to offices being closed or limited," she says. "No more breakfast stops during commutes or afternoon coffee runs."
Additional, more cut and dry issues also plague the foodservice packaging industry such as the need for quality packaging.
"In the retail space, retailers like Walmart want better packaging with accurate information," says Williamson. "Many retailers spend a lot of time and resources to ensure goods flow through their network. When there is poor packaging, for example with unreadable UPCs or damages, it costs time and resources to resolve a supplier's packaging short comings."
Future of packaging
These trends in the packaging sector for foodservice will continue to shape the industry, even after COVID-19 has ended.
"Innovation will continue to be around safety and sustainability perspectives," says Hughes. "From a safety perspective, foodservice outlets can use safety reassurances along the supply chain to promote quality. Meanwhile, from a sustainability perspective, the focus will be on reducing packaging levels and switching to the most environmentally friendly designs and materials. Crucially, it is vital that these two needs are not seen to compromise on each other."
Williamson adds that the pandemic's impact will remain on not just safety for the future, but also how foodservice providers handle inventory.
"As restaurants try to survive the pandemic, they may look to buy smaller quantities and not be tied to the larger sizes offered by foodservice today," he says.
COVID-19's effect is so vast that it impacts the future of packaging. But, consumer values continue to add to the sector in addition to needs from partners and foodservice providers. New materials, shapes and other trends will make a difference in packaging moving forward.