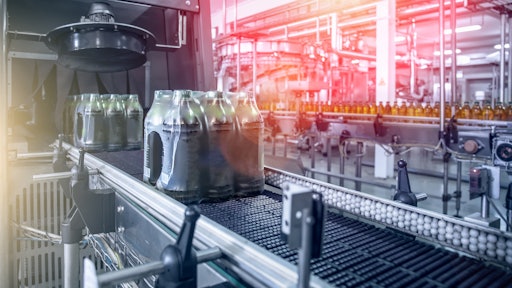 DedMityay
Case packing is an important part of the packaging process in warehousing, allowing numerous products to safely ship all together at one time. It speeds up the loading and unloading process while also offering a safer environment for products, as cases offer greater physical stability. The process is done in various ways, including by hand or through a case packing machine. But, with technology making significant strides throughout the past few years and the Coronavirus disease (COVID-19) pandemic pushing the need for greater physical distancing, automation is one clear trend making its way through the packaging industry.
However, warehouses look to automation in case packing for more than a decline in physical labor; they're also looking for greater efficiency.
"The biggest trend is the push for automation," says Drew Wenrich, global product manager of general-purpose strapping and case equipment at Signode. "As companies are looking for ways to increase output and reduce downtime, automation becomes the clear answer. Signode has invested significant resources into building our automation portfolio to help support this transition to more automated solutions."
A recent expert column on FoodLogistics.com from Brenton Engineering's Ryan Glenn explains that case packing automation machines and systems are a core part of the end-of-line process, automatically constructing as well as packing cases. New machinery needs to seamlessly integrate with the rest of the production line workflow to correctly identity and place products.
"Case packers can pack individual items together as a unit," he says. "Different designs assemble and fill cardboard boxes, seal and label packages and more. These systems vary depending on the type of industry and process line they are part of and can perform custom packing operations such as top-loading and side-loading."
In the cold chain specifically, automation can help reduce work time in an unfavorable environment when having to case pack in cold temperatures and alleviates strain on the human body when dealing with heavy items.
Cost cut downs
Another trend in cold chain case packing is cost, which the efficiency of automation can help drive down. But, material is also a factor when it comes to expenses in the supply chain. It is an important issue throughout most industries, and that is still the case when it comes to case packing. Jason Bennett, regional sales manager at Brenton, a ProMach Product Brand, says that there is a push to decrease secondary packaging cost, opting for alternative materials to do so.
"Some have gone from PET cases to either waxed or standard corrugate and others have improved the bottom line by switching from a more expensive wax coded to standard corrugate when applicable," Bennett says. "We have had one customer improve the bottom line by approximately $3 million per year by doing this very thing."
When it comes to transporting food in the cold chain, temperature can affect these materials. For instance, the adhesive for tape may be affected by the refrigeration's temperature.
"Humidity and cold temperature are major factors in case packing and can negatively affect the adhesion of the tape," Wenrich says. "Our recommendation would be to use acrylic pressure sensitive tape which is ideal for humid and cold temperature conditions."
Bennett explains that anything below 32°F can affect the electronics systems for case packaging, which means technology providers need to consider this when designing robotics and automation systems for cold warehouses. However, humidity is the bigger issue between the two, which affects product handling and case blanks.
More so than automation and cost, sanitization is at the front of the line when it comes to trends in case packaging. Sanitization efforts have grown in popularity throughout the years, but since COVID-19, it is even more vital.
The washdown capabilities of the equipment is paramount, and must limit harbinger points as much as possible, says Bennet.
The need for sanitization becomes heightened once guidelines are involved regarding food in the cold chain.
Wenrich warns of the significant setbacks that can occur by not adhering to the correct guidelines.
"Sanitary guidelines are critical to watch out for when it comes to case packing the food supply chain," Wenrich says. "Additionally, it is important to keep a keen eye on the versatility across multiple packages and that there is sufficient productivity throughput and maximum reliability/uptime with the machines that you are choosing to work with on your line."
The increase in sanitation guidelines and practices will likely remain long after COVID-19, as well as the continued use of automation. Case packing is an integral part of the cold chain, as consumer demands shift throughout the pandemic and beyond.