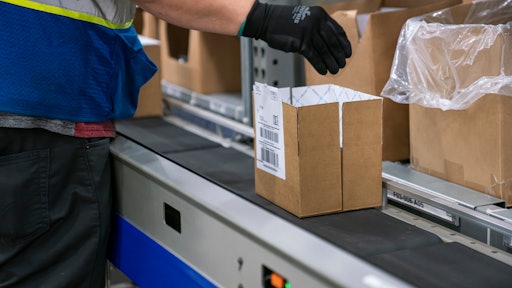 DHL Supply Chain
So much of the supply chain transformed throughout the past few years, driven by consumer demand and changing environments during the Coronavirus disease (COVID-19) pandemic. While the transportation segment deals with a flurry of demand coupled with a driver shortage and the warehousing sector becomes a top of mind rather than an afterthought, packaging also moves up to an important part of supply chain manager's strategies.
Since the growth of e-commerce, many consumers have complained about unnecessary packaging, i.e., large boxes for a tiny product, excess of paper and packing peanuts and more. But, now that consumers gain power over brands and retailers, companies in the supply chain think differently about packaging.
"We've seen packaging become an integral and strategic part of the supply chain, much more than simply a box to protect a product in transit," says Alicemarie Geoffrion, president, packaging, North America, DHL Supply Chain. "I expect the innovation in packaging operations to continue, driving toward greater efficiency and sustainability and a better customer experience."
This shift in attitude regarding packaging means quite a bit of change in the sector. As we look toward the long-term future, many trends will emerge and become prevalent.
Here are some of the top trends likely to be seen in tomorrow's packaging.
Reusable packaging
Sustainability continues to grow as an important value in not just consumers, but also companies throughout the supply chain and beyond. While there are many ways the packaging sector can tackle ecofriendly tactics, one that is likely the future of the packaging industry is reusable packaging. This is already prevalent now in the surge of reusable shopping bags as plastic bags become prohibited in many districts and consumer-owned metal straws grow in popularity due to plastic straw bans.
Geoffrion explains that closed-loop supply chains, where consumers have repeated interactions with a company like a subscription service, will see the most use of reusable packaging. The growth of meal kits and other subscription services will only push this trend further, but will be seen in other areas of the cold supply chain.
"Beyond the subscription use case, I expect we'll see different e-commerce companies sharing the same packaging pool. I see this push for sustainable packaging in the grocery sector, where packaging keeps products fresh and safe to eat," Geoffrion adds. "Customers are also indicating they are more willing to pay for sustainable packaging, which is increasing the need for more biodegradable, recyclable and reusable food packaging. There are several companies who are developing insulation systems and thermal packaging that can be reused and recycled, cutting back on waste and keeping products at a stable temperature all year-round."
In addition to reusable packaging, flexible packaging grows and becomes more environmentally friendly as well.
"The trend we see in flexible packaging is maintaining strength, safety, ease-of-use and convenience while moving toward a mono-material format that is more environmentally friendly (i.e. uses post-consumer recycled (PCR) content or is recyclable)," says Evan Arnold, VP of business development at Glenroy. "Flexible packaging by itself is more environmentally friendly as compared to its rigid plastic counterpart since it is lighter, contains less plastic to begin with and uses less water, fossil fuel and greenhouse gases. But, until now, it was not easily recyclable."
Durability
E-commerce in the grocery segment was not as prevalent prior to the pandemic. But, since COVID-19 changed consumer behavior and shopping habits, e-commerce grocery made leaps and bounds. In addition to that, meal kits and subscription services in the food and beverage space slowly grew over the past few years even before the pandemic.
According to TABS Analytics' 2021 Annual Food and Beverage Consumables Survey, grocery e-commerce almost doubled in the past four years. The report also explained that approximately 35% of consumers made regular food and beverage purchases online in the last year.
Online food and beverage sales create a new trend in packaging as well, the need for more durable but still agile packaging. Companies and shippers will continue to look for innovative ways of keeping food safe and undamaged without hindering the delivery process with extra weight or bulk.
Right-sized packaging
One of the innovative methods of packaging with durability but without waste is right-sized packaging.
As shippers look to optimize routes, warehouses look to increase production and more technological solutions are available, companies tap these technologies to provide right-size packaging. This means packaging that exactly fits the product without extra space and bulk. Some warehouses tap 3D technology for deep scanning purposes to develop right-sized packaging.
"We live in an 'on-demand' world, and packaging is no different," says Geoffrion. "We will continue to see increased interest in the on-demand production of right-sized packaging. The 3D scanning technology that's used to cut a perfectly sized carton for a specific item will become more common and less expensive. This will allow temperature-controlled environments to have packaging that is custom built for their items, since too much empty space can damage the product inside."
The Internet of Things
3D imaging is not the only technology important to packaging. Technology now goes beyond the warehouse and trucks to the packaging itself.
Currently, highly smart sensors that monitor temperature, humidity, freshness and shock all in real time are used in high-value shipments only, explains Geoffrion. But, over time, it is likely that every package will have connectivity to the Internet of Things (IoT) environment through smart labels or tags. Battery-free smart tags will become commonplace and accessible to shipments beyond high-value ones.
"This level of data is particularly exciting in the cold chain, where temperature-sensitive medications and vaccines need to be precisely tracked and food needs to reach its destination without spoiling," Geoffrion adds.
The challenge in the future will be how to integrate all these trends together and cater to shipping partners, clients and consumers. Each company will have a different approach to these trends based on what works for them. The growth in sophistication for packaging while exciting creates a more complex sector, one that directly affects product integrity.
It will be extremely important to keep sustainability in mind in operations and in reducing waste in packaging, not just focusing on recyclable products, reminds Geoffrion. Inventory management and demand planning can reduce waste and should be a top priority.
In order to make recycling a truly helpful aspect of the packaging supply chain, the correct infrastructure needs to be in place, adds Arnold.
"With the trend toward sustainability, especially recyclability, we have to make sure the recycling infrastructure has the capability and bandwidth to keep pace with the flexible packaging developments to ensure that more packaging products are making it through the recycling process, not ending up in landfills," he says. "All industries (packaging, food, pharmaceuticals, personal products, etc.) and legislatures need to band together to invest in our infrastructure and develop a path forward to meet the sustainability goals many companies have set for 2025-2030."
While these are the packaging trends of tomorrow and the long-term future, it is important for companies to invest in these strategies now. Companies are revolutionizing their supply chains at significant speeds; waiting can mean falling behind.