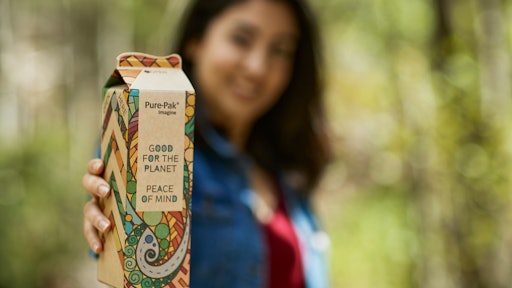 Elopak
Today, packaging in all sectors of business holds a part of the spotlight in sustainability, as consumers' values on climate change rise. The significant footprint that packaging leaves behind in terms of waste and carbon emissions amongst other things causes many to focus on the packaging industry. This changes the game for food packaging itself in addition to the solutions behind the packing process.
In the cold chain food industry, those involved in packaging have more than just sustainability and other consumer trends in mind. The most important thing is keeping food safe and fresh throughout the entire transportation process. Now, food packaging solutions are tasked with reducing contributions to climate change while still protecting the product, in addition to numerous other important trends.
Within packaging solutions, there are few trends that push sustainability forward. Senior product manager for plastic pallets at ORBIS, Alison Zitzke, notices three top trends pushing ecofriendly practices, including automation, waste reduction and hygienics.
Automation helps efficiency, accuracy and bridges the gap in labor many warehouses see. Newer packaging products that are sustainable often work better with automated solutions rather than traditional methods such as wooden pallets, which may see damage when handled with automation.
Waste reduction is also important for many in the industry as well as consumers. Instead of opting for packaging products that can only be used once, companies look to those they can re-use.
"In recent years, even pre-COVID-19, supply chain sustainability has increasingly become a top-of-mind issue for companies," says Zitzke. "This trend has encouraged companies to seriously investigate plastic pallets and other reusable solutions as replacements for their expendable packaging."
Others in the industry look to cut out the use of plastics altogether, opting for packaging made of alternative materials such as forest-based polymers, according to Patrick Verhelst, chief marketing officer at Elopak. Even drums storage products are now sustainable, with growth in fiber drums expected to surpass $1.5 billion mark by 2030, according to a report from Future Market Insights.
Additionally, packaging for food, whether it be case packaging or the individual product packaging, needs to have hygienic solution capabilities to keep food products safe for consumption. This is especially true for reusable packaging tools or solutions that are in contact with numerous food products and then used again.
Sustainability in packaging grew rapidly as a trend even prior to the pandemic, but COVID-19's impact shifted things even more. Especially the need for hygienic solutions.
"While these trends were already emerging, the pandemic has led to the rapid adoption of change across the entire supply chain," Zitzke says. "Companies are being pressured to implement new packaging programs due to consumers' e-commerce buying patterns and the need for hygienic, washable pallets."
COVID-19 and beyond
Before the Coronavirus disease (COVID-19), the industry became aware of just how detrimental waste from packaging and the food industry can be to the planet as well as adding significantly to greenhouse gas emissions.
"Overall, there is a greater appreciation across the value chain of the vital role packaging plays, not just in helping to keep the product safe and fresh, but in actually reducing carbon emissions across the overall supply chain," Verhelst says. "Food waste is a major source of global greenhouse gas (GHG) emissions. If it were a country, it would have the third highest GHG emissions in the world. Packaging, in particular sustainable packaging, helps to manage this major contributor to global warming.
"Beverage cartons are at the forefront of this. In 2019, a study by the Institute for Energy and Environmental Research found that in several sectors, beverage cartons performed as well as, or – in the case of fresh milk – better than reusable glass bottles in terms of their overall environmental impact."
While many thought the pandemic would see companies flock to less ecofriendly solutions of the past, as many governments temporarily rolled back regulations on single-use plastics and other sustainability laws, the opposite showed true.
"COVID-19 has meant we are even more focused on the safety and wellbeing of our staff and customers," Verhelt adds. "We witnessed an increased demand for beverage cartons during the pandemic and were able to rise to this challenge thanks to the agility of our employees and the strong relationships with our partners and suppliers.
"One major impact of the pandemic has been to bring the challenges of the climate crisis into greater focus, as the consequences of humanity's encroachment into nature are now realized more clearly than ever," Verhelt says.
Many companies and organizations throughout the supply chain take this major disruption as an opportunity to rethink their operations, opting to base new strategies in a sustainable mindset.
"The consumer trend toward sustainability is now in the spotlight, pushing companies to rethink their supply chain processes and the packaging materials used to move their products," Zitzke says. "Companies are looking to emerge from this crisis with new, more sustainable operations and a piece of that is the move toward reusable packaging solutions.
"We expect that these trends will continue, with consumer preferences causing companies to seek out ways to reduce their carbon footprint and packaging waste," she says. "We even have customers coming to us and requesting that their internal scrap be re-used in plastic pallets to help meet their own sustainability goals."
As these trends continue to grow, the circular economy will be an integral part of the supply chain as well as the use of more natural and raw materials that are naturally renewable. Verhelt says that these renewable materials will also need to stay in the production loop for as long as possible, which can be done by recycling and reusing.
There are a wide range of organizations to support the growth of a circular economy, such as Closed Loops Partners, which is an investment firm focused specifically on the circular economy. And, Nestlé even invested $30 million into the fund this past September.
Another major company investment in the circular economy is McDonald's recent partnership with TerraCycle's circular packaging service, Loop, to test a new reusable cup model for hot beverages. The initiative pilots at UK locations, urging consumers to cut down on hot beverage packaging waste with the reusable cup.
Suffice to say that ecofriendly and sustainability are important factors in packaging in the food sector today and will only continue to grow. The future looks bright for those in the sustainable packaging sector.