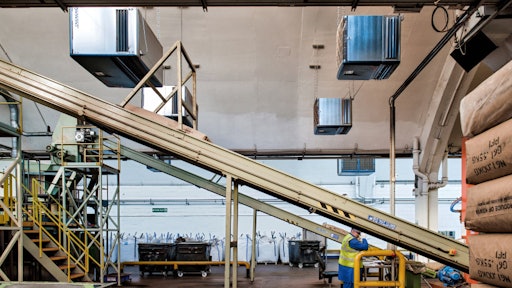 Typhoo Tea, Britain's largest own label tea manufacturer, values the health and safety of its employees highly. As such, the company wanted to improve the working environment at its tea blending facility. Its main aim was to ensure that all its employees in this area could enjoy the benefits of clean air.
The challenge
High dust volumes created by various tea blending products created serious challenges for Typhoo as the working conditions in the area were unfavourable, which negatively affected employee morale. The dust created in the blending area made it difficult for employees to breathe easily and the area was uncomfortably hot. What's more the dust created in the blending area migrated to other parts of the factory. It also increased Typhoo's cleaning costs. Due to the high dust levels, the company had to allocate an extra 15 valuable hours per week to clean the blending area. Typhoo management decided to take immediate action to protect the health of its employees.
Searching for a solution
In an attempt to reduce the amount of dust in its blending plant, Typhoo decided to rent two small air purification units. However, at a cost of $1,400 a week the results were absolutely unsatisfactory, said Typhoo's Danny McGrail. Typhoo needed a better solution, and asked various companies to come and present what they could do to help resolve the issue. Zehnder was one and it responded by sending a team to the Typhoo facility to measure the dust in the air. These measurements showed significant spikes during operational hours – clearly demonstrating that the blending processes were responsible for the high dust levels. After these measurements were presented to Typhoo, the manufacturer sent some of its key decision-makers to visit another Zehnder customer. Typhoo wanted to see Zehnder Clean Air Solutions in action and get a firsthand account of its benefits. After the visit Typhoo was convinced, and 13 air cleaning systems were immediately installed in its blending facility.
The benefits of clean air
Just 48 hours after installation, Typhoo employees could already feel a considerable difference. Dust levels in the tea blending facility were reduced by 81 percent, and due to improved air circulation, the temperature in the area became more comfortable. Typhoo was also eventually able to cut its additional cleaning time down from 15 hours a week to only five hours a week. Not only did this make the tea blending area a much more pleasant place to work, it also saved the company a significant amount of time and money! To Typhoo, clean air is priceless, and with the help of Zehnder Clean Air Solutions, the company can now provide its employees with clean air every day. In fact, Typhoo enjoys the benefits of clean air in its blending plant so much, it's now looking at installing Zehnder Clean Air Solutions in other parts of its factory as well.
Flexible air purification systems by Zehnder Clean Air Solutions
Whether it is dust, spores, pollen, oily emulsions or smoke particles – our innovative filter technology removes coarse and fine particles from the air in your production hall.
It's easy business with Zehnder
No capital costs
Easy plug & play
Flexible full service contract
YOUR BENEFITS with Zehnder Clean Air Solutions
Constantly clean air
Enhanced product quality
Less absenteeism
Higher productivity
Motivated and healthy workforce
Reduced downtime periods of machinery and equipment
Lower cleaning costs
Improved company image
Increased competitiveness
Your direct contact :
Bob Matthews
Country Manager United States
T: +1 908 200 9486