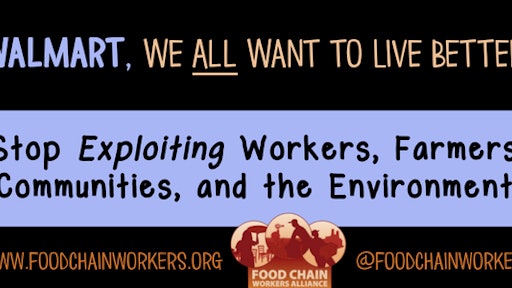 A coalition of organizations called the Food Chain Workers Alliance (FCWA) recently released a report that it claims assesses the "labor conditions of workers in Walmart's food supply chain as well as the company's environmental impact worldwide," according to 24/7 Wall Street, an investor news service. The report also noted:
"So far Walmart's commitments to improving standards appear to be mostly a public relations stunt and haven't translated to improvements in conditions for most of its food supply chain. Walmart now has an opportunity to wield its power to the benefit of workers, farmers, communities, and the environment."
Walmart has adopted a responsible sourcing code of ethics that should help ensure that its suppliers comply with fair labor standards, environmental regulations and targets for purchases from small, family farmers. The FWCA contends, however, that the company's supply chain strategy "leads it to source disproportionately from places with lax local environmental and labor regulations."
To read more, click HERE.