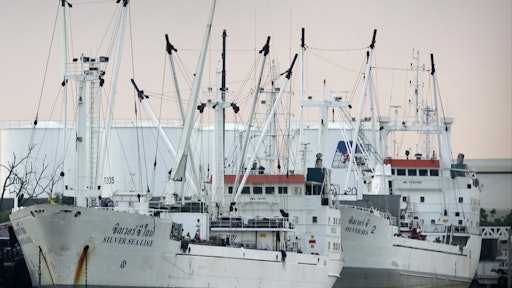 A California woman has sued Costco Wholesale Corp. for selling farmed shrimp from Thailand, where slave labor and human trafficking in the fishing industry are widespread, and allegedly misleading U.S. consumers about it, according to Bloomberg.
The plaintiff cited state laws that bar companies from making false claims about illegal conduct in their supply chain, including human rights violations.
Costco's purchases of Thailand's farmed prawns, which are fed a diet of cheap fish caught at sea with unpaid, forced labor, helps prop up an industry whose practices are ignored by local authorities, according to the complaint filed Wednesday in San Francisco federal court.
"Human suffering cannot be ignored to enhance a company's economic bottom line," plaintiffs' lawyer Niall McCarthy, of Cotchett, Pitre & McCarthy LLP, said in a statement. "California consumers are unknowingly supporting slave labor."
Richard Galanti, a spokesman for Issaquah, Washington-based Costco, said in a statement that the company has been working closely with the Thai government, the Thai fishing industry and other retailers "to address the issues that have surfaced" over the past year.
Costco' stock price closed at $145.17, down 0.3 percent after falling as much as 1.4 percent in Nasdaq trading.
In its annual report examining human trafficking in 188 countries, the U.S. State Department in July cited concerns about slave labor in Thailand's fishing industry and faulted the Thai government's record in fighting exploitation.
http://www.bloomberg.com/news/articles/2015-08-19/costco-sued-over-claims-shrimp-is-harvested-with-slave-labor
Editors Insight: This is not the first lawsuit against a company over labor conditions, and it won't be the last. In the digital age we are living in, companies cannot hide problematic business practices from the public. Costco's stock price declined after the news spread about this lawsuit. The lawsuit might not be the only factor affecting Costco's stock price, but it is a liability the company cannot afford.
An increasingly global food supply chain has created more vulnerabilities than most supply chain service providers realize. Vulnerabilities include unsafe food and animal cruelty in addition to unfair labor practices.
Slave labor associated with food production is no longer a liability exclusively for the companies directly involved – companies that are mostly based in developing countries. All companies that are part of the global food supply chain bear responsibility for labor conditions.
For those companies in the global supply chain that are not aware of this problem, don't expect the public to accept ignorance as an excuse.
There are numerous organizations working to help governments put an end to slave labor and other unfair labor practices. Food companies have plenty of opportunities to do their part to correct these problems.
The Food Empowerment Project, EndSlaveryNow.org, Antislavery.org and Fair Trade USA are just some of the organizations that bring attention to unfair labor practices in the food supply chain. 08-10-15 By Elliot Maras