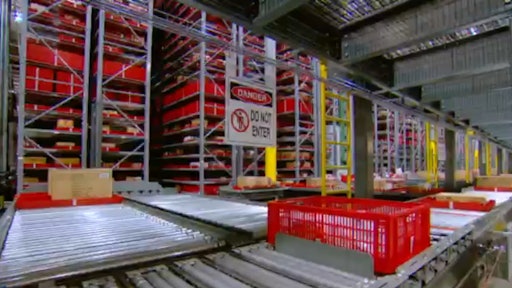 Competition in e-commerce has set off a construction race in the physical world. Walmart and Target Corp. are busy building giant new facilities to fulfill ever-growing numbers of online orders, according to The Wall Street Journal.
This quarter Walmart expects to open four such facilities, each more than 1 million square feet.
The new buildings will use both human labor and automation, such as computer-controlled chutes, to move items. The new centers will be part of a network for filling online orders that includes traditional buildings, plus 11 existing smaller e-commerce centers and 83 Walmart Supercenters that have been designated "ship-from-store" locations.
These companies are trying to retool for a retail world where customers demand delivery or pick-up of goods at places most convenient to them. That's not easy with traditional warehouses, which were built to store pallets of products that are moved by forklifts to and from bays where trucks are loaded and unloaded. An e-commerce facility is fine-tuned for individual items, more like a sorting facility for parcel handling, to be picked and packed for individual shoppers.
Target expects to spend $1 billion this year to improve supply chain and technology infrastructure, a spokeswoman said. That includes opening two e-commerce fulfillment centers, in Pennsylvania and Tennessee. The company already runs seven e-commerce facilities in six states.
The flurry of activity supports the "speed to guest" metric that Target's senior executives are measuring — the amount of time between placing and receiving an order.
Filling online orders from stores, not just big regional warehouses, also helps retailers get goods to customers fast. Target ships goods from 140 stores in the U.S., with an average delivery time of two days. The retailer plans to add at least 350 more stores to this network by fall 2015.
To read more, click HERE.