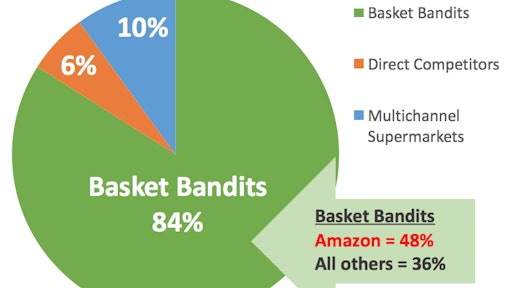 The smartphone has really upset the apple cart. As retailing goes mobile, no product segment is struggling harder to adapt than food.
This year, grocery e-retail sales will hit double digits, according to research sponsored by Unata, an e-commerce platform. Where eight percent of consumers bought groceries online in 2015, that figure is expected to reach 17 percent this year.
To say that the food supply chain is dragging its feet in response to this change would be an understatement. Because of the complexity of overhauling distribution and logistics, the technologically-savvy "pure-play" online retailers, known in some quarters as "basket bandits," are eating the brick and mortar retailers' lunch.
According to the consultancy Brick Meets Click, the pure-play cadre, led by Amazon, has captured 84 percent of online grocery visits and 59 percent of online grocery spending.
Even with AmazonFresh still in a limited rollout, Amazon grabs close to half of all online grocery trips (48 percent), compared to 15 percent for mass and club retailer sites, and 21 percent for non-Amazon sites. The percentage of shoppers that have bought groceries from Amazon in the past 30 days has jumped 25 percent since 2013.
"We also found an Amazon multiplier effect," says Bill Bishop, chief architect of Brick Meets Click. "As online grocery trips per month increase, so does Amazon's share of trips. They are continually working on making buying easier, and supermarkets need to respond."
Wal-Mart recently shot back with a free 30-day trial for its two-day delivery service, supported by a multi-billion-dollar investment in eight e-commerce warehouses and an expanded curbside pickup program and delivery network.
Food Retail At A Crossroads
Decision makers in the food supply chain are aware of the challenge, but lacking Wal-Mart's resources, most are hamstrung by the magnitude of overhauling their fulfillment systems to serve the omnichannel market. Many supermarkets have allocated separate fulfillment operations for e-commerce as opposed to an omnichannel strategy that would allow them to leverage all of their resources against their entire customer base.
Escalating commercial real estate costs don't lift anyone's spirits. But any hope that they signal investment in omnichannel fulfillment, as some media reports have indicated, are tempered by a reality check with Chris Cummings, Colliers International's national director of food advisory team.
"I have not seen the spillover yet into our business on the distribution side," says Cummings. "I think they (food retailers) will try to work these things out within their existing real estate footprint for understanding the model before going out to try to acquire more real estate."
Cummings thinks e-commerce retailers are making their forays with center-of-the-store products that are not temperature controlled. The refrigerated and frozen warehouse operations are far more expensive.
"There is no doubt that we will see it," he says with a look to the future.
"The ability to integrate systems and physical operations can be an obstacle," says Gary Allen, vice president of supply chain excellence at Ryder Supply Chain Solutions. "It is difficult to provide visibility, order allocation and inventory control across the various channels."
"A critical element of a successful omnichannel commerce solution is full visibility of inventory and transactions, distributed order management, and a unified view to the path of purchase," says Allen. "Typical omnichannel solutions combine web-based commerce with brick and mortar storefronts and distribution operations."
More Versatility Needed
One challenge food supply chains face in achieving omnichannel fulfillment is the need to allow customers to change their delivery times.
"If something changes in a customer's schedule and they need to change their delivery time because they won't be home, retailers need to have technology in place to ensure that the driver can be alerted and can easily reschedule and reorder the sequence of delivery drops," says William Salter, CEO and president, Paragon Software Systems Inc., a provider of vehicle routing and scheduling software. "You need to be able to give customers control and the ability to interact with the retailer through the retailer's website or web interface to update the transport planner and let you know when they will or won't be home so that the number of failed deliveries is reduced for the retailers."
"In the direct-to-consumer side of omnichannel fulfillment, all the resources of the supply chain are focused on transparently serving a single shopper who has placed a single order," says Paul Laman, vice president of DMW&H, a material handling systems integrator.
Laman says, "Consumer expectations are for fresher, healthier products and sustainable packaging. In addition to driving e-commerce, these expectations have also fueled exponential growth in the quick-serve, vending and wholesale sectors."
Food storage and distribution requires tight operational tolerances to ensure safe handling that meets government regulations. Proper inventory turnover, cold chain management and traceability are other issues that distributors must focus on.
"Because of this, distribution issues are a high priority for companies in the food and beverage industry," Laman says. "These distributors are striving to continually optimize operational performance and cost within their warehouses and must typically use automation to accomplish this. Material handling solutions bring better efficiencies, cost reductions, and faster fulfillment."
Laman says omnichannel retail supply chains must include the following elements:
Real-time visibility into the entire pool of inventory to reduce safety stock and inventory carrying costs.
Dynamic control over access and allocation of inventory in real-time.
Processing and shipping of individual orders at the lowest cost, either direct-to-consumer or direct-to-store or for click and collect.
Fully automated distribution processes that will increase productivity and fulfillment rates using material handling equipment.
Flexible fulfillment paths to meet demand, regardless of which channel it comes from.
Maximized efficiency in every part of the supply chain to meet customer expectations.
Minimum cost to serve.
Hardly a small order.
When online orders began to grow in popularity, retailers divided their fulfillment centers into either a store fulfillment DC or an e-commerce DC or both, with strict division between the two. Many retailers have recognized the need for a holistic view of inventory across the board to fill orders from any channel. Some are actually putting smaller DCs closer to the end-customers and/or fulfilling orders from the stores.
Developing an omnichannel supply chain strategy requires rethinking the number and location of distribution centers, as well as their layout and design features.
"The complexity of the fulfillment process has definitely increased," says Vikram Balsasubramanian, senior vice president of product strategy at MercuryGate International Inc., a TMS provider for both food retailers and manufacturers.
The scheduled pickup option is the dominant supermarket option. Nevertheless, customers are looking for end-to-end solutions, including last mile delivery, Balsasubramanian says. Parcel and less-than-truckload deliveries are important options.
One advantage of MercuryGate's solution is that parcel delivery is built into its TMS platform. "It allows optimization of parcel," he says. Users can combine parcel delivery, pickup option, LTL and full truckloads in the planning before doing the execution.
Supermarkets are leading the expansion into fresh food e-commerce in comparison to other supply chain nodes, Balsasubramanian says.
For dry goods, however, he says manufacturers and distributors are equally involved in the process. The manufacturers and distributors are offering drop ship fulfillment of orders that are oftentimes placed with retailers.
Manufacturers and distributors are more challenged than retailers in that they are less likely to have as many distribution centers to serve as forward delivery points. Supermarkets are more likely to have stores to serve this function.
Automation Needed
"There are still very few companies willing to invest in 'all-in' automation, choosing instead to address 'islands' within their operation which may justify the spend," says Bryan Duncan, director of solutions sales at Wynright Corporation, a subsidiary of Daifuku North America. "If a company has wild swings in business, either due to seasonality or holiday business, it becomes very difficult to deploy 'high automation' for those short periods of time because of the financial impact."
"Even some companies who have invested heavily have done so on almost a trial basis to see if this approach will actually improve their bottom line or their overall operations," Duncan says. "Many have returned to a more conventional fulfillment approach. Forecasting growth in terms of dollars and SKUs is very tricky at this point in the young life of omnichannel fulfillment."
E-commerce orders require different processes than store orders. Products are picked from warehouse shelves at the direction of workers who use automated picking technologies like pick-to-light and pick-to-voice. Pick-to-voice and pick-to-light technology allows workers to pick items for an order at fast rates with accuracy using both hands.
All About Technology
"It is important for them to use some type of storage shelving or carton flow solution that facilitates FIFO (first in, first out)," says Brian Neuwirth, vice president sales and marketing at UNEX Manufacturing Inc., a provider of picking solutions. "With FIFO, food and beverage companies are sure that the items that are being picked to fulfill an order are the inventory that has been there the longest, so that the items' expiration dates are still good. Omnichannel fulfillment success is basically all in the technology, which has to be implemented properly."
Neuwirth is one of many observers who see omnichannel driving increased use of RFID technology in the food supply chain. "With the use of RFID, retailers can know where an item is located and in stock," he says. "As omnichannel retailing requires a holistic view of inventory, using RFID tags to keep track of inventory is key. RFID enables frequent inventory counting, which enables inventory accuracy. With omnichannel, retailers need to have an exceptional sense of inventory. In order picking, pickers can scan RFID tags, which could trigger an ERP system to reorder that item for inventory."
"Many food companies are challenged by this change," says Tom Steininger, market development director at Dematic North America. "Orders that once were shipped in pallet quantity are quickly changing to layers and case level orders, and in some companies, moving into eaches."
"Small order quantities can create issues that drive up transportation costs as well," Steininger adds. "Cubing of trailers by means of order consolidation and smart planning is a very attractive benefit of automation and software."
"It's clearly being viewed as something that needs to be supported in order to remain competitive," says Chris Bryson, founder and CEO of Unata, a provider of digital solutions for grocery retailers. "The major challenges are getting old systems to work with new systems." Legacy systems for inventory and pricing were originally not designed to support e-commerce. "Getting those systems to talk to your e-commerce platform does require work."
Eyes On AmazonFresh
A big uncertainty is when Amazon will launch Amazon Fresh nationally, Bryson says. The food retail industry has a limited amount of time to invest in omnichannel infrastructure.
Besides Amazon, Bryson says Kroger and Wal-Mart are even bigger threats to most supermarkets, based on their national footprints and the investments they have made in omnichannel fulfillment. "They're both national players and they seem to be fully committed to going national," he says.
"With direct-to-consumer orders, there are typically large fluctuations in demand," says Dan Grimm, vice president of solutions strategy at JDA Software, a supply chain software provider. There are also shorter order fulfillment cycles. "In some cases, they may only have a few hours to fulfill that order," he says. To address this, companies are introducing more automation. "Picking an individual order for a customer has a lot more labor associated with it," says Grimm.
DC Footprints To Shift
"You're going to have to be closer to your customer the same way that Amazon is," he says. "Within those facilities I may have to re-evaluate what I have for warehousing and transportation systems. My transportation system may not have been geared for partial shipments or courier. My warehouse might have been designed around midsize orders instead of each picking. In many cases, those systems can't adapt, based on how old they are and how monolithic they are."
The shorter fulfillment cycles have raised interest in intelligent planning, Grimm says. "If I can do my forecasting, my replenishment, my order management, and my TMS and WMS together, now what I can do is really share information and share capabilities. Now I can come up with better plans that can actually be executed on, and I can execute better because I have better visibility of what's coming down from a planning perspective."
The growth of single orders and shorter fulfillment cycles brings the need for more visibility throughout the entire supply chain, including distributors, manufacturers and farms.
"Being able to have one view of your inventory across all your selling channels, knowing what you have in your warehouse, what you have in transit, the inventory across your entire network is very important," says Todd Craig, chief marketing officer at LogFire, a cloud-based WMS system.
"I have to be able to understand my inventory position down to the individual unit, down to the rack, down to the store shelf, in a back room, or in a warehouse," Craig says. "It's easy to take an order. The hard part is fulfilling it and making sure the customer experience is top notch."
Cloud technology allows faster implementation than a more traditional on-premise system, says Craig. In addition, upgrades are faster and easier. "The cloud provides that network effect where you get real-time visibility," he says.
Having multiple servers and different versions of software has made it difficult for some companies to integrate with partners' systems, which has made it difficult to deliver on their strategies, says Diego Pantoja-Navajas, CEO, founder and chairman of LogFire.
Who Is The Omnichannel Customer?
While many companies feel pressured by e-commerce, the ability to interact with customers through multiple channels promises benefits, says Kevin Reader, director of business development and marketing at KNAPP Logistics Automation, Inc. "There are lots of business reasons on the demand side for omnichannel," he says. "An omnichannel customer is worth more than a single channel customer."
The food industry has invested less than other sectors in understanding the consumer through e-commerce interactions, Reader notes. "The scale of the investment is quite large," he says. "Nobody has taken the gloves off and is making the hard commitments. But there will be, because the consumer side is going to drive those decisions."
One of the biggest challenges e-commerce poses is order unpredictability compared to traditional retail, Reader says.
The percentage cost of delivery also rises as the size of the order falls, Reader notes. Automation, from order management through delivery, will be needed to manage these costs. "As the order line count drops, there is a fair amount of investment unless the volumes are very high," he says.
He thinks it is possible there will be RFID tags on individual food packages. "There are a lot of advantages to RFID; reduced handling costs, higher pick accuracy, shorter times for order fulfillment, creating customized loads; you could go on and on about the potential benefits," he says. "This all comes together to perform lower cost, higher performance; the costs are going to get to a point where it's a reality."
"A lot of that testing is focused on the best way to get close to the customer logistically," Reader says. Ultimately, companies will adopt more automated solutions.
E-Commerce Delivery Options
The expansion of e-commerce has increased the volume of food orders through the TMS, which in turn is utilizing more carriers to fulfill orders for shippers, says UNEX Manufacturing's Neuwirth. "Parcel shipments are growing in numbers because of this also," he says. "Some retailers are using Uber-like companies to fulfill orders."
Schneider, a transportation and logistics provider, recently acquired two companies to assist with last mile delivery for e-commerce orders, Watkins & Shepard and Lodeso. These acquisitions complement its Final Mile service, which provides customized home, commercial and retail delivery with white-glove service.
"People want things quicker and quicker, and since price can be shopped on the Internet very quickly, speed of delivery is one thing everyone will push on," says Robert Elkins, senior vice president and general manager for dedicated special and supply chain management at Schneider National Inc. "What we are hearing is the goal needs to be seven days or less and will require SKUs being positioned in strategic locations throughout the country."
"The delivery of grocery prepared meals is definitely a growing space," says Khaled Naim, co-founder and CEO of Onfleet, a cloud-based, subscription-based transportation management software focused on food. The software provides route optimization, dispatching and real-time tracking.
"Demand planning is critical for executing deliveries," Naim says, "so that the drivers are available when the orders have to be delivered. Companies are building demand prediction algorithms so that they staff appropriately."
Some restaurant chains are struggling with integrating their legacy POS systems with online order fulfillment, he says. Companies that have closed POS platforms have issues integrating with application programming interfaces (APIs).
Home Delivery Challenges
As retailers and product manufacturers add delivery services, they are opting for different models. Outsourcing to 3PLs, ride sharing services and couriers are all being used, but Naim says no single model has dominated the landscape. He sees autonomous vehicles playing a role in the next couple of years.
One hurdle companies have to address is making sure the drivers are equipped with smartphones that can run the software, Naim says.
What About B2B?
Omnichannel fulfillment also supports B2B orders. While the food industry already has established protocols for B2B fulfillment, companies will need to reconsider their B2B systems as technology offers new efficiencies.
"The food industry is in some ways ahead of the curve in B2B commerce because they understand the need," says Glen Coates, CEO and founder of Handshake, a cloud-based B2B commerce platform. The challenge is coming into the post-smartphone era.
"The food sector is one of the ones where we are most likely to encounter some sort of legacy solution when we start working with a new customer," Coates says. "The reason is the food industry is shipping in such high volume, it's such a quick turning industry in terms of turnover at the shelf level. It has been clear to them for some time that the benefits of customizing how their supply chain works, through technology, are real."
"The cloud and mobile are really enabling manufacturers, distributors and food companies in the supply chain to really catch up to modern times in a way that wasn't really that easy up until ERP moved a bit more quickly into the cloud," Coates adds. "A lot of those early investments are now starting to hurt because either there's a cost problem or some kind of user experience problem."
Technology to allow a cloud-based system partner with an on-premise system has evolved. Handshake partners with an integrator called Boomi, a division of Dell. Mulesoft and Informatica are others.
Pure Play E-Commerce Merchants Fine Tune Outbound Deliveries
The "pure play" food e-commerce players have fine tuned the packaging and delivery aspect of online order fulfillment.
The pure play merchants tap different delivery models, including outsourcing to ride-sharing services.
Door To Door Organics, one of the larger "pure play" subscription-based food e-commerce merchants, manages its own 75-vehicle fleet of all-wheel drive, Chevy cargo vans. Aaron Peele, the company's outbound logistics manager, says minimizing the number of steps between packing and delivery has proven critical to efficiency, product quality and customer satisfaction.
The Midwestern company assembles its packages manually in its DCs, says Peele. The company uses cardboard boxes, gel packs and crinkle paper for refrigerated items and an insulated sleeve with dry ice for frozen products. Once the packagers are assembled, loaders place them in delivery vans.
Telogis' route optimization algorithm has allowed the company to identify critical metrics like deliveries per route.
The algorithm has delivered a 5 to 10 percent decrease in miles per order. There has also been a noticeable reduction in the amount of manual intervention. "It's become a much more data-driven, informed route optimization versus playing 'connect the dots,'" Peele says.
Because a portion of customer orders change every week, the company uses a blend of static and dynamic routing. "We want to keep things the same as much as possible, yet be totally different if needed."
"It's taken a lot of hands on work from people who are experts at it," he says.
The all-wheel drive has been a worthwhile investment given the amount of residential streets the vans travel in the winter.
Veestro, another pure-play food delivery service, specializes in fresh-made, frozen meals that get shipped in insulated containers through FedEx. The shipping fee is based on the size of the order. Veestro has both a la carte offerings and subscription-based meals. Deliveries take two to seven days, depending on when orders are placed.
Most Veestro customers rely on the service for the convenience of not having to ship. The average order is $220, says Mark Fachler, Veestro founder and CEO.
The company ships Monday through Wednesday so everything arrives the same week.
The company manually packs the food in trays using Styrofoam but is switching to denim, which Fachler says is more efficient than Styrofoam.
Close to 85 percent of Veestro's product is produce since the company specializes in plant-based meals. Most of the providers are southern California farms.
How Rastelli Foods Geared Up for E-Commerce
Rastelli Foods Group, an independent specialty food retailer, set a goal in the last few years of achieving enough business volume to support a sustainable e-commerce business. As a part of this initiative, the company invested in inventory management and order fulfillment systems that support retail, foodservice and e-commerce.
The company now commands a nationwide e-commerce presence, which is the fastest growing sales channel. Rastelli's e-commerce grew from 4 percent of the company's total business in 2014 to 15 percent in 2015.
"It is initially costly to ship frozen products in coolers with dry ice across the country, so we had to grow our business and significantly increase our orders and shipments to achieve critical volume freight and fulfillment material discounts," says Ray Rastelli III, company vice president.
Putting the logistics in place to execute e-commerce delivery and shipping while maintaining quality and managing cost was the biggest logistics challenge, he says. "We are fortunate to have a global consolidation and shipping arm as part of our portfolio," he says. "It was a matter of refining the process and changing the model from B2B to B2C in the case of e-commerce."
Rastelli handles its own deliveries up to a 15-mile radius of its own store locations, and relies on FedEx and UPS for the majority of deliveries.
The retail, foodservice and e-commerce inventory is all housed in the same database, separated by warehouse codes. Some products are specific to certain channels, but most products fall into at least two of the three.
The e-commerce orders are managed with a custom-built system and a new e-commerce platform from Roc Commerce.
Rastelli's customer service team uses FedEx and UPS tracking information to track orders. The team uses the same information to update customers on orders.
Omnichannel Toolkit at a Glance
Material-handling systems are being embraced as a means of getting products into the hands of the consumer more quickly, according to Paul Laman, vice president of DMW&H, a material handling systems integrator.
Laman says the average omnichannel DC is greater than 250,000 square feet with clear ceiling heights of 36 to 40 feet to accommodate multiple mezzanine levels for processing and shipping individual orders.
Typically, these DCs are built in areas where they can reach the most consumers and stores quickly and cost-effectively, such as major metropolitan areas.
Typical equipment used in omnichannel fulfillment includes:
Inventory management system that spans the entire supply chain for achieving real-time visibility.
Distributed order management system to decide cost-effectively whether to drop orders into a DC, e-commerce fulfillment center, combination DC, or store to meet customer service levels.
Warehouse Management System.
Warehouse Control System to direct the flow of materials within the warehouse and communicate with all the material handling equipment.
Conveyors for moving products around the warehouse to appropriate locations.
Sortation units that deliver items to shipping locations.
Picking/packing systems for directing workers what to pick, how many, where to pick or pack, etc. Some DCs are starting to use robotic picking technology, too.
Automatic Storage and Retrieval Systems (AS/RS).
Miscellaneous: Robotics, goods-to-person, transportation management systems, RFID, equipment to apply labels to cartons, etc.
Associated Food Stores Member Taps E-Commerce Platform
Swensen's Markets, a grocery chain serving Twin Falls, Idaho, has teamed with Rosie, an online grocery shopping platform for mobile and web, to launch its e-commerce service called FOOD2U. Rosie is among a growing number of technology companies that assist food retailers and wholesalers with e-commerce fulfillment services.
Swensen's is a member of Associated Food Stores (AFS), a cooperatively owned wholesale distributor serving nearly 500 independent supermarkets in eight states, which selected Rosie in 2014 as its recommended e-commerce partner.
Rosie enables consumers to shop online from local stores for same-day delivery or in-store pickup. Rosie partners with leading independent retailers and their wholesalers to provide e-commerce, delivery, omnichannel marketing and data services. Wholesale customers include Associated Wholesale Grocers, Associated Food Stores, CERTCO, Olean Wholesale Grocers and Associated Grocers of New England. Retail customers include Niemann Foods Inc., Broulim's Fresh Foods, Clark's Market, and Buehler's Fresh Foods. Visit rosieapp.com for information.