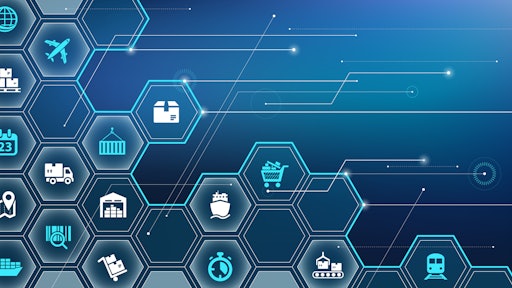 j-Mel
While transportation and warehousing were one of 14 industries reporting growth last month, food services disclosed decreased performance. The industry's operations have seen turmoil with constant labor shortages, skyrocketing wages, raw material price increases and transportation delays.
Riddled with issues and as an industry with the highest backlog of orders in February, food services is looking for ways to streamline its supply chain, automate processes and increase visibility.
Artificial intelligence (AI) has been making its mark across the industry, and its strides in food supply chains can't be overlooked. Globally, the AI software market expects to reach around $126 billion by 2025, and in the food industry, there is a lot of opportunity with this technology.
As a result of its potential to solve problems like high container storage costs, asset planning, route optimization and visibility, more companies are opting for AI-driven solutions for more efficient results.
Challenges delivering perishable goods across the supply chain
In 2021, shippers scrambled to increase their delivery offerings and solutions due to a 24.3% year-over-year increase in the parcel and last-mile segment from e-commerce and home delivery growth. Nevertheless, traffic delays can cause massive build-ups across the supply chain, while heavy seas can lead precious goods to fall overboard or get damaged on the move.
Shipments can also get delayed with unforeseen circumstances, like the Suez Canal closure last year that held up an estimated $400 million an hour in trade due to a stranded mega-container vessel that blocked the throughway. It's only evident that sell-by dates then put increased pressure on food logistics to optimize their journey time, and businesses must be up-to-date and prepared to re-route with agility.
Logistics providers are constantly juggling their asset capabilities alongside meeting timely demands. In the food industry, specific storage temperatures vary depending on the contents. For example, reefer vessels are making a comeback post-pandemic as they lend themselves to refrigerated goods, with the cold chain segment hitting one million TEU (twenty-foot equivalent unit) for a second-year running. The variations in storage requirements add further complexity when improving the efficiency of container usage vs. ship type.
According to IBM, 84% of chief information security officers stated that lack of visibility across their supply chain is their biggest obstacle. Today, vast amounts of information pass between stakeholders across the supply chain. And when this is in its raw form, sent through spreadsheets in email, partners face two problems. The data can be challenging to comprehend, and due to complexities and real-time changes, it's likely outdated as soon as the information leaves the sender's outbox.
AI for more efficient data analytics
Analyzing external data like traffic, road conditions and weather informs suppliers about possible concerns and enables them to optimize route planning to avoid gridlock and poor weather. While it can be timely and complex to review large sums of data manually, AI has the power to analyze multiple data sources and create optimal scenarios. Feeding the system with live weather streams alongside destinations and delivery slots means logistics providers can find the best route immediately to avoid common bottlenecks at sea, ports, in the air and on the roads.
But streamlining your logistics planning is about more than finding the best routes. Truckers, shipping companies and warehouses are on a never ending quest to save costs and advance capacity utilization.
Let's say that a supermarket orders 30 pallets of perishable goods. Reefer trucks can have ducts running through them that cut down on the height. While a standard truck would be full, this order requires two reefers with one half-full. By reviewing patterns within historical and real-time data, logistics providers can predict forthcoming volumes alongside capacity available to forecast asset positioning, provide reliable schedules and ensure they provide an appropriately sized van.
The benefit in the food industry is that their refrigerated containers already contain power connections and are easier to connect to AI. Syncing the system that controls and monitors temperature conditions to AI that reads container space and transport capabilities will enhance the efficiency of your supply chain. For example, the trucking company with a half-full reefer booked can automatically search its trucks available and reposition a smaller asset to optimize its fleet.
Visibility across the supply chain is crucial
The ability to optimize routes and redirect deliveries in real-time is one thing. But if stakeholders further down the supply chain are unaware of the changes, they will not know when or where to expect the items. For example, a blockage in Long Beach Port could raise the concern of extended idling. In this instance, AI-driven platforms that optimize routes and notify stakeholders means port workers can automatically stay informed of ships that reroute to Florida and prepare for their arrival.
AI reduces inaccurate data passed between managers as it presents updates in real-time. Having one place for each stakeholder to log in means one version of the truth, let alone its enhanced user experience through a robust, comprehensive dashboard. Tracing and sharing information becomes much more effortless, and employees can be automatically notified of updates and enter the system directly to monitor changes.
Visibility improves proactive and reactive behavior towards fluctuating demands. If we go back to our reefer truck example, clarity of historical data and previous last-minute changes can support better planning for both parties. Retailers can forecast their future demand and increase the order to fill the average truck size, or truckers can be notified and ensure to schedule their special-sized truck in advance. Integrated data platforms better enable stakeholders to react and meet fluctuations in real-time.
AI can boost data analysis, provide end-to-end visibility and help streamline processes across the supply chain by processing vast amounts of information from different sources. With more visibility into food sell-by-dates, temperature requirements, vehicle capacity, port congestion and ship location in real-time, shippers and manufacturers will have more insights to enhance decision-making and reduce disruptions. And strategic asset planning and optimized routes with AI will support the food industry when meeting ever-increasing orders.