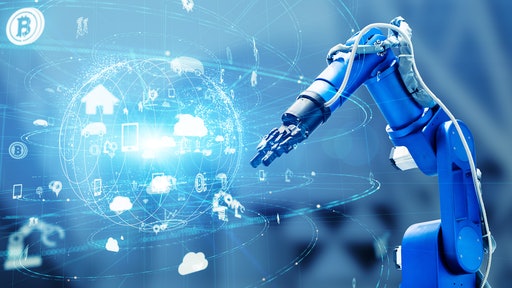 Getty Images
Artificial intelligence (AI) that more closely connects the shippers with the logistics service providers and carriers themselves will be most helpful in avoiding future supply chain crises. In 2022 and beyond, companies with ability to leverage AI recommendations to anticipate both customer needs as well as potential supply chain challenges will better be able to address delivery issues. These types of real-time computerized recommendations on which humans then can act will continue to grow in importance as spot deals continue to grow relative to traditional commitment to long term contracts in logistics.
Research is predicting as much as 40% of current demand that businesses serve is up for grabs in these tumultuous times. In this highly competitive environment, the businesses that can lock in their transportation and logistics partners fastest will have an advantage. Similarly, the providers that can offer the fastest, smoothest and most seamless experience stand to win the most spot deals. Companies that leverage AI to provide a personalized, consistent digital experience can capitalize on the volatility of these pandemic-driven markets.
AI's role in mitigating future crises
The pandemic and supply chain backlogs have created a crunch that likely will continue to have ripple effects on the supply chain and economy for months, if not years. The question now becomes, how can we prevent history from repeating itself, and what can organizations do now to mitigate the effects on their business?
Companies that leverage technology to anticipate customer needs as well as potential supply chain challenges will be better able to address delivery issues. AI will play a pivotal role in helping companies provide stability through volatile market conditions and provide a smooth and seamless customer experience.
In the coming year and months ahead, the companies that can recognize the benefits and realize the advantages of using AI in providing a good digital buying experience will pull ahead, while those that fail to digitize their processes will fall behind.
Using AI to determine the best transportation and logistics routes
With so much demand up for grabs, businesses that lock in their transportation and logistics partners the fastest will have an advantage over those that need to stop and scratch their heads before they can take action.
Data analytics and AI can be a powerful tool for determining viable routes as industries navigate supply chain complexities. For example, once a cargo ship carrying goods arrives at a port in the United States, there are multiple options for transporting each business' goods to their final destinations – usually via trains, trucks or airplanes. Businesses that provide an automated, intelligent interface as part of their supply chain and logistics coordination can evaluate these options more easily and make a determination that best aligns with company goals.
Built-in analytics and AI not only can help them assess this, but also makes recommendations based on evolving data patterns, enabling customers to make transport decisions at an accelerated pace. All these advantages can help companies create a more consistent transportation service and frictionless experience for customers during times of volatility.
How AI impacts personalization and the customer experience
As digital selling continues to grow, business leaders need to evaluate the experience they're providing to customers to ensure that that customer buying experience attracts new business instead of deterring it. One bad online experience can scare off a customer for good. However, exceeding customer expectations in the midst of price volatility gives companies an edge over their competition.
Technology, including AI, can enhance and accelerate sales processes and improve buyers' digital experiences by providing personalized recommendations on service purchases as well as price offers. For example, AI can help predict how demand will respond to price changes in uncertain times, helping manufacturers ensure that their price moves do not leave any unsatisfied demand in the markets. AI also can help forecast more accurate prices during times of inflation and adjust price offers based on latest market conditions.
Buyers aren't necessarily always looking for the lowest price – what matters most to a buyer is feeling that a price offer is fair based on market conditions and availability. The companies that recognize the advantage and value that AI and data-driven insights bring will be able to deliver certainty during otherwise uncertain times for customers. They'll also be better suited to address delivery issues and ensure a more consistently positive customer experience.
The power of engaging customers in real-time
Even before the pandemic, customers across all industries have been demanding a fast, personalized buying experience. Now, every player along the supply chain is looking for ways to attract the 40% of customers up for grabs and capture market share from the logistics companies and intermediaries that aren't fast and accurate enough.
Current supply chain constraints are making it clear that those who can offer viable logistics services will win out – forcing logistics companies to shift from offering multi-year long-term contracts to spot deals. AI can provide real-time data and recommendations as a seller is engaging with a buyer so that they can deliver a quote and book a service the moment the buyer needs it.
By utilizing AI, sellers can engage customers in real-time, giving sellers an opportunity to secure more spot deals at a faster pace. In addition, shippers have direct access to book their own freight now and go back to their core business. It's critical for intermediaries to provide a fast and accurate service to address the risk of having shippers go directly to carriers who oftentimes can put together their own direct offer. To adapt to supply chain constraints and retain their market position, shipping and logistics businesses will need to rely on technology that enables an easier shopping experience and faster booking.
Conclusion
As the supply chain crisis continues to evolve, one thing is certain: transport and logistics companies will become increasingly reliant on AI and automation to create as much consistency and predictability for customers as possible. Using data analytics and AI will help them deliver faster pricing quotes for customers and book transport more quickly, ultimately driving more business during these tumultuous times. Companies that leverage AI to provide a personalized, consistent digital experience can capitalize on the volatility of these pandemic-driven markets and be well-positioned to weather the storm.