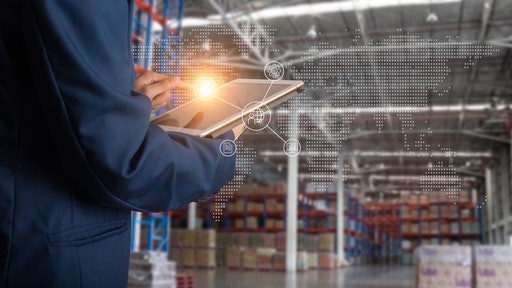 Getty Images
Pandemic-induced challenges, including supply chain disruptions, changing consumer behavior and labor and capacity constraints continue to wreak havoc on the food industry. From broadline distributors delivering to restaurants and institutions (e.g., hospitals, care homes, schools) to grocery wholesalers, B2C home delivery companies and retail snack and beverage companies, food distributors have been forced to adapt their business and delivery systems to a more dynamic model, prioritizing delivery flexibility and transparency to tackle final-mile challenges.
The pandemic-driven challenges and consequent supply chain disruptions have created a catalyst moment for the industry to drive logistics innovation and spur digital transformation. As food and beverage companies re-evaluate their traditional fixed route and fixed day distribution models, many are shifting to more dynamic logistics systems that leverage machine learning (ML) and artificial intelligence (AI), such as robotic process automation (RPA).
With ML/AI-based technology, food distributors can keep pace with dramatic shifts in supply and demand by leveraging rich supply chain data to make dynamic routing decisions and develop better route plans. Adoption of AI-driven logistics solutions helps companies optimize scheduling and delivery, improve visibility to enhance the customer experience and strengthen performance to drive bottom-line results.
Optimizing scheduling and delivery
To create a more responsive, efficient and cost-effective scheduling and delivery process, today's top food distributors are eschewing paper-based manual route planning and scheduling practices with appointment-based reservations in favor of dynamic route optimization. Sophisticated routing solutions use advanced algorithms, AI and ML to transform both strategic and real-time dynamic daily planning, helping distributors effectively manage capacity issues and greater consumer demand by systematically understanding the nuances of drivers, customers and markets.
For example, distributors can take advantage of same-day optimization, combining dynamic delivery appointment scheduling with the real-time, GPS-based status of vehicles in the field. This AI-driven process enables companies to accept new orders during the day and automatically dispatch them for delivery that same day to increase delivery productivity, reduce costs and enhance the customer experience.
With today's driver shortage showing no signs of abating, many distribution organizations are limited to their existing resources to meet delivery requirements. Route planning and scheduling systems that incorporate AI and ML enable businesses to take a closer look at their assets and easily adjust deliveries with the trucks already in their possession, increasing operational efficiency and minimizing labor and transportation costs.
In addition to route optimization, forward-thinking distributors are leveraging RPA to introduce further distribution efficiencies into the process. RPA uses "bots" that can automate processes, manipulate data, invoke optimization technologies, and interact with other systems. The technology automates complex planning tasks, enabling distributors to manage more complicated and dynamic delivery scenarios—essentially modeling the steps the best planners would take to produce superior results for all planners.
Visibility and customer experience
Satisfied customers are essential to the success of any organization, and the delivery experience is integral to meeting customer expectations. While many foodservice distributors recognize the importance of the customer experience, many overlook the direct connection to having the right technology in place to better serve customers while maximizing operational efficiency.
By using cloud-based mobile solutions, drivers can provide near-real-time updates of their ETA to provide full transparency to customers. ML-aided ETA calculations incorporate multiple factors—from the road network, traffic patterns and planned and actual delivery times to driver capability, asset type, geography, customer location and weather—to ensure customers always have the most accurate arrival predictions.
Customers even have the ability to adjust specific orders before they're delivered, ensuring accurate deliveries and minimizing any disagreements and misunderstanding related to overages, shortages and damages (OS&Ds). This level of constant visibility and transparency between the distributors/drivers and customers reduces hiccups in the overall distribution process (e.g., re-deliveries, inventory shrinkage, mis-deliveries) and creates a more productive and consistent distribution system, increasing customer satisfaction and improving relationships.
Peak performance
With continued uncertainty surrounding the supply chain, food and beverage distributors must capitalize on their strengths and identify weaknesses in their distribution operations in order to remain competitive. ML enables businesses to optimize performance by crunching numbers systematically based on current performance and view, analyze, predict and share communications about potential disruptions in the supply chain before they occur.
Highly granular ML-based performance tuning considers multiple real-world factors impacting route performance—truck type, driver, territory, time of the day—to ensure the most accurate route plans. And as conditions and driver productivity change over time, ML can continually adjust parameters to help ensure the most relevant and optimal planning performance.
With AI-driven route optimization, distributors can also prepare for potential complications that could compromise delivery productivity. For example, knowing in advance which load may be at risk for late delivery significantly improves food distributors' ability to minimize detention fees, manage disruptions and increase on-time shipments.
Product integrity and security
Fulfilling orders for demanding customers and responding to time-sensitive requests are nothing new for food and beverage distributors. However, today's distributors are faced with the challenge of covering last-minute orders, managing product shelf life and ensuring food safety amid supply chain uncertainty and a capacity crunch.
With food and beverage deliveries in particular, factors like temperature, security seal changes, and expiration dates are crucial to ensuring the product's safety and security. Intelligent telematics solutions continuously monitor the vehicle and driver performance, helping food distributors comply with various regulations, predict truck maintenance and inform strategic decision-making. This advanced food logistics technology can also provide information on various parameters, such as truck trailer temperature, should any product integrity or safety issues questions arise with customers.
Looking ahead
Whether people are dining at a restaurant, shopping at the grocery store or eating meals at a hospital, school or care home, food is a necessity, and despite the challenges facing the industry in these unprecedented times, the country is depending on companies to keep the food supply flowing.
As food and beverage distributors continue to combat the tumultuous shifts in supply and demand, coupled with labor and capacity constraints, the traditional fixed route and distribution models have revealed they cannot withstand the demands of today's supply chain challenges. Organizations must rethink their distribution strategies, tactics, and technologies to remain competitive. By embracing AI- and ML-driven food logistics technology innovations, companies can can create more efficient and reliable distribution operations to minimize disruptions, achieve higher customer service standards and improve profitability.