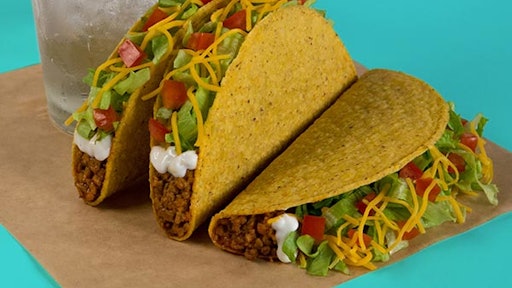 Taco Bell
Taco Bell is recalling 2.3 million pounds of seasoned ground beef from its restaurants and distribution centers across 21 states.
"Nothing is more important than our customers' safety, and nothing means more to us than their trust," says Julie Masino, Taco Bell's president of North America, in a statement. "As soon as we received the first consumer complaint, we immediately acted to remove the product from the affected restaurants and proactively worked with the supplier to inform the USDA of our steps to protect our guests."
The recall came after customer complaints of finding metal shavings in beef.
Taco Bell's meat producer, Kenosha Beef Internationally, is recalling the beef produced on various dates from Sept. 20 to Oct. 4.
The beef was produced only at the Ohio location and on only one of the two lines used to make seasoned beef and was sent to distribution centers in Michigan, New Jersey, New York, Ohio and Virginia.
USA Today reports that some restaurants have asked customers to try chicken or steak in their food after quality concerns pushed it to temporarily stop serving the beef.
Affected locations were in Michigan, Kentucky, Ohio and elsewhere. Though, the company did not say how many stores were no longer serving seasoned beef.