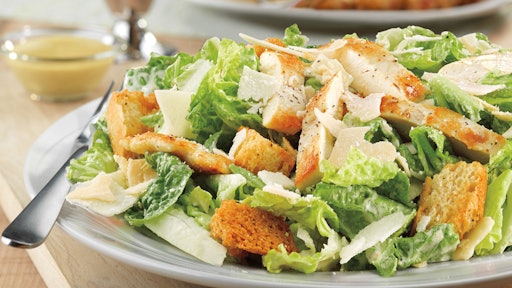 Just weeks after romaine lettuce was deemed safe to eat, another recall has been placed on the produce for cyclospora concerns.
According to The Packer, Fresh Express in Salinas, California and Caito Foods in Indianapolis were forced to pull products such as Caesar salads with chicken, cobb salads, taco salad and chicken Caesar wraps from its shelves. So far no illnesses have been linked to the products.
Fresh Express decided to recall a limited number of expired institutional salad products that were not intended for retail sale after a a single sample test of a romaine-carrot mix yielded a positive result for the cyclospora organism, The Packer reports.
The recalled Fresh Express lettuce products were packaged for foodservice use in multi-pound clear plastic packs. The products were intended for Gordon Food Service, Caito Food Distribution and retailers Trader Joe's Kroger and Walgreens, The Packer reports.
The salad and wrap products have production dates of July 15-18 and best by/enjoy by/best is sold by/sell by dates of July 18-23, according to The Packer.
Health officials are working with agencies on two recent outbreaks of cyclospora. As previously reported, Del Monte recalled vegetable trays and McDonald's salads were recalled after consumers became ill in multiple states.