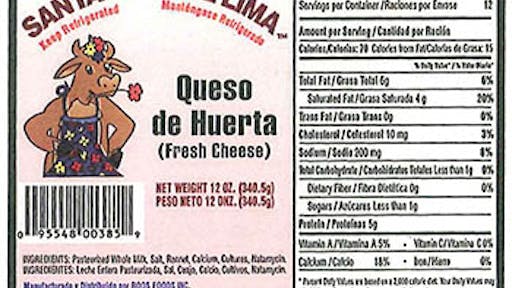 Delaware-based cheese manufacturer Roos Foods, Inc. has pleaded guilty to one criminal misdemeanor count of violating the Federal Food, Drug, and Cosmetic Act (FD&C Act) by introducing adulterated food into interstate commerce.
The company and two co-owners, Ana A. Roos and Virginia Mejia, have also entered into a civil agreement called a consent decree of permanent injunction. According to that decree, if Roos Foods or the two individuals want to begin producing and distributing food in the future, they can do so only if the FDA confirms that their operations comply with the FD&C Act and all applicable food safety regulations.
Roos Foods, Inc. made ready-to-eat cheeses such as ricotta, queso fresco and fresh cheese curd, and had customers in Delaware, Maryland, New Jersey, New York, Virginia, and Washington, D.C. The Virginia Department of Agriculture and Consumer Services, Maryland Department of Health and Mental Hygiene, District of Columbia Department of Health, and Delaware Division of Public Health worked closely with the FDA during this investigation.
Cheese produced by Roos Foods, Inc. was linked to an outbreak of Listeria monocytogenes (L. mono) that sickened eight people in 2013. Seven people were hospitalized.
The FDA suspended Roos Foods, Inc.'s facility registration on March 11, 2014, which barred the company from introducing food into interstate commerce. The agency's order of suspension details sanitation problems and cites findings of L. mono contamination in multiple places in the facility.
"The FDA will not tolerate food companies that fail to provide adequate safeguards and place the public health at risk by producing and shipping contaminated products," said Howard Sklamberg, the FDA's deputy commissioner for global regulatory operations and policy. "We will continue to work with the Department of Justice to use the full force of our justice system against those that place profits over the health and safety of American consumers."
"We must work to ensure that the food we buy is free from dangerous bacteria and is safe to eat," said Principal Deputy Assistant Attorney General Benjamin C. Mizer, head of the Justice Department's Civil Division.  "The Department of Justice will continue to work aggressively to combat and deter conduct leading to the distribution of adulterated food to consumers."
The FDA, an agency within the U.S. Department of Health and Human Services, protects the public health by assuring the safety, effectiveness, and security of human and veterinary drugs, vaccines and other biological products for human use, and medical devices. The agency also is responsible for the safety and security of our nation's food supply, cosmetics, dietary supplements, products that give off electronic radiation, and for regulating tobacco products.