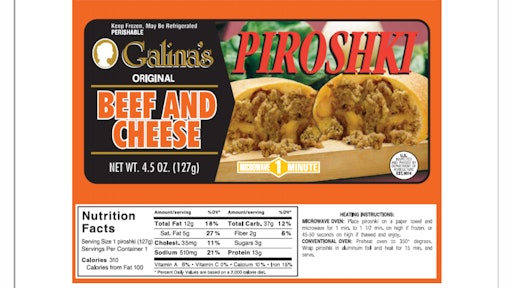 Galant Food Co. of San Leandro, Calif. is recalling approximately 410 pounds of beef piroshki products because the meat filling used in the products did not meet its cooking critical limit. People who have purchased these products should not eat them, according to Food Poisoning Bulletin.
The recalled products were sold in the San Francisco area and in Northern California. They have the establishment number "EST.9014" and were produced Sept. 22 through 24, 2014. They include 4.5-oz. packages of Galina's Original Beef and Cheese Piroshki which were packed 12 or 24 per case, with case codes 092214, 092314 and 09241; and 5-oz.packages of Paramount Beef Piroshki, packed 25 per case, with case codes 092314.
To read more, click HERE.