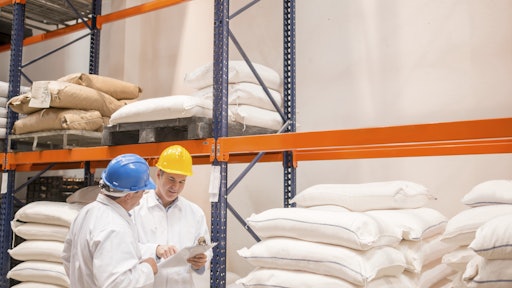 The foodservice industry has dealt with a number of regulatory issues over the past year, including those related to food safety and labor, while also addressing the changing consumer, the driver shortage and regulations on the horizon. Overall, those within the industry say operators are well prepared to take on the challenges and position themselves for success.
"It continues to be a more challenging environment than we'd like, but we're making improvements on several key issues," says Mark Allen, president and CEO of the International Foodservice Distributors Association (IFDA).
Food Safety
For several years the industry has been complying with and preparing for regulations contained in the Food Safety Modernization Act (FSMA).
"One of the things we've been most pleased about is the rules really focus on the risk and alleviating the risk," Allen says, adding that the flexibility the rule provides allows operators to focus on the areas most at risk within their organizations rather than taking a blanket approach for the entire industry.
For example, the rule does not require temperature records for every shipment but instead focuses on the process used to maintain temperature integrity," Allen says.
Working on the rule with the U.S. Food and Drug Administration has been a positive process, Allen notes. "The proposal had some significant issues and we worked closely with FDA and we were pleased with how the rules turned out," Allen says. "The FDA acknowledged that transportation has not seen tremendous issues on food safety."
Joe Tracy, president of Dot Foods, says the redistributor has been preparing for FSMA for years and is fully ready to comply. At the same time, "I think the impact on medium to large distributors was not that significant," he remarks.
Dot Foods has also implemented some requirements ahead of schedule. "There is a precooling requirement that goes into place spring of next year. We went ahead and implemented it in January of this year," Tracy says. "We had some customers who were requiring it anyway, we went ahead and did it for all."
Labor Concerns
IFDA's Allen says the industry has faced a tougher environment on the labor front. In May, the U.S. Department of Labor finalized new rules governing which employees are eligible for overtime pay. The agency has doubled the minimum salary threshold that employees must earn in order to be exempt from overtime pay, increasing the figure to $47,476 per year from the previous salary of $23,660.
The increase will create challenges for the quick service food industry, especially in some rural parts of the country. Distributors have jobs that are going to get caught up in it as well, primarily some of the entry-level exempt positions, Allen explains.
IFDA is also seeing a number of states establish minimum wages higher than the federal minimum wage rate of $7.25 per hour. "It is $15 in New York State and we're seeing it in Seattle and California. We're also seeing changes to the laws around unionization making it far easier for unions to be organized," Allen says. "We believe those goal posts have been moved significantly."
As labor costs increase, companies will work to reduce labor expenses in order to keep their prices unchanged, explains Allen. "To do so, they will likely embrace automation or increase the number of part-time employees. In the end, our concern is that all of these things that were designed to help employees will miss the mark."
Labor concerns also extend to professional drivers and the driver shortage continues to be a challenge. The average salary for a professional driver in the foodservice industry is $63,000 and most drivers are home every night, added Jon Eisen, senior vice president of government relations for IFDA.
Meanwhile, to help attract drivers, Dot Foods created unique schedules, such as four days on and three days off, and is upgrading its drivers' lounges. "We just opened up a $1.1 million driver lounge that has beautiful rooms, lockers, an outdoor patio and full kitchen," Tracy said. "We have to compete more effectively with other alternatives."
Dot Foods has also started a unique program in Indiana in which the company pays drivers to obtain their CDL.
Warehouse labor is also becoming an issue as mature workers seek less physical work and fewer younger workers enter the field. Dot Foods has responded by offering more alternative schedules.
New Labeling Rules
In 2014, Vermont enacted a new law—Act 120—requiring labels on products containing genetically engineered ingredients. It took effect July 1, 2016 and the state will begin enforcing it on Jan. 1, 2017 (see sidebar).
Tracy said manufacturers have been scrambling to figure out how to best respond. "It is very difficult to have products labeled one way to go to one state," he said, adding that some manufacturers have changed labels while others are waiting for a federal law that will supersede the state law.
Changing Consumer Demands
As the consumer evolves, the foodservice industry continues to change as well. "There is a demand for local and healthier products. Distributors have to be prepared to meet the consumers' needs and the needs of the customer," Allen points out, adding that distributors have had to gain expertise in the local food movement, for instance.
Food safety is of "paramount importance particularly when working with a local farm," Allen said. To ensure quality, a growing number of distributors are going to local farms to validate the processes to verify they're working with a reputable business.
Tracy says he has seen an increase in demand for healthy foods, with a growing number of millennials seeking GMO-free and gluten-free options. In response, Dot Foods has allocated resources to expand its healthy offerings and has brought in small, niche suppliers to meet the need.
"We've expanded our offering pretty heavily," he notes, adding that it has changed the way the company configures its warehouse.
To give customers a competitive advantage, Dot Foods has invested in technology that allows its customers to gain improved access to the products within its warehouse. "We sell our customers on not just selling the offerings in their warehouse, but for our offering to be their offerings," Tracy explains.
Consumers' buying habits have changed, with more shoppers going online for products, which could take a bite out of the foodservice industry's margins. "We're spending more of our time trying to educate our customers about the online threats. Amazon and others are going to take the highest slice of margin from foodservice distributors. We're trying to help them get that back by helping them say 'yes' more often than not to their customers," Tracy says.
IFDA's Annual Conference
IFDA is preparing for its annual Distribution Solutions Conference in October, and the organization's Jon Eisen, senior vice president of government relations, says the expo hall will be full of the latest and greatest technologies to help drive cost out of the system to make operators more efficient and safer.
The conference will also cover the nuts and bolts of the foodservice industry, such as better managing inventory, keeping damages down and utilizing technology to reduce operating costs. Moreover, IFDA has increased its focus on developing the next generation of leader, Eisen says.
For example, IFDA has created learning opportunities to help front-line supervisors grow professionally and personally. In addition to focusing on leadership at general sessions and throughout the program, IFDA has created a leadership development program with the University of Virginia Darden School of Management.
Vermont Attorney General's FAQs for GE Food Labeling Rule
General
On July 1, 2016 Vermont's Act 12, a new law requiring food produced with genetic engineered ingredients to be labeled as such, came into effect. The state's Attorney General provided answers to several frequently asked questions (FAQs) concerning the new law (below), which could serve as a model for future U.S. regulations on this topic.
1. Are any foods exempt from the labeling requirement?
Yes, there are eight categories of exempt foods. Foods that are exempt do not require a label under Act 120.
Whole animal products or products produced entirely from an animal, and food that requires USDA approval of its label. For example, meat, milk, plain yogurt, or eggs. However, animal products with added ingredients may need to be labeled if they include ingredients produced with GE. For example, chocolate milk or flavored yogurt.
Any processed food where GE materials do not account for more than 0.9% of the total weight of the food. For example, a salad dressing that contains only a small amount (no more than 0.9% by weight) of corn syrup produced from GE corn and no other GE material would not be subject to the labeling requirement.
Any processed food produced with a GE processing aid or enzyme that would otherwise not be subject to the labeling requirement. For example, cheese made with vegetarian GE rennet.
Alcoholic beverages. All beverages regulated under Title 7 of the Vermont Statutes Annotated are exempt. This does not include beverages with less than 1% alcohol by volume.
Any food produced without the knowing or intentional use of GE. An affidavit or sworn statement from the supplier of a raw agricultural commodity or processed food can qualify a food for this exemption. The criteria for use of a sworn statement is detailed in CP Rule 121.03(b).
Food that an independent organization has verified is not knowingly or intentionally produced with GE. All certified USDA organic foods meet the criteria for this exemption. And, independent organizations that the Vermont Attorney General's Office has authorized to verify products not produced with GE need not be labeled. (See FAQ 9 for information on how to become authorized.) Currently three organizations are so authorized: 1.) The NonGMO Project, 2.) NSF International's Non-GMO True North Standard, and 3.) SGS North America's No GE Ingredients Supply Chain Process Verification Standard.
Foods prepared for immediate consumption and not packaged for retail sale.
For example, a meal at a restaurant or hot soup at a deli.
Medical food. Medical foods, defined by federal law and regulated by the FDA, are formulated to be used under medical supervision and are intended for the specific dietary management of a condition. Medical foods are not generally available to the public.
2. Who enforces the labeling requirement?
The Vermont Attorney General's Office is responsible for enforcing the GE Labeling Law.
3. When will the GE Labeling Law go into effect?
The requirement for labeling food produced with GE went into effect on July 1, 2016.
4. Does it matter where the food is sold?
Yes. Only food offered for retail sale at a physical location in Vermont is subject to the labeling law.
5. Are any types of establishments exempt from the labeling requirements?
Yes. Restaurants and other food establishments primarily engaged in the sale of food prepared and intended for immediate human consumption are exempt from the labeling requirement, except for the food they sell that is packaged for retail sale. For example, food trucks, sandwich shops, and restaurants that do not offer items for retail sale are exempt from the labeling requirement.
However, retail items sold at a restaurant, such as a jar of pasta sauce or a bag of potato chips, must be labeled if they are produced with GE. In addition, food that is not packaged for retail sale and is prepared and intended for immediate human consumption is exempt, regardless of where it is sold. For these purposes, food subject to Vermont's rooms and meals tax is considered "prepared and intended for immediate human consumption." For example, a ready-to-eat hot dog or sausage at a convenience store, a sandwich at a supermarket deli, or a hot slice of pizza at a general store do not need to be labeled.
6. What is the procedure to receive approval as an Independent Verification Organization?
The procedure for applying to be an Independent Verification Organization, as well as the rubric applicants will be assessed on, can be found here on the Attorney General's website.
7. Are all dairy products exempt?
No. Dairy products that contain added ingredients that are produced with GE and not derived from an animal, such as beet sugar, corn syrup, or certain flavorings, are not exempt from the labeling requirement.
8. Are eggs from chickens fed GE feed required to be labeled?
No. All foods derived entirely from an animal, such as eggs or meat sold without added ingredients (e.g., corn syrup, spices) are exempt from the labeling requirement.
9. Are direct sales to consumers, such as at farm stands, farmer's markets, or CSAs exempt from the labeling requirement?
No. All foods offered for retail sale in Vermont must be labeled if they are produced with GE and no exemption is applicable. However, infrequent and incidental sales, such as school bake sales, are not considered "retail sales," and foods offered for sale at such events need not be labeled.