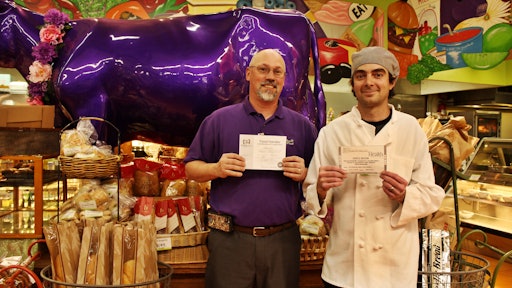 Anyone who questions the role of the independent grocer today needs to visit Newport Avenue Market, a specialty supermarket in Bend, Ore. that has established a strong local following under its second generation leadership.
Independent grocers have always had an advantage in providing personal customer service. But when point-of-sale technology came on the scene in the 1970s, some thought the high cost of this efficiency enhancement would favor the larger grocers and make small players less competitive. And as government regulations expanded over the years, consolidation among food retailers increased.
But one of the benefits of information technology is that small, independent companies can still be market leaders, especially those who want to assure customers they follow the strictest safety practices.
Newport Avenue Market has used technology to promote its commitment to safety, along with its dedication to sustainability and serving the local community. All of these factors are important to customers in the Pacific Northwest.
Tapping key resources
The specialty grocer has long worked with the Food Marketing Institute (FMI) to stay abreast of safety regulations. Company president Rudy Dory has been a long-time FMI board member.
Last year, Hilary Thesmar, the FMI's food safety director, visited Newport Avenue Market and spent a day examining its operations. CEO Lauren Johnson, Dory's daughter, was interested in knowing more about FMI's Food Safety Modernization Act (FSMA) outreach program.
The FMI guide includes FSMA requirements for retailers such as Newport Avenue Market that have central kitchens or off-site production; retailers with DCs; and retailers with DCs and truck fleets. The guide includes a list of what critical questions retailers need to be able to answer.
Thesmar, in addition to discussing FSMA, offered Johnson guidance on new USDA labeling requirements. A recent labeling rule mandates marinated products be labeled to indicate all added solutions. Enforcement for this rule has not yet begun.
There are more labeling requirements planned, Thesmar advised. Beef that is mechanically tenderized with either a blade or a needle will need to be labeled. In addition, meat that gets grounded in the supermarket will also need to be noted.
Newport Avenue Market has since switched package printing equipment so that product labels provide more information. The company sources product from nearly 1,000 vendors, The waste weighing management system from Beaverton, Ore.-based Digimarc accesses cloud-based data and uses a visualization tool to reduce waste.
The scale/labeling system is an example of the important role technology plays in improving food safety and meeting safety regulations.
A new safety initiative
The grocer recently required that all employees, regardless of position and number of hours worked, obtain a Food Handlers Card. Food Handler Cards can normally be obtained by completing an online training program approved by the local health department.
The newly required Food Handlers Card is to ensure safe food handling among all employees.
"As an employee-owned grocer – we feel this is some of the best and most useful knowledge we could require of our employees," says Johnson regarding the Food Handlers Card. "There are times where we may have all hands on deck during peak hours. As an example, a stocker or receiving clerk may be called upon to help bag groceries—this is where food handlers training is essential in our eyes."
Typically, the only employees required to have a Food Handlers Card at a grocery store are those who directly handle food. With this new condition of employment at Newport Avenue Market, all employees are required to have the training, from people working in the office, to checkers, to receiving clerks.
Johnson believes the requirement is important given the highlighted food safety concerns and how food safety is communicated to the public in the news.
"We feel it is necessary to make sure all of our employees are fully aware of safe food handling practices regardless of their position," adds Johnson. "An example, our meat department employees and service deli people have safe food handling top of mind, but what if our box person does not? With this policy in place, the customer experience is consistent throughout their shopping experience.
"We hope this policy gives our customers added faith in the job we do for them."
There are other safety measures in place: employees probe temperatures for all refrigerated products; receiving clerks have authority to reject any delivery.
Certified produce suppliers
The company requires its produce suppliers to have both government-mandated and voluntary certifications.
"They [Newport Avenue Market] have set the bar for retailing in Bend," says Matt Neumann, sales manager at the Clackamas, Ore. division of Charlie's Produce, a Seattle, Wash.-based produce wholesaler, one of Newport Avenue Market's main suppliers.
Charlie's Produce provides complete product and safety attributes for the market's expanding variety of fresh produce.
The Charlie's Produce facility is certified by the Safe Quality Food Institute (SQF), based in Arlington, Va., by NSF International, based in Ann Arbor, Mich., and the State of Washington.
The SQF certification is a voluntary standard that conforms to the France-based Global Food Safety Initiative (GFSI), which safety experts believe will allow a company to comply with the FSMA. SQF conducts its own annual audit for all Charlie's Produce warehouses.
Portland, Ore.-based United Salad Co., Newport Avenue Market's other main produce supplier, also has SQF certification. In addition, United Salad Co. sources growers that follow the U.S. Department of Agriculture's Good Agricultural Practices (GAP).
Sustainability initiatives
On the technology front, the grocer has invested more than $2.5 million in technologies to reduce the store's carbon footprint in the last few years.
Electronic shelf tags from Sweden-based Pricer AB are replacing paper tags. The tags "sleep" at night to conserve energy, allowing batteries to last nearly a decade. The tags also reduce labor since the information can be changed from a desktop.
As technology has created new and better ways of operating a supermarket, independent grocers like Newport Avenue Market are showing they can use these new tools to continue to set the bar in the areas of safety, customer service and community leadership.