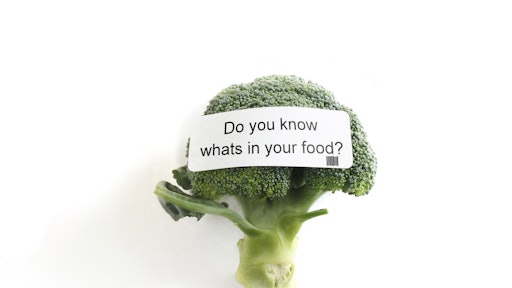 How many times have you read the label of your favorite food and wondered, "What is really in this?" Today, more than ever before, consumers are thinking about food—from how it's produced and what's in it, to where and when they eat it. They are also increasingly prone to anxiety about food safety, and that's no wonder, with reported foodborne illnesses hitting the news seemingly every day. Globalized supply chains, digitalization and stronger reporting of food safety scares have all led consumers and regulators to demand greater transparency from food manufacturers.
In fact, a recent survey revealed that consumers hold food companies the most responsible for showing transparency, more so than farmers, grocery stores and restaurants. For food companies, this means that food manufacturing transparency has become an even more critical area of focus to ensure both compliance and customer satisfaction.
Transparency has now become a watchword in the food industry as stakeholders are becoming more and more concerned with the quality and source of finished goods.
However, many food companies do not have a clear understanding of what transparency means, why to pursue it, what it involves or how to improve it. How can a food manufacturer tackle such a huge issue? For food manufacturers that utilize the Industrial Internet, the possibilities to ensure transparency are endless. From the capability to conduct powerful and speedy data analysis, to end-to-end traceability on all production lines, any modern food manufacturer should be considering a move into the Industrial Internet if they want to stay competitive both on the factory and store floor.
Transparency in processing
Transparency starts with your own food manufacturing operations. Although this may sound easier than sifting through the multiple levels of supply chain transparency, in fact, it can be quite challenging. Food manufacturers may have a good grasp of all their workflow processes, but it's also important they have the ability to make appropriate information available in real-time to regulators, consumers and internal food safety personnel. A key first step to obtaining the necessary real-time information for transparency in processing is to conduct an internal audit to certify that proper food safety practices are being abided by and reported on.
Transparency requirements in food processing are now becoming stricter with the U.S. Food and Drug Administrations' Food Safety Modernization Act (FSMA). In addition to mandating expanded record keeping with food companies, the FSMA will give the FDA greater access to company records. Accordingly, it's critical that additional attention is devoted to how food manufacturers track lots, record their manufacturing processes, and share information both within their organization and with key stakeholders.
However, there's good news for food manufacturers—the costs of processing transparency initiatives are often offset by the operational efficiencies gained by using visibility to improve supply chain processes. Examples include: eliminating workflow steps and outside vendors in the supply chain, verifying the efficiency of practices upstream, preventing product counterfeits, maintaining sustainable and environmentally friendly practices, and smoothing price volatility by working directly with suppliers instead of using middlemen. Additionally, manufacturers can make process improvements by linking production data to quality and food safety data—something that is not widely done.
Transparency in the supply chain
The recently-passed FSMA greatly expands the power of the FDA to require transparency from food companies, including detailed record sharing, stricter supplier verification, and product tracking farther along the supply chain. Instead of being required to trace the supply chain only one step back and one step forward, as is the rule under current regulations, it's safe to assume that in the future, companies will be required to go two steps backward and forward—or possibly even farther.
Some basic elements of supply chain transparency for FSMA compliance include: conducting an analysis of your supplier's facilities, drafting a sufficiently detailed partnership agreement, mandated inspections and ongoing audits. However, online platforms have emerged for retailers and suppliers to communicate and share best practices to improve their systems, increase transparency and meet FSMA regulations.
Food manufacturers should also invest in supply chain management software that maintains sufficient monitoring of their products and provides accurate records for the FDA and state government officials. Cloud-based technology now exists to help food manufacturers meet FSMA requirements while working to prevent outbreaks and quickly limiting situations when they occur. This technology goes beyond just storing digital copies of documents —it helps to manage compliance with exception-based alerts for expired, missing or inaccurate records.
Keep in mind that responsible and transparent supply chains can be costly to implement and can force difficult business decisions for the food manufacturer. For instance, look at the legislation around mandatory labeling laws for foods that contain genetically modified organisms, often called GMOs. This has not been passed in all the states, but if passed, it could mean extremely costly labeling and processing changes (including better tracking GMOs through the supply chain) for food and beverage manufacturers.
Today, even the most basic food can involve suppliers around the world, so the bottom line for food companies lies in knowing and trusting the organizations they're doing business with. It's important for food manufacturers to partner with suppliers who value transparency as much as they do themselves. They also must be prepared to communicate with stakeholders about these supplier relationships in order to fulfill transparency expectations.
Food manufacturers must prepare to dedicate more time to evaluating and nurturing relationships with their suppliers, including making sure all regional and international laws are being upheld. It is especially important for partners to have the same sense of urgency, because when a food contamination risk is present, everyone must react accordingly. Failing to do so, or to escalate quickly, puts both consumers and brands at risk—how one company reacts can be very different than another in timeliness.
We had an issue once where an ingredient supplier notified our corporate offices of an issue on the weekend—but our corporate offices were closed. We ended up using the potentially contaminated ingredients to produce that weekend. Fortunately, the finished goods hadn't left the warehouse, but it could have been avoided if both companies had escalation plans that included what to do outside of regular business hours.
Transparency in marketing
The desire for transparency has been created in a technological culture where feedback moves fast, access to information is easy and open sources are expected. Consumers have always had a voice but now, thanks to social media, they can make their voice resonate internationally and in real-time. Although the requirements of transparency may sound like a burden for food manufacturers, they also represent a powerful marketing opportunity. Consumer desire for transparency in food means those food companies that can provide transparency grow in consumer esteem and, ultimately, brand equity.
It's important for food companies to make sure that whatever is promised and marketed to its customers is actually delivered. Nothing makes a customer lose faith in a company faster than false promises made to sell them a product. Not keeping promises can also harm food manufacturers because unhappy customers tend to be more vocal in their complaints than satisfied ones.
Food companies need to tailor how they market transparency to each stakeholder, rather than treating all of them in the same manner—and this can only be achieved through feedback. Food companies often measure how satisfied its stakeholders are by using communication methods such as surveys and polls. For example, a food manufacturer may feel it's doing an excellent job of maintaining transparency with its customers, but unless there is direct input from the consumers themselves, there may be a jarring disconnect.
Feedback on transparency efforts also can be used by food manufacturers to target new consumers and partners.
For instance, once a food company knows the sources for its raw materials and how they are handled through its facilities, it has the nexus of creating a new, focused marketing campaign based on company transparency and the pride it takes in its product.
Tips to get transparency started
Even supply chain executives who understand the importance of transparency may struggle to prioritize activities and build a transparency process. Creating a high-level road map of both supply chain workflows and internal operations is a key first step. Food manufacturers can begin this process by identifying, prioritizing and visualizing potential supply chain risks and highlighting information gaps.
Food manufacturers must also build checkpoint systems to ensure they are in compliance with all regulatory regimes where their product is consumed, including regular verification procedures. Once again, extensive collaboration and cooperation throughout the supply chain is necessary to make sure these systems operate effectively. Food companies should work with their partners in the supply chain both up and downstream to enhance communication so that all members of the chain understand the risks associated with a safety failure.
Finally, food manufacturers need to analyze the big data gained from the transparency process for actionable insights and put in place mechanisms to monitor the supply chain for additional information going forward. A food manufacturer that scans its ingredients and batch numbers throughout the supply chain is able to show "end-to-end" traceability and collect invaluable data along the way. This data can be analyzed for historical patterns that alert a food company to locate the source of a potential pathogen outbreak or flawed ingredient before a recall is needed.
The demand for transparency in food manufacturing will only increase
In the Center for Food Integrity's (CFI) 2015 research, consumers were asked if the U.S. food system is headed in the right direction or down the wrong track—the fourth year the question has been posed. Forty percent said "right direction"—a slight dip from 2014 but up significantly from 30 percent in 2012.
It's encouraging that many of the new approaches to supply chain management have the potential to be employed by producers and suppliers, large or small, and regardless of whether the ingredients in question are produced in vast or minuscule quantities. It doesn't happen overnight, but with the use of technology and the application of clear standards, the food industry is on the path to enhanced safety and clarity regarding the ingredients used throughout the supply chain. Rather than viewing transparency as a challenge or burden, food manufacturers can leverage the opportunity to identify potential operational improvements, promote good corporate citizenship, reinforce the strength of their brands, and potentially minimize the impact of future events.
The ability to show transparency throughout the supply chain, from farm to fork, will continue to truly be a food manufacturer's biggest competitive advantage.
Predictive Maintenance Technology Can Prevent Recalls
By Paul Lachance
Earlier this year, Dole Food Company recalled its branded and label-packed salads after consumer reports of Listeria infections. By February, dozens of consumers were infected across the U.S. and Canada, resulting in numerous hospitalizations and a single death.
While consumer health hazards are the primary concern when these types of issues arise, the financial costs to correct the problems are enormous. Every year, food product recalls cost the economy about $7 billion, with costs coming from handling lawsuits, getting food off shelves, inspecting plants and repairing public relations.
To make matters worse, not only must these companies completely remove their products from the shelves, but they also risk permanent harm to customer brand loyalty. A recent survey found that 15 percent of consumers will never purchase a recalled product again. What's more, nearly one in five will avoid the product's manufacturer altogether.
Advancements in maintenance technology can prevent many of the health and financial risks posed by these recalls. For food and beverage businesses, predictive maintenance can prevent foodborne illnesses, avoid product recalls and keep consumers safe and healthy.
But even preventive maintenance approaches that rely on calendar-based processes can leave food manufacturers at risk. Manually monitoring a piece of equipment once or twice a month still does very little to prevent unexpected issues from occurring. Once a food product spoils, it immediately becomes a widespread health and financial issue, even if it's identified immediately.
The best approach to food and drug maintenance lies with predictive technology. Modern computerized maintenance management systems (CMMS) can integrate with equipment monitoring and data collection systems, which feed data to CMMS in real time to alert maintenance staff when assets are functioning at inadequate levels before a serious issue occurs. The system can also record a maintenance request or create a work order, assigning it based on pre-established parameters and rules.
For example, temperature sensors can feed values through the cloud into a CMMS system and issue a notification when the temperature has dropped a degree, informing staff that the asset is at risk of having sanitation issues and that a technician should take a look before it becomes a health problem. At the end of the day, predicting this temperature change and correcting the problem before it becomes unsanitary is absolutely necessary to prevent a major health crisis.
CMMS can also help food and beverage manufacturers stay ahead of audits. Even if a sanitary issue does occur, businesses can leverage the CMMS' occupational safety and health solution to document incidents and previous inspections, and present all of the necessary information to pass audit checks with ease and remain in business after the issue has been corrected.
For example, if auditors come to inspect a facility after a recall, they will look at the bigger picture of what's happened within a facility, while also drilling down to the details. They'll want to see exactly which pieces of equipment were addressed for the specific issue at hand, the technician who handled the jobs and the exact dates and times these key events occurred. A CMMS can show executives all of this date/time-stamped data at the click of a button for greater compliancy and ease of management, as opposed to fumbling through spreadsheets and notebooks.
While a CMMS may not save you entirely if you've made a human error or a legitimate mistake that caused a foodborne outbreak, having that history and access at your fingertips will go a long way in helping those high-pressure audit situations.
Poorly-maintained equipment can lead to inferior or unsafe products that can have serious health implications on consumer health. At the end of the day, it can be a question of life and death. One of the best ways to prevent these issues today is by using smart technology that monitors key assets in real time and alerts maintenance teams before it's too late.
Paul Lachance is president of Smartware Group Inc., a provider of computerized maintenance management systems in Center Harbor, N.H.