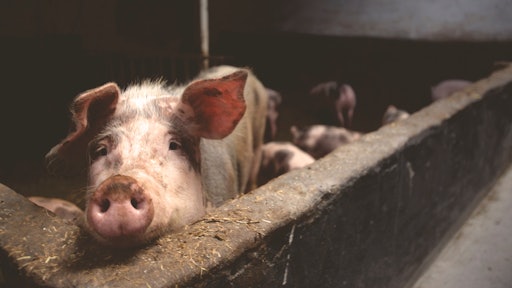 Pexels
African swine fever has spread across Asia, forcing the slaughter of millions of pigs. U.N. food agency has begun urging Asian governments to make containing the disease a top priority as it is greatly affecting food supply.
The fever, which does not cause any harm to humans but is extremely fatal to animals, has remained largely in China and Vietnam. However, the U.N. Food and Agricultural Organization announced that the infections have spread to Laos, prompting experts to believe that it is the largest animal disease outbreak in history. The disease can be transmitted by a tourist bringing back pork products from a contaminated country, throwing it away and the garbage being used by farmers to feed their pigs.
Now, Reuters reports that no country is immune from being hit by the deadly animal virus as it spreads further across Asia.
The disease has greatly affected China, the world's top pork producer. It has been found in 50 countries, killing hundreds of millions of pigs, thus reshaping global meat and feed markets.
The crisis could give the U.S. the upper hand in upcoming trade talks as prices for hogs continue to rise, forcing the country to purchase the meat from the U.S. in large quantities. If the virus spreads further, China may make concessions in its negotiations with the U.S.
"We are not sure if the market appreciates how a worsening epidemic of African swine fever for China's massive pig population could further force China's hand on a broader trade war compromise," U.S. analyst Ross Gilardi tells CNBC. "The growing threat is rampant pork price inflation for the masses, which puts more pressure on China to lift 62 percent import tariffs on US pork even though US pork imports are already up sharply versus pre-trade war levels."
Reuters reports that China's hog herd was more than 40% smaller in September compared to the same period last year. Though, experts believe that the losses will only get greater as the disease continues to spread.
African swine fever has already been found on farms in eastern Europe, but its spread has been mostly contained because of tight security measures implemented in some countries.
The USDA is taking additional steps to keep African Swine Fever (ASF) from entering the U.S. as the disease continues to spread internationally.
In coordination with the pork industry, the USDA has enhanced the following activities to intensify multi-agency efforts to help prevent ASF's entry into the states:
Work with Customs and Border Protection (CBP) to train and add 60 additional beagle teams for a total of 179 teams working at key U.S. commercial, sea, and air ports

Coordinate with CBP on the further expansion of arrival screenings at key U.S. commercial sea and air ports – including checking cargo for illegal pork/pork products and ensuring travelers who pose an ASF risk receive secondary agricultural inspection
Increase inspections and enforcement of garbage feeding facilities to ensure fed garbage is cooked properly to prevent potential disease spread
Heighten producer awareness and encourage self-evaluations of on-farm biosecurity procedures
Work to develop accurate and reliable testing procedures to screen for the virus in grains, feeds and additives, and swine oral fluid samples
Work closely with officials in Canada and Mexico on a North American coordinated approach to ASF defense, response, and trade maintenance
And continue high level coordination with the U.S. pork industry leadership to assure unified efforts to combat ASF introduction.