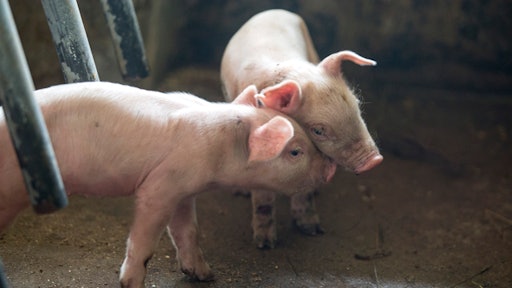 Thousands of pigs in China have contracted African swine fever since the beginning of August, CNN reports. The disease isn't harmful for humans, but is almost always fatal for pigs. So far over 38,000 pigs have been killed.
China's pork industry is expected to hurt from the disease, especially since the country is the top consumer and producer of pork.
If the disease continues, the price of pork could go higher than the 7 percent increase it has already experienced. The industry is also preparing for a supply shortage.
Complicating the matter is the steep tariffs China placed on American pork products, CNN reports. The high tax is preventing many to ship the product, and the country can't source elsewhere because countries like Romania are also facing outbreaks of the swine fever.
CNN reports that outbreaks of the disease are spreading. Since initially reported in Liaoning, the disease has been reported in Jiangsu, about 1,000 miles south from Liaoning.
Chinese authorities have closed hog markets in provinces that were impacted by the outbreaks and have banned lived pigs from being transported out of the area, CNN reports. Officials are bracing themselves if central China, where most of the country's pig farming is based, gets infected with the disease.