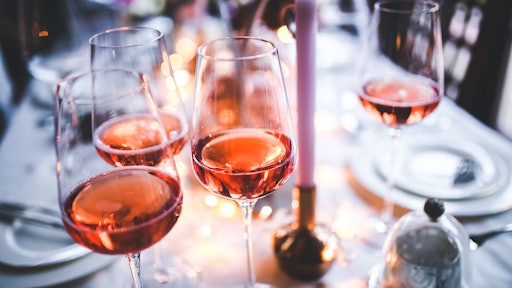 Pexels
Heavy duties have been placed on a range of gourmet foods and beverages from Europe. Though, Florida Caribbean Distillers, a wine company, has found a loophole in the French wine tariffs.
According to NPR, the company has begun importing truckloads of bulk wine from France and bottling the product at its plant, conveniently sidestepping the 25% tariff that went into effect last week. The strategy gives the company a cost advantage as the tariffs only apply to wine in bottles of 2 liters or less.
However, the company wasn't initially thinking of the tariffs when they first thought of the plan, it just wanted to capitalize on the fast-growing U.S. market for French Rose.
Florida Caribbean Distillers is importing wine in 20 or 40-foot shipping containers, with a giant pouch inside, similar to a wine-in-a-box. NPR reports that the company imports several thousand gallons at a time.
The wine will be packaged in standard bottles and 375 ml cans.
"It provides a nice opportunity for us to continue to offer something that our competitors won't be able to, which is tremendous value at a high-quality price point," Dave Steiner, the company's national sales vice president tells NPR.
The decision to move forward with tariffs came after several years of the United States and the European Union fighting over subsidies that Airbus received from European governments. Complaints from the U.S. stem back to 2004.
New duties will be placed on European-made Airbus planes (10%), French wine (25%), Scotch and Irish Whiskies (25%), and cheese from across Europe (25%).
Still, Florida Caribbean Distillers isn't the only company that is looking for legal workarounds for tariffs.
The steep tariffs are creating an incentive for companies to legally evade or do something a little less up-front in order having to pay the price. Meanwhile, other companies that may be evading tariffs illegally can contribute to inefficiency in the supply chain and overall corruption.
Florida Caribbean Distillers will take advantage of its importing strategy as long as the tariffs are in place. The company is currently marketing the Rose under the brand name "Le Rosey" and using the hashtag #TRumpTariffFree.