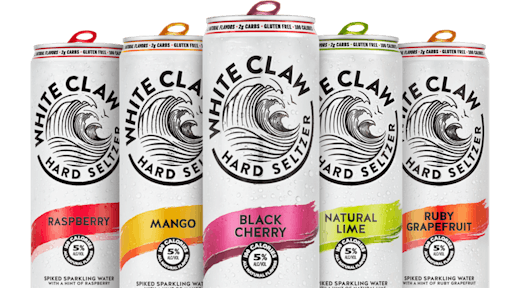 White Claw
The spiked seltzer brand, White Claw, became a viral sensation over the summer after it became a popular meme.
3 months ago any girl drinking a white claw got their entire existence roasted by the same guys now posting snap stories saying "ain't no laws when you're drinking claws"

— marystebbins (@marystebbins_) July 26, 2019
Now, the company is experiencing a shortage of the drink, reassuring concerned millennials that it is "working around the clock to increase supply given the rapid growth in consumer demand."
Distributors have been given a limited amount of White Claw to ship out instead of offering an unlimited supply, which the company has been doing for the last year.
The response that White Claw has had over the summer during "White Claw Wednesdays" and "White Claw Weekends" have tightened the company's supply chain.
"We are working around the clock to increase current supply and total capacity heading into 2020 so that we can get every consumer White Claw when they want it," White Claw president Phil Rosse said in a statement to CBS News.
Let the White Claw Weekend commence. pic.twitter.com/IN9epeqkg2

— White Claw Hard Seltzer (@WhiteClaw) August 30, 2019
The brand has yet to say when supply would rebound, however, distributors should expect to be on allocation until there is a normalized safety stock position.
According to CBS News, the shortage led some fans to panic and attempt to stockpile the beverage. Some stores even sold out of the product altogether.
I still can't believe this frat came and bought $7,500 worth of white claw 😂 pic.twitter.com/QMacxDzTkH

— Sept 18 (@AaliyahTrevino) September 7, 2019
Meanwhile, the announcement comes just after Popeyes announced that it sold out of its chicken sandwich completely.
"The demand for the new chicken sandwich in the first few weeks following launch far exceeded our very optimistic expectations. In fact, Popeyes aggressively forecasted demand through the end of September and has already sold through that inventory," the chain said in a prepared statement.
According to DMN, the #ChickenSandwichWar between the company and Chick-fil-A was able to generate the equivalent of $23 million worth of advertising for Popeyes, without the company having to spend a single cent.
First we ran out of Popeyes Chicken Sandwiches

Now this

It's like we're living in our own Brexit https://t.co/gxrbphUSYj

— Michael Roston (@michaelroston) September 6, 2019
Popeyes announced that it will bring back the sandwich permanently, however a timeline has not been determined just yet.