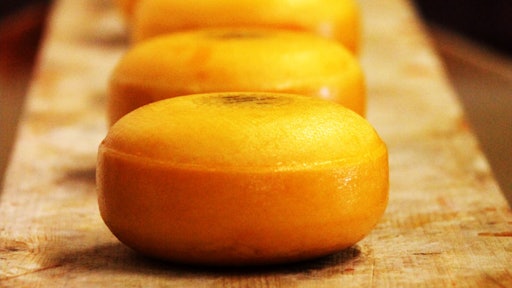 As the country faces retaliatory tariffs from other countries, dairy farmers and cheesemakers are anxiously waiting to see what will happen to the products they typically sell overseas.
The Trump administration has set off a series of trade clashes with countries around the world, demanding new trade agreements and threatening to add tariffs on whatever is deemed as "unfair terms that hurt American companies and workers." The New York Times reports that Trump and Canadian prime Minster Justin Trudeau have experienced public spats regarding Canada's dairy tariffs.
While Trump's trade approach stems from putting "America First," the country is already starting to feel the downsides of the tariffs as countries are specifically placing tariffs on products that come from red states.
Wisconsin, where Paul Ryan stems from, is especially seeing a steeper climb in a competitive global economy as steep tariffs are being placed on dairy exports. The New York Times reports that American exporters are fearing that they could lose access to Canada and Mexico if the president goes ahead with his threat to withdraw from the North American Free Trade Agreement.
According to the New York Times, Mexico is America's largest exporter for cheese, absorbing more than a quarter of all the cheese that leaves the United States. In April, the European Union signed a deal with Mexico to slash tariffs on European dairy and offer protections for European cheese, blocking American companies from using those labels.
Sartori, a Wisconsin-based cheese company, sees exports to foreign markets as the fastest growing segment and the one where it sees the most opportunity. However, when tariffs are factored in, the equation changes. Sartori, which sells its cheeses to retail stores and fast casual restaurant chains in Mexico, now face a 15 percent tariff on its exports, and starting in July, that number will rise to 25 percent, the New York Times reports. The company's customers are starting to look at signing contracts with the cheesemaker's biggest competitors.
Rather than rewriting trade deal to be in the country's favor, Trump has withdrawn from agreements his predecessors were negotiating, leaving other countries to set the terms of trade, giving rivals an advantage.
Cheesemakers in the European Union are carving out protections for specific cheeses in their trade agreements. Under "geographic indications," a cheese must be made in Greece to be labeled "feta" and so on, effectively locking out American cheese producers from using these names, the New York Times reports.
However, there are still some supporters of Trump's aggressiveness, claiming that he is standing up for agriculture as a whole. According to the New York Times, the president tweeted out saying that Canada charges a 270 percent tariff on American dairy products. The country charges high levies on American milk to keep it from flooding the Canadian market.
Though, once Mexico's tariffs go into place, it will hurt most cheesemakers like the Sartori Company, who has said that even though it would hurt business they would be able to adjust. No all cheesemakers find that suffering will be worth it, though. Countries like China are just beginning to eat cheese and demand could skyrocket in coming years.
To read the full original article, please click here.