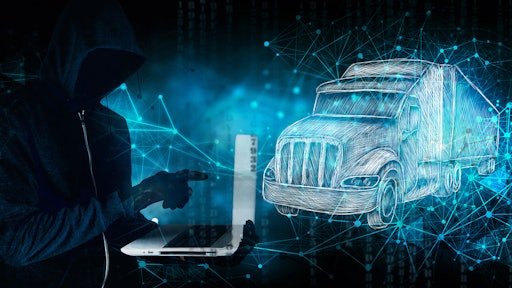 S... AdobeStock_475846583
2022 saw a lot of instability within the supply chain. From port strikes and rail strikes to inflation, driver shortage and more, industry experts predict it may take supply chains close to 2-3 years to turn around.
Fast forward to present day, and more than half of executives do not expect a return to a "normal" supply chain until the first half of 2024 or beyond.
In Food Logistics' January/February 2023 issue, editor-in-chief Marina Mayer talks with several industry experts about the top supply chain threats to impact supply chains in 2023.
Here's an interview with Ryan Fannon, director of product management and user experience, UPS Capital, who details why porch piracy and credit card fraud are still top of mind in 2023. [CLICK HERE to read the article in full].
Food Logistics: 2022 saw a lot of instability within the supply chain. Port strikes, rail strikes, driver shortage and more. Industry experts even predict it may take supply chains close to 2-3 years to turn around. From your vantage point, how do these factors impact/influence the way companies can mitigate supply chain threats?
Ryan Fannon: The supply chain is capable of evolving and adapting but can become temperamental in times of great change. The turbulence of the last three years has demonstrated the importance of safeguarding the shipping experience to protect shippers from factors outside of their control. Although the supply chain appears to be on the mend, freight shippers continue to experience the repercussions of rising costs, inflation and changes in demand.
Combined with increased claims for delayed, damaged, or lost shipments, these issues leave shippers with little room to maneuver after the pandemic already tightens margins. Even if the supply chain is in perfect condition, there will always be external risk that shippers should be prepared for and safeguard against through customized shipping insurance, especially if their margins are in a vulnerable state.
Food Logistics: What are some of the cold food chains biggest threats to date? And why? (some examples are food safety, cargo theft, driver shortage, war overseas, looming strikes from rail/dock workers, natural disasters and more)
Fannon: UPS Capital's Realities of Freight Shipping report found that companies shipping perishable foods experience the most customer complaints as a result of damaged, lost or stolen shipments. Despite the fact that this insight is not directly related to climate change, we found that 75% of merchants reported an increase in damaged, expired and lost packages over the last 12 months.
As a result, 40% of merchants reported that they expect to see an increase in damaged or expired merchandise, and a third of merchants anticipate the need to invest in weather stabilizing shipping packaging over the next five years. Rising temperatures and other extreme weather conditions is a threat to cold food chains, however merchants are thinking about the future and how to safeguard their goods and margins.
Food Logistics: How can supply chain management and other solutions help companies overcome such threats?
Fannon: Freight shippers stand to lose $180,000 or more each year due to lost, stolen or damaged shipments. With claim filings on the rise, swift resolution is crucial. Shippers can reduce financial repercussions and focus on customer resolution by partnering with third-party insurance providers. While shipping mishaps may be unavoidable, mitigating threats to your company's finances and reputation is key.
Food Logistics: How has the influx of e-commerce put supply chains in danger of incurring more/different kinds of threats?
Fannon: An influx in e-commerce has made porch piracy top of mind in 2022. Two in five merchants stated that porch piracy has become more of an issue for their business in 2022 than previous years. According to a UPS Capital study, 50% of merchants stated that one in 10 customer packages are stolen from porch pirates each month.
Fraud is also becoming a larger concern for merchants as e-commerce continues to raise. Fraudulent credit card transactions and return shipment fraud are growing risks for businesses. According to the 2022 state of shipping report, third-party return shipment fraud affects 31% of merchant profitability, due to merchandise missing, labels that have been altered and return addresses that have been altered.
[CLICK HERE to read the article in full].