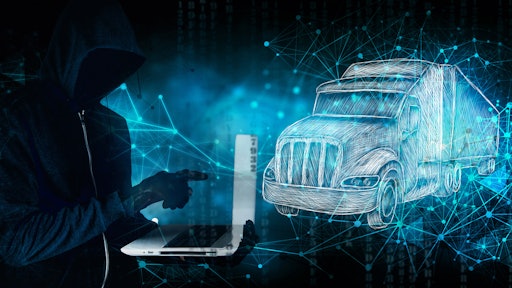 S... AdobeStock_475846583
Earlier this month, I presented at PLM TrustLink's Food Distribution Summit in Naperville, Ill. Flanked by industry greats such as Amber Engebretson, supply chain Center of Excellence senior manager for Chipotle; Bridgette Blitch, a legal expert on food safety regulations; and Liz Sertl, senior director, community engagement at GS1, I used my 30-minute timeslot to talk about safety and security in food distribution…. namely, cargo theft.
For those of you who have not experienced cargo theft yet, consider yourselves lucky. That's because cargo theft in the food distribution space is a really big deal.
In fact, according to TT Club, the food and beverage industry experienced the most cargo theft in 2022. Think about that. In relation to theft of semiconductors, pharmaceuticals and other forms of product theft, food and beverage topped that.
But, it's not just the product itself being stolen.
Events that involved theft of at least one heavy commercial vehicle such as a semi-truck or semi-trailer increased by 17% year-over-year, according to a CargoNet study, and the average value of cargo stolen in an event was $214,104, equivalent to an estimated $223 million in cargo. To put that into perspective, 98 trucks and 119 trailers were reported stolen in one quarter.
Increased theft activity around major intermodal hubs was also a big thing in 2022, with California remaining the top state for reported events in 2022. Meanwhile, theft in Georgia increased by 34% year-over-year, due in part to organized crime groups that took advantage of increased traffic to the Port of Savannah.
And, think about those fake Facebook profiles that try to become friends with you. Fictitious pickups act in the same way.
CargoNet recorded 96 more fictitious pickups in 2022 compared to the year prior, a 600% increase year-over-year.
Those fictitious pickups are usually manned by fraudsters posing as forwarders using a freight exchange site and providing false instructions to a driver. This form of carrier fraud sees criminals imitating haulers and other sub-contractors like drivers with falsified documents. According to TT Club, carrier fraud accounted for 84% of claims involving fraud or deception in 2022.
Even though many of today's U.S. and global cold food chains continue to face the same disruptions, bottlenecks, challenges and threats they've been facing the past 2-3 years, understanding and overcoming such threats will help companies achieve some stability. And some of that comes in the form of mitigating cargo theft along the food chain.
In today's day and age, it's easy to commit cargo theft. Lots of moving pieces. Lots of downtime. Lots of check points. Product is stuck on ships. Trucks are stuck on highways. The labor shortage in warehouses has put a backlog on when product is even accounted for. Port congestion and railhead delays. Basically, too many other distractions where product can go missing and no one will notice.
Then there's inflation. When the economy starts to dip, people start to do crazy things. Just like we've seen an uptick in semiconductor thefts, so too is the case for perishable food items. With the price of eggs, be on the lookout for egg thieves.
Regardless of the product you move and how you move it, implement the necessary tools, technologies and training to mitigate cargo theft and protect your product, people and trucks.