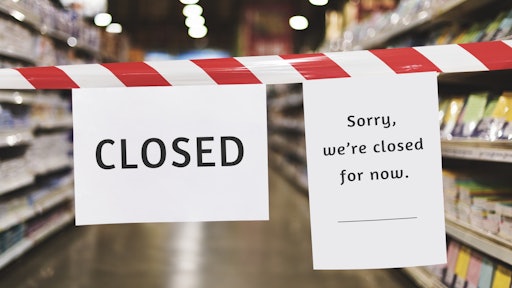 rawpixel.com - stock.adobe.com
2021 was full of supply chain disruptions. From natural disasters and ransomware attacks to ships stuck at sea and a global pandemic that just won't go away, the supply chain industry went from being upended to somewhat mended to now trying to overcome bottlenecks amid a workforce shortage.
But, it's important to understand that supply chain disruptions will always occur, pandemic or not, just in different ways, forms and times.
In Food Logistics' Jan/Feb 2022 issue, editor-in-chief Marina Mayer talks with several industry experts about how to mitigate supply chain threats for tomorrow and beyond.
Here's an interview with Glenn Koepke, general manager, network collaboration, FourKites, who details how 2022 will see demand-driven disruptions as a result of inflation, labor and union agreements, with excerpts publishing in Food Logistics' Jan/Feb 2022 issue. [CLICK HERE to read the article in full].
Food Logistics: 2021 was full of supply chain disruptions, i.e., natural disasters, global pandemic, ransomware attacks, ships stuck at sea and more. Heading into the New Year, what are some other disruptions you see posing threats to our nation's cold food and beverage supply chains? And, why?
Glenn Koepke: The first half of this year will see a carryover of issues from 2021 and will be a recovery period for freight capacity, port throughputs and product supply. Once the dust settles and these constraints are alleviated — primarily due to volume slowness post holidays — 2022 will see three major disruptions looming. First is labor volatility, second is inflation and third is the West Coast port labor contracts ending July 1.
The labor market has impacted every wing of the supply chain from manufacturing employees, temporary labor for farmers, truck drivers, retail operations and even corporate staff. The stress put on operators will continue to push supply chains to the brink, putting operations at major risk. Second is inflation. If inflation continues to increase at major rates and spending is impacted, we will see demand numbers fluctuate significantly. Food supply chains often operate well when supply and demand remain balanced, but this will shift demand downward and put capacity in a very volatile position and impact prices for freight and logistics. Lastly is the West Coast labor contracts for the port operations. Many products come through the West Coast, such as packaging materials for food and beverage supply chains, which will force companies to look at their sourcing strategy for all products.
Specific to the cold food and beverage industries, major weather events and the changing of seasons will continue to impact the growing seasons and supply seasons for produce and perishable goods. These effects are a driving force in why grower-shipper companies are investing in real-time visibility to understand where shipments are at all times from farm to cold storage and ultimately to end customer stores.
Food Logistics: How do the supply chain disruptions of 2020 and 2021 differ (or are similar) from what to expect in 2022?
Koepke: The biggest difference between 2022 compared to 2020 and 2021 will be a demand shock giving way to supply. 2020 and 2021 saw major volumes within many industry segments that highlighted major bottlenecks and then the constant disruptions compounded these effects. Disruptions in 2022 will be driven more by supply due to inflation, labor and union agreements.
Food Logistics: What are some things the cold food and beverage industry can do right now to mitigate supply chain threats throughout the chain? I.e., Implement technology, etc. Please be specific.
Koepke: Cold supply chains are often lacking technology and tend to be very manually driven at origin, where toward the end of the delivery technology tends to be readily available. Companies need to be investing in first mile logistics technology, understanding where goods are in-transit, and ensuring the chain of custody has clear hand off points with temperature monitoring along each leg and order. This ensures security and ultimately a platform to focus and drive sustainability improvements. Logistics is often left out of sustainability efforts and, although companies are talking more and more about it, having an accurate carbon footprint measurement on every single shipment is a dream for many cold supply chains. We see the innovators investing in visibility to help solve this problem and we are anticipating strong demand as pressure and incentives mount for carbon offsets.
Food Logistics: What advice do you have for those companies still struggling to mitigate supply chain threats?
Koepke: Threats will always happen and disruptions will always occur — even in a vertically integrated supply chain where you control every single function. Cold supply chains and especially food and beverage companies are often very horizontal, requiring products from suppliers and other companies to achieve success. To best manage this, I recommend performing a life-of-an-order exercise, coupled with a risk and tooling analysis. This exercise does 3 things: first, it creates a team environment to understand the current state and highlights areas where improvements are needed. Second, it creates a clear roadmap and impact analysis of the risks that are most probable and how those events could be offset. Lastly, it creates accountability for the teams and fosters a culture of constant improvement and learning. Food and beverage companies do not have the luxury of high profit margins, like tech, pharma or financial companies, that may allow for much larger investments. Prioritization is a critical exercise.
Food Logistics: What are some things not addressed above that may be pertinent to our readers regarding mitigating supply chain threats?
Koepke: Collaboration. Collaboration is no longer confined to emails, phone calls and text messages. When asking leaders within the food and beverage and cold supply chain the new ways in which they collaborate, a common answer is Microsoft Teams or Slack, but there is so much more available in the market. Companies that are really innovating view collaboration as a singular application that allows messaging at an order level with multiple parties: growers, carriers, warehouses, and customers. This allows for extremely accelerated decision making, record-of-truth conversations and, ultimately, automating the alerts that many service representatives typically spend countless hours creating in email or spreadsheets.
[CLICK HERE to read the article in full].