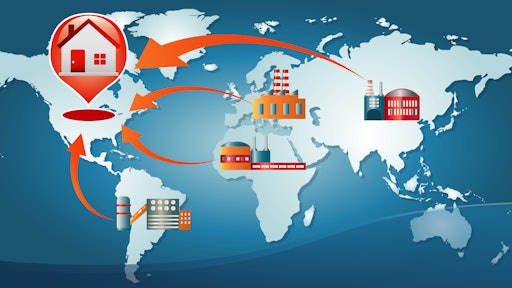 melita - stock.adobe.com
2021 was full of supply chain disruptions. From natural disasters and ransomware attacks to ships stuck at sea and a global pandemic that just won't go away, the supply chain industry went from being upended to somewhat mended to now trying to overcome bottlenecks amid a workforce shortage.
But, it's important to understand that supply chain disruptions will always occur, pandemic or not, just in different ways, forms and times.
In Food Logistics' Jan/Feb 2022 issue, editor-in-chief Marina Mayer talks with several industry experts about how to mitigate supply chain threats for tomorrow and beyond.
Here's an interview with Manish Sharma, CEO of operations, Accenture, who details how artificial intelligence (AI), digital twins, data and more help companies adapt to the current constant-changing environment, with excerpts publishing in Food Logistics' Jan/Feb 2022 issue. [CLICK HERE to read the article in full].
Food Logistics: 2021 was full of supply chain disruptions, i.e., natural disasters, global pandemic, ransomware attacks, ships stuck at sea, and more. Heading into the New Year, what are some other disruptions you see posing threats to our nation's cold food and beverage supply chains? And, why?
Manish Sharma: It's hard to predict the future, but with continued labor shortages, we're now seeing the crisis's cascading effect – challenges like slowing or stoppage in production and delays in the transportation of goods. Early in the new year, we may potentially see disruption stemming from how companies have reacted to and managed the supply chain crisis, as well as the continued effects of inflation.
A recent Accenture C-suite survey revealed the following business reactions:
Companies ordering supplies earlier than previously (43%)
Creating new contingency plans to limit the effects on the business (43%)
Restricting supply chains and inventory management processes (42%)
Double ordering to ensure at least come supply (35%)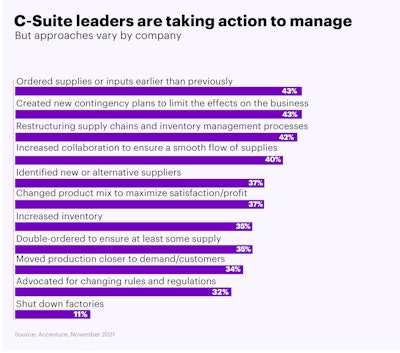 While necessary in the short-term, these pivots all vary by context and have the potential to cause disruptions in other places in the supply chain. For example, real-time data can make or break mitigation strategies when working with temperature-controlled goods. Successful companies have also reimagined their talent strategies using AI to better match skills as labor needs change. The cold food and beverage industry must do the same, leaning on AI to enhance the workforce and free up talent time to tackle other challenges.
But, perhaps most importantly, supply chain leaders must have a cohesive strategy underpinning how work gets done across technology, processes and people. Now more than ever, making data-driven decisions and having an integrated strategy across siloed functions is non-negotiable.
For example, grocers tend to struggle with ordering the right amount of inventory in an uncertain environment. Rather than waste food or profit, a major grocery chain worked with Accenture to create more precise forecasts of demand using AI-powered insights. By allocating to stores more accurately, the grocer was able to reduce inventory by 30% while boosting profits.
Food Logistics: How do the supply chain disruptions of 2020 and 2021 differ (or are similar) from what to expect in 2022?
Sharma: The primary difference rests in the opportunity to adapt to the current constant-change environment. In 2020, supply chain disruptions came from a halt in production of goods due to the pandemic and stay-at-home orders. In 2021, and likely into 2022, demand has recovered globally but labor and supply shortages remain. Because of this, in 2022, we expect inflation to continue to erode purchasing power; in fact, 88% of the C-Suite leaders Accenture recently surveyed believe so. And given the likely duration of the problem – with 33% of those leaders forecasting at least three years – companies risk implementing short-term solutions for a long-term problem.
While 81% of supply chain leaders (according to Accenture's future-ready report) agree they are facing technological change at unprecedented speed and scale, many are still constrained by aging legacy technology and working in a patchwork of digital and non-digital systems. This will be an area of increased attention in 2022, as most executives predict an increase in the need and implementation of technology and to fill in current gaps caused by the crisis.
Food Logistics: What are some things the cold food and beverage industry can do right now to mitigate supply chain threats throughout the chain? I.e., Implement technology, etc. Please be specific.
Sharma: As mentioned before, the implementation of technology is not only crucial, but also positions companies to look beyond current disruptions. One strategy that the cold food and beverage industry can continue to leverage is the implementation of digital twins to help understand the present situation and also predict the future. By creating real-world scenarios, virtually. Companies can not only adjust in real-time, feeding live data to the simulation, they can also simulate multiple solutions to current and future disruptions. For example, Accenture and MIT have designed a stress test based on a supply chain "digital twin", enabling users to sidestep spikes in demand, supplier shutdowns, material shortages or port disruptions.
However, companies should not rely on technology alone as a panacea for the current crisis, but rather think about how technology enhances the workforce. People augmented by technology completely changes the way companies engineer, plan, source, create, service and reclaim goods.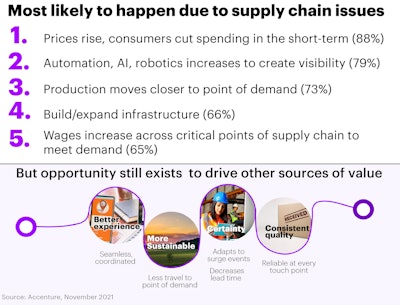 Food Logistics: What advice do you have for those companies still struggling to mitigate supply chain threats?
Sharma: In short, as companies adapt and strategize, they should consider the following:
Evaluate the cost-effectiveness of immediate action. Executives must carefully evaluate the cost-effectiveness of taking many actions right now. Some solutions may be appropriate no matter how long the supply chain issues last or how severe they become, but others may prove counterproductive. Companies should think long-term and take this opportunity to make considerate insight-driven decisions with better AI and data. Companies that focus on short-term solutions risk spending large sums on resources with little proven ROI.
Scale automation to augment human talent. As mentioned before, supply chain leaders recognize the importance of automation, and report wide or full-scale automation in their organization has increased more than 4x over the past three years. Regardless of the size or the current state of a company's supply chain, leaders should be thinking about what scaling automation to augment human talent looks like. 96% of survey supply chain leaders project full-scale automation to continue to increase at a rapid pace.
Adapt supply chains to meet customers' growing expectations. By understanding new demands, executives – and in turn, their businesses – can deliver fast, flexible, and cost-effective fulfillment with the opportunity to further drive other sources of value.
Build resiliency across ecosystem relationships. More than a third (39%) say the pandemic pushed their organizations to focus on the resiliency of supplier networks. For example, this means ensuring less than 25% of a critical item's quantity passes through the same supplier-location-port-route.
Food Logistics: What are some things not addressed above that may be pertinent to our readers regarding mitigating supply chain threats?
Sharma: We've addressed the opportunities around human and machine collaborations, but it's also important for companies to put people first and collaborate across business and technology. Innovative companies make it a priority to break down silos between these departments. In fact, 86% of all future-ready organizations expect business and technology to collaborate fully by 2023.
There is an opportunity for companies to develop a refreshed, digitally-driven procurement operating model and new ways of working with internal customers, the supplier ecosystem and external partners.
[CLICK HERE to read the article in full].