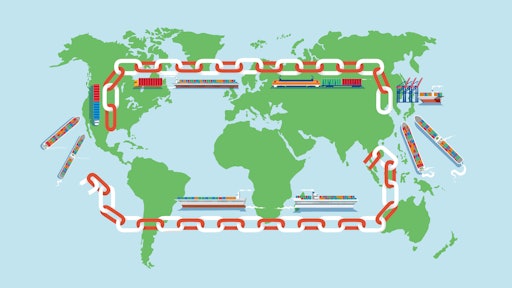 Reinhard
2021 was full of supply chain disruptions. From natural disasters and ransomware attacks to ships stuck at sea and a global pandemic that just won't go away, the supply chain industry went from being upended to somewhat mended to now trying to overcome bottlenecks amid a workforce shortage.
But, it's these supply chain disruptions that continue to pose threats to the nation's cold food and beverage supply chains. What's been dubbed as the "Great Resignation" has left millions of job positions vacant. The traditional supply and demand model is so upside down. And, the cost of goods on everything from ingredients to packaging continues to skyrocket.
Heading into the New Year, supply chain industry experts reveal some things the cold food and beverage industry can do right now to mitigate supply chain threats for tomorrow and beyond.
For starters, it's important to understand that supply chain disruptions will always occur, pandemic or not, just in different ways, forms and times.
"Threats will always happen and disruptions will always occur — even in a vertically integrated supply chain where you control every single function. The first half of this year will see a carryover of issues from 2021 and will be a recovery period for freight capacity, port throughputs and product supply. Once the dust settles and these constraints are alleviated — primarily due to volume slowness post holidays — 2022 will see three major disruptions looming. First is labor volatility, second is inflation and third is the West Coast port labor contracts ending July 1, 2022," says Glenn Koepke, general manager, network collaboration, FourKites. "The labor market has impacted every wing of the supply chain from manufacturing employees, temporary labor for farmers, truck drivers, retail operations and even corporate staff. The stress put on operators will continue to push supply chains to the brink, putting operations at major risk.
"Second is inflation. If inflation continues to increase at major rates and spending is impacted, we will see demand numbers fluctuate significantly. Food supply chains often operate well when supply and demand remain balanced, but this will shift demand downward and put capacity in a very volatile position and impact prices for freight and logistics. Lastly are the West Coast labor contracts for the port operations. Many products come through the West Coast, such as packaging materials for food and beverage supply chains, which will force companies to look at their sourcing strategy for all products," he adds.
"Specific to the cold food and beverage industries, major weather events and the changing of seasons will continue to impact the growing seasons and supply seasons for produce and perishable goods. These effects are a driving force in why grower-shipper companies are investing in real-time visibility to understand where shipments are at all times from farm to cold storage and ultimately to end customer stores. Disruptions in 2022 will be driven more by supply due to inflation, labor and union agreements," says Koepke.
Supply chain disruptions also come in the form of imbalanced import/export.
"In addition to the continued congestion of containers at ports, the imbalanced distribution of refrigerated containers (reefers) will likely loom over the global fresh and frozen food trade in 2022," says Xinnan Li, VP, RaboResearch F&A supply chains, Rabobank. "The gigantic surplus of reefer containers in Asia (1.6m TEUs as of August 2021) is contrasting the huge deficit in Central and South America (-970,000 TEUs). To put things in perspective, Drewry estimates the total number of reefer containers just shy of 3.5m TEUs in 2021. This means one in two containers is now stuck in Asia."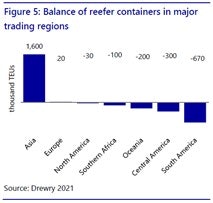 2022 will also see continued labor constraints, impacting each stage of the food industry, from food processing to food transportation and storage, Li says.
"We expect reefer rates, which have only experienced mild growth so far, to continue to go up and food exporters may have to scramble for reefer capacity in the face of the upcoming export season," Li adds. "On top of this, geopolitical tensions will continue to be threats to the global food and ag supply chain; political decisions may impact food trade directly and indirectly."
What's more is, severe weather events are projected to impact the global supply chain more in 2022 than the pandemic will, says Sara Pratley, VP of global intelligence for AlertMedia.
"With greater frequency of extreme weather events expected as a result of climate change, risks to the supply chain will also increase. There will be more damage to transportation infrastructure, more power outages and more losses to productivity, just to name a few. Furthermore, no sector will be immune," Pratley says. "Weather, combined with the lack of modernization of U.S. transportation infrastructure will not only disrupt ports, but our ability to deliver goods and services by rail, truck and even plane. All companies will need to consider the potential impact of climate change and develop plans that adequately address how their businesses will fare in the face of unexpected and extreme weather events."
At the same time, the supply chain and logistics sector continues to suffer from a massive shortage of supply chain workers.
"On the one hand, there is a lot of complexity involved in supply chain roles. From logistics to analytics, most organizations do not have the proper training or resources to build this type of expertise in-house. Secondly, those who outsource supply chain roles should expect an increase in costs for delivery of services, and because of the spike in demand, projects will take longer to complete," says Peter Steinfeld, VP of safety solutions, AlertMedia. "Lastly, natural disasters won't be the only weather disruptions facing the supply chain in 2022. With greater frequency of extreme weather events expected as a result of climate change, risks to the supply chain will also increase. There will be more damage to transportation infrastructure, more power outages and more losses to productivity just to name a few. Furthermore, no sector will be immune."
The supply chain logjam doesn't just impact grocery retailers and the end consumer; it also poses threats to U.S. schools and their foodservice distributors.
Adding to this complexity are the inherent economics and formal bid structure for school business, according to Linda Mallers, CEO and president of MaetaData, formerly FarmLogix, LLC.
"As distributors continue to struggle with labor shortages, rising fuels costs and unpredictable demand and manufacturing, we are seeing skipped or partial K12 school deliveries," says Mallers. "Some distributors are shifting their business models and relinquishing their K12 business entirely. Long term, this will undoubtedly bring permanent changes in school food supply chains, and will require more diverse sourcing and delivery relationships with less reliance on single delivery and production sources. In higher ed, there were similar, although related, supply chain challenges where students were utilizing meal delivery apps that integrated with meal cards when cafeterias were closed. This alternative campus supply chain met a need, but also created instability for distributors, increased traffic and emissions on campuses and created general congestion from the 1:1 delivery ratio of meal delivery apps that is not sustainable."
The supply chain crisis is also presenting a domino effect of challenges that range from slowing or stoppage of production and delays in the transportation of goods.
"Early in the New Year, we may potentially see disruption stemming from how companies have reacted to and managed the supply chain crisis, as well as the continued effects of inflation," says Manish Sharma, CEO of operations, Accenture.
Case in point: an Accenture study revealed that 43% of survey respondents (companies) are ordering supplies earlier than previously; 43% are creating new contingency plans to limit effects; 42% are restricting supply chains and inventory management processes and 35% are double ordering. That's why implementing any kind of supply chain visibility technology is crucial to not only looking beyond current disruptions, but to also leverage technology to help understand the current situation.
"One strategy that the cold food and beverage industry can continue to leverage is the implementation of digital twins to help understand the present situation and also predict the future. By creating real-world scenarios, virtually, companies can not only adjust in real-time, feeding live data to the simulation, [but] they can also simulate multiple solutions to current and future disruptions," says Sharma.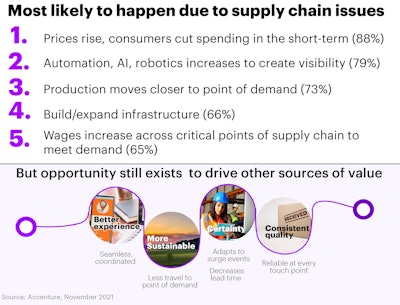 "While necessary in the short-term, these pivots all vary by context and have the potential to cause disruptions in other places in the supply chain. For example, real-time data can make or break mitigation strategies when working with temperature-controlled goods. Successful companies have also reimagined their talent strategies using AI to better match skills as labor needs change. The cold food and beverage industry must do the same, leaning on AI to enhance the workforce and free up talent time to tackle other challenges," Sharma says. "For example, grocers tend to struggle with ordering the right amount of inventory in an uncertain environment. Rather than waste food or profit, a major grocery chain worked with Accenture to create more precise forecasts of demand using AI-powered insights. By allocating to stores more accurately, the grocer was able to reduce inventory by 30% while boosting profits."
Applying lessons learned for the future
While implementing technology and safeguarding certain processes may bring some ease, all is lost if companies cannot take lessons learned from the onset of the pandemic and apply them toward mitigating supply chains for the future. That's because experts liken 2022 to underscoring challenges in the supply chain never experienced before.
For instance, labor and union agreements could further prevent the workforce shortage gap from closing. Companies will experience a demand shock. Innovation and visibility will be further embraced but still only used as the end-all-be-all solution. And, the pressure will be on to keep product moving in a safe and efficient manner, regardless of the disruption or threat.
"While 81% of supply chain leaders agree they are facing technological change at unprecedented speed and scale, many are still constrained by aging legacy technology and working in a patchwork of digital and non-digital systems. This will be an area of increased attention in 2022, as most executives predict an increase in the need and implementation of technology and to fill in current gaps caused by the crisis," says Sharma. "More than a third (39%) say the pandemic pushed their organizations to focus on the resiliency of supplier networks. For example, this means ensuring less than 25% of a critical item's quantity passes through the same supplier-location-port-route. Regardless of the size or the current state of a company's supply chain, leaders should be thinking about what scaling automation to augment human talent looks like. 96% of survey supply chain leaders project full-scale automation to continue to increase at a rapid pace."
2022 will also bring other issues as volume picks up and the economy recovers, Mallers says.
"Even the largest companies, cafeterias and distributors alike saw the benefit of diversifying their supply chains in 2020 and 2021, so we will most likely never go back to how things were. That being said, we are also not at all certain as to what 'next' looks like, and 2022 will most likely entail the road to next with more than a few potholes," Mallers adds. "We anticipate continued supply/demand instability and reinvention that will differ by distributor and customer. At the same time, there is an opportunity for the supply chain as a whole to embrace innovation in logistical efficiency, as well as more local and regional sourcing. Those that survived 2020-21 have the opportunity to thrive if they are willing to shed prior inflexible operations, services and relationships and embrace the ability to be more agile."
Yet, the overarching threats to today's supply chains remains to be the constrained warehousing and driver/trucking shortages.
"The disruptions of 2022 will likely be similar to those faced over the past two years. While paper towels can be stockpiled to avoid supply chain disruptions, that doesn't work for meat, eggs and food items with a fixed sell by date," says Ahmed Samnan, VP, PartnerLinQ. "The No. 1 issue is likely to remain constrained warehousing and driver/trucking shortages. No one is predicting widespread food shortages in 2022, but narrower product shortages will continue to be an issue for manufacturers as they struggle to meet demand, and this will drive up costs, especially for retailers who currently lack visibility and resiliency in their supply chain."
"Do your due diligence. Invest in your supply chain to gain visibility over available to process and WIP. Many companies are panic buying, trying to get 'something' done without regard to the realities of the still in flux 'New Normal,' says Samnan. "Continue your planning as you would in a normal year, but recognize that there is great potential for events and repercussions similar to what happened in 2020-21 to impact your supply chain again."
And, no specific market segment or industry will be immune from impending disruptions. From oil, gas and fuel shortages to microchips and food items, "we have gone from a just-in-time supply chain to a culture of back orders, out-of-stocks and shipping delays. But, the organizations best suited to survive these disruptions are ones that have detailed emergency preparedness plans outlined ahead of time that address as many risks to their supply chain as possible," says Steinfeld.
Furthermore, continue to make supply chain visibility a top priority.
"Getting rid of the 'black box' within your supply chain allows more accurate forecasting and advanced planning. It is important to take a proactive approach rather than a reactive one and this requires participation up and down your supply chain," says Li. "With better planning, it may also be beneficial to secure larger volumes or longer contracts as those volumes will be fulfilled as a priority. Data also suggests a widening gap between contract and spot container rates for example. And lastly, be flexible between various suppliers, customers or channels. Pandemic has shown us how consumer consumption can dramatically shift from foodservice to retail overnight, yet our supply chain is not set up and optimized for it. This exposed opportunities to improve the resiliency of our food supply chain in the face of disruption."
While disruptions continue to occur, keeping supply chain threats at bay is critical to the future success and recovery of today's cold food chains.