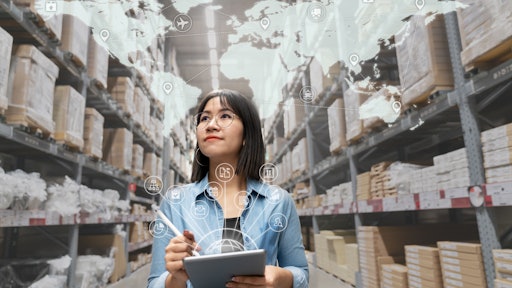 Chaay_tee/stock.adobe.com
Executives at businesses across sectors are sweating the supply chain and other disruptions plaguing business today. According to a new report from AlixPartners compiled after surveying business executives, many are fearful of supply chain issues today but only 43% focus on long-term action to circumvent these problems. The other 53% look to short-term solutions like transportation contracts, paying more for materials, products, and transportation, and raising prices. Given that the supply chain issues are not likely to disappear overnight this could be detrimental. Seventy-seven percent admit that the actions taken to circumvent disruptions are not enough. 
Per AlixPartners: 
72% of CEOs are worried about losing their jobs due to increased disruption in their industry, and 94% predict drastic change to their business models during the next three years, according to a new survey from global consulting firm AlixPartners. The AlixPartners 2022 Disruption Index surveyed more than 3,000 CEOs and executive leaders to examine their top business concerns and the impact of disruption--defined as the forces that displace businesses, markets, and operating models--on their organizations. Amid unprecedented business disruption, CEOs say the pandemic is not their foremost concern in the year ahead.
The survey paints a challenging environment for today's executives, as seven in 10 (70%) report facing increased levels of disruption to their company over the past year. No matter what actions executives take in response to key challenges like supply chain upheaval, the workforce crisis and digital transformation, three in five (57%) worry their company is not adapting fast enough to stay ahead of disruption. With disruption causing so much uncertainty and anxiety for business leaders, more CEOs cite concern over losing their jobs this year (72%) compared to last year (52%).
"CEOs need to have a new skill set and mindset to lead their companies through the continuous waves of disruption," says Simon Freakley, CEO of AlixPartners. "Today's CEO must be in a constant state of growth and reinvention, showing the courage to make decisions based on imperfect information, pivot strategies based on new insights and market forces, and never stay hostage to tried-and-true, but rapidly fraying business models. By embracing disruption, CEOs can capitalize on opportunities in their markets and completely reshape the competition."