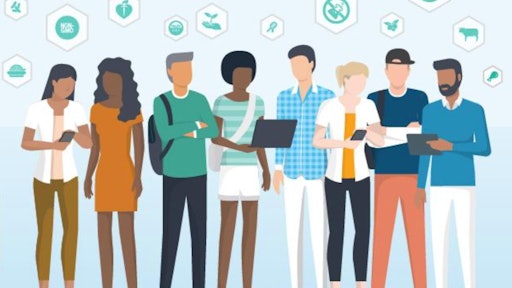 Label Insight
2020 was full of supply chain disruptions.
From natural disasters and civil unrest to the ever-present Coronavirus disease (COVID-19), the nation's cold food and beverage supply chains were continuously challenged.
But, it's the threats that are still to come that pose the most risk.
"Like COVID, the greatest threat is the one we are yet to have identified," says Doug Lawson, CEO of ThinkIQ. "[Nearly]14 months ago, no one had ever anticipated or planned for the type of disruption COVID introduced. The next big disruption will be one we have yet to anticipate."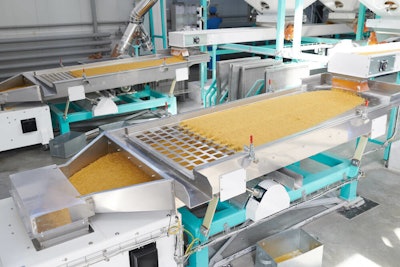 The grocery retail e-commerce boom, labor management challenges, cybersecurity, and now, how to juggle shipments of the COVID-19 vaccine among a cold food chain all present their own sets of supply chain threats. And, for many in the supply chain industry, it's about preparing for the worst and expecting the unexpected.
"When there's an impact like the pandemic on major industrial hubs across the world, the ripple effect is even greater. We are seeing this ripple effect transpire in many ways today – both on a global and local level. From a global perspective, we see that supply chains have dramatically slowed, and so too have the alternative suppliers within this chain," says Brian Alster, general manager, third-party risk and compliance at Dun & Bradstreet. "If 2020 taught us anything, it's not how many more disruptions we need to look out for, but about how we need to protect our global and local supply chains, no matter the circumstances."
Emerging technologies provide added layer of protection
One way to mitigate supply chain threats is to invest, implement and deploy emerging technologies.
"Everything from automation to workforce management tools and cybersecurity will need to be considered," says Sean Maharaj, managing director at AArete. "For example, routine manual tasks at the processing level will need to employ more robotics to limit exposure levels via real-life person interactions. As of late, some warehouses across the country have ramped up on automation to pick products for inbound/outbound shipping. Furthermore, transportation companies have accelerated their need to use driverless technologies. Technologies for contactless interactions have also surfaced at the transaction level. Barcodes and even bills of lading etc. have all begun to go electronic to limit person-to-person contact, while speeding up the processing of important information related to transactions between parties. Specifically, the Internet of Things (IoT) has also gained more speed, as companies latch on to the notion of improved uptime and utilization of machinery and assets to deliver better performance."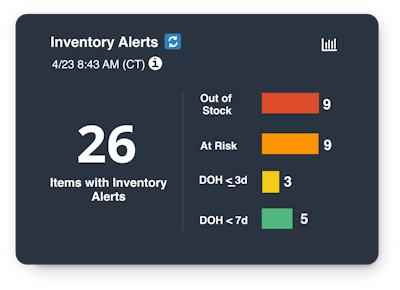 Sometimes, all it takes is just a little data to keep the threats at bay.
"Some companies have realized the need to be digitally ready or that their model for supply chain activity is no longer sustainable. In response, they have shifted infrastructure to be more digital and data-driven," says Ronen Lazar, founder and CEO of INTURN. "Collecting as much data as possible allows for better insights and the agility to respond appropriately when things change rapidly. We see this in inventory management, which has historically been a pain point with companies slow to change their methods. Companies that were committed to impractical methods to account for and manage their inventory, such as spreadsheets that needed to be updated manually, are realizing the benefits that investing in a digital platform can bring."
The foodservice industry, for example, was hit hard by COVID-19, facing nationwide lockdowns, restrictions on indoor dining, and in some cases, permanent closures. However, technology provided many restaurant owners and foodservice distributors the visibility needed to forecast ahead to manage inventory and more.
"Using data, we enable a collaborative approach to address challenges in risk mitigation, brand protection, supply monitoring, profitability optimization and sales growth enablement, not just in uncertain times, but all the time," says Kate Hubbard, director of marketing for ArrowStream. "ArrowStream's technology platform gives chains and their partners critical visibility for complete transparency into their supply chain data such as purchase volumes at the local level, on-hand and on-order inventory at the distribution center and current inventory levels at the plants, including production levels shared among partners."
What's more is, taking action on that data becomes an important element of protecting the supply chain.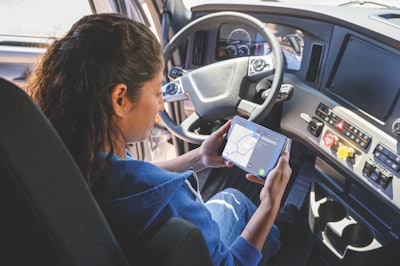 "As an example, I have worked with carriers that used predictive modeling to identify rest stops and gas stations that were more prone to freight loss in order to avoid those stops or take extra precautions while there. We could apply similar technology to threats (natural or man-made) as well as the overall quality of the delivery process," says Chris Orban, V-P of data science, Trimble Transportation. "Making the existing tracking data we have actionable is also incredibly important. Do we have a plan when a truck is stopped for longer than expected? How about when a driver doesn't respond to a priority message? Supporting our drivers while they're on the road is a critical part of protecting the supply chain, and we can do that by providing them insight into what challenges their route might entail, and where they can safely stop and rest when needed."
Likewise, moving from a "just-in-time" to "just-in-case" inventory module proved that supply chain management solutions have become instrumental in pivoting in times of need.
"Technology can help in many ways, from better modeling, demand smoothing, pipeline visibility to further automating specific manufacturing activities that were left exposed as a result of the virus," says Doug Baker, vice president, industry relations for FMI – The Food Industry Association. "Those in our industry who are responsible for ensuring our supply chains remain resilient are anticipating and reacting to crises, which in many instances go completely unnoticed to the average person. These professionals nimbly secure the safety and security of food from product recalls to food defense. Something much less worrisome, but no less deserving of our industry's attention is to secure the future of talent in the supply chain. For several years, we've experienced disruption due to trucking labor shortages, which is felt more acutely during major eating holidays or during a response to a major disaster."
For those companies who have yet to invest in technology, many supply chain experts say now is the time to make those investments, before additional disruptions present even bigger risks.
"Technology is transforming the way we work, procure, produce, transport and capture customer inputs. Anybody who is not adopting technology is losing the race," says James Harford, senior manager in the strategic operations practice of global management consultancy, Kearney. "But, blindly investing in technology will not lead to the intended results either. Achieving excellence in supply chain resilience involves answering three questions -- Do you have the infrastructure in place to react to a supply chain disruption? Do you have the tools to leverage this infrastructure to react quickly and effectively? Can you predict a disruption? Technology is a key enabler for many of these areas, but alone, it is not sufficient—ultimately, organizations need to change how they think about the tradeoffs among risk, performance and resilience if they are going to successfully improve their resilience capabilities."
Additionally, companies who haven't implemented any mitigation solutions are urged to start small.
"Don't worry about building the perfect monitoring or alerting system, just start gathering data, and then do something with it," says Orban. "Get your drivers used to the idea that the company is gathering data not to be 'Big Brother,' but to help and support them. Make sure the technology that you choose is something you understand and has a clear value to the company. Talk to your peers, see what they are using and what the pros and cons of any technology solution are."
Companies are encouraged to conduct a gap analysis to determine "where you are in your digital transformation and identify the key foundational blocks required to evolve to your desired goal. Next is prioritize those blocks based on corporate goals and immediate needs. Once you have your priorities in place, you'll need to find out where your vulnerabilities are, so that you can shore up those deficiencies and mitigate potential threats in the future," says Lawson.
That's because the food and beverage industry is one of the most highly regulated industries in the world, says Neil Coole, director, food and retail supply chain at BSI.
"Organizations need to understand that the technologies, innovations and solutions that have been developed are to support them in managing the processes and mitigating the risks that challenge them every day," he adds. "As we say in our supply chain resilience workshops, 'what you do not see, you do not know, and what you do not know you cannot manage.'"
Some of the implications of implementing technology to mitigate supply chain threats is simply due to the fact that some companies just don't understand the technology itself.
"The largest threat to the supply chain is remaining stagnant and resistant to new technology," says Priyesh Ranjan, CEO of Vorto.ai. "The supply chain industry has been around for generations, yet the way in which we move and trade goods has seen little innovation, and the piecemeal approach to innovation implemented thus far has made little impact. The current approach to digitizing the supply chain relies on employees analyzing data in real-time to make decisions. To overcome these shortfalls, the supply chain needs to become autonomous. Platforms using artificial intelligence for analysis and decision-making will digitally transform the process by providing businesses with an economic and environmentally sustainable advantage."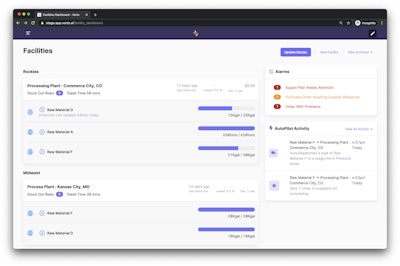 But, while much of the industry is talking about supply chain threats due to macroeconomic, geopolitical and natural disaster events, the one big area that requires critical attention is the exponential growth of cybersecurity threats and breaches, says Alster.
"Fraudsters pray on cataclysmic events and disruptive time periods such as the one we are in today. Given the increasing frequency of attacks, potential severity of disruption and high costs (including fines) of cyber and data breaches, it's important to consider the domino effect that even one supplier's breach can have to a company's entire organization and global supply chain," Alster says. "As the pandemic spread throughout the world in a matter of weeks, companies of all sizes had to forgo traditional security and onboarding procedures – of new employees, new vendors and suppliers – in favor of rapidly responding to the conditions in front of them. Now is not the time to relax stringent validation and onboarding procedures. Companies must collaborate cross-functionally across governance, IT security, procurement and strategic sourcing."
Supply chain disruptions now and then
The supply chain disruptions experienced in 2020 were like no other felt in years' past. COVD-19 spared no country and no industry. It upended cold food supply chains from start to finish and back again. Yet, it also proved that U.S. supply chains may need to re-think how and where they source and manufacture.
"Today's supply chains are more than ever reliant on China-offshore manufacturing," says Maharaj. "With COVID first emanating out of China, it left many global producers scrambling to find alternatives, as it continued to spread within China, impacting the ability for labor to work in factories to produce, whereas in the past, there was a greater level of supply chain diversity from even onshore/nearshore sources. Tariff wars were a small catalyst that started to get manufacturers to think about diversification of their supply chains in late 2019, but the pandemic took it to an entirely new level. In the past, events like SARS and even geopolitical-driven wars were heavily localized. None were quite as geographically dispersed as COVID, impacting every fabric of the global supply chain. As well, alternate supply sources were readily available in the past compared to today. Finally, the global response to the pandemic was highly fragmented from all levels of government around the world, leaving this as one of the most complicated disruptions of modern times."
Contrary to past years where events such as natural disasters or trade wars impacted only several regions or industry segments, COVID-19 has had a global, long-term impact, Alster adds.
"In fact, there are very few industries that haven't had a disruption in their supply chains. For example, in today's 'farm to table' era, we were seeing a major impact on farms in the beginning of the pandemic, particularly in the U.S. as restaurants around the nation shut down or lowered yields due to local government mandates to shut down or turn to take-out and delivery services only. The slowing of the restaurant industry decreased demand for produce, milk and meat products, greatly impacting farms that are suffering from excess product, particularly in the beginning of the pandemic – instantly shrinking local supply chains," he adds.
Also new to this year's supply chain disruptions are the vaccines and use of cold storage management, transport and distribution to move these pharmaceuticals through the cold food supply chain.
"Just as the onset of COVID-19 brought major supply chain disruption, the outgoing of it is likely going to cause many of the same issues," says Hubbard. "We're expecting issues with inventory stockouts and surpluses, quality compliance and lean operating teams to be some of the main struggles we see restaurant chains tackle once again."
Plus, the cold chain may experience more cracks in the system, as the vaccine enters the cold food distribution channel, adds Maharaj.
"Ongoing cybersecurity threats have also become more concerning, not to mention the elevated risk of domestic terrorism. Suffice to say, supply chains have some level of adaptability, but extreme crises like these can be hard to account or plan for. We will see how the cold chain continues to fare, since besides labor management at food processing and logistics facilities, etc., much food and beverage also relies heavily on the cold chain process," he adds.
Pushing bottom lines aside, it was the employees that became every company's No. 1 priority.
"The pre-pandemic industry focus was to ensure that the workforce was using the correct pre-requisite programs to keep the food safe from the worker (e.g., beard-snood, hairnet, etc.)," says Coole. "Now the industry has seen the issues through past examples of site closures and mass absenteeism as a result of the pandemic; there is a greater emphasis on protecting the industry workforce, designing out risks by engaging a qualified ergonomist, providing their workforce, suppliers and visitors with independent verification against a recognized safe working guideline and assuring that measures are being taken to keep people safe as we continue to work through these challenging times."
The recent explosive growth of e-commerce has also put additional pressures on the supply chain never experienced before, especially with regards to unawareness of allergens, according to Tim Whiting, VP, marketing, Label Insight.
"Enriching current supply chain product databases with product metadata that identifies and catalogs allergens that are not on-package will help mitigate the threat of hidden allergens. Similarly, enriching product databases with product metadata that creates deeper product profiles related to shopper preferences will improve the match rate of replacement products to out-of-stock products picked by third parties to mitigate e-commerce returns," says Whiting.
"Specific to last-mile supply chain management, the emergence of grocery e-commerce that employs third-party pickers to choose products on a shopper's behalf added additional complexity and exacerbated supply chain issues when dealing with product out-of-stocks. Replacement products that did not meet specific shopper preferences were often returned, re-stocked or re-ordered. While certainly not a severe and pronounced disruption at the level of a natural disaster, a growing and crystalizing consumer trend represents potential threats to our nation's supply chains--unawareness of allergens within the supply chain. Beyond threat mitigation, better product data is good business," he adds.
What's in store for the future
The fallout from COVID-19 created myriad other disruptions, Maharaj says, some related to limited labor presence in workplace environments such as docks, warehouses and other transportation outlets like truck driver training academies.
But, supply chain risks and threats will always challenge the industry. There will always be a supply chain disruption, there will always be an event of some kind that tests the supply chain limits.
However, that journey to a more resilient supply chain is not one to go alone, Coole adds.
"Organizations like BSI exist to partner with food and beverage businesses and their suppliers to identify what are the critical areas of focus and how we can work together, collaboratively to proactively identify the presence of risk in any supply chain. Once those risks have been identified, we are then able to work with those suppliers to implement industry recognized best practices to move the needle in the right direction through the aggregation of marginal gains, ultimately, to support food and beverage organizations to anticipate, prepare for, respond and adapt to incremental change and sudden disruptions," says Coole.
What's more is, the pandemic accelerated some of the trends that were already in motion, such as direct-to-consumer logistics, inbound logistics, nearshoring and even deployment of emerging technologies.
"We see a continued increase in the demand for door-to-door delivery and in the preference for sustainably grown and sourced food products," says Harford. "Companies can stay ahead of the curve by developing a robust and resilient infrastructure, mining data and ensuring they are focused on solving tomorrow's challenges vs. those of the past."
Regardless of the threat, emerging technologies help companies forecast, prepare--and eventually overcome—supply chain disruptions of all sizes and forms.