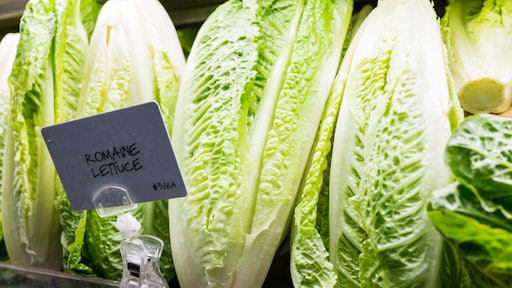 Getty Images
In the face of bird flu and other common food-related outbreaks, safety is a primary focus for players in the food and beverage supply chain. It's also a major concern for the federal government – demonstrated most recently by the FDA's new Food Traceability Rule requiring companies that manufacture, process, pack or hold foods on its Food Traceability List to maintain and provide to their supply chain partners with data on critical tracking events.
So, this rule doesn't come as much of a surprise – nor do the items on the traceability list, such as leafy greens, seafood and eggs. But surprise or not, by January 2026 these growers, shippers, logistics providers and retailers will need to be tracking these products better than they are today and will need to have the receipts should the FDA come knocking.
Meeting this new requirement will take effort. And unlike pharmaceutical companies – whose profits have facilitated compliance with similar rules through the adoption of cutting-edge tracing and serialization technologies – food and beverage companies operate on razor-thin margins.
So, what are players in the food and beverage supply chain up against? Who will be hit the hardest? What are the best next steps to take? And, in the end, how do supply chains as a whole stand to benefit?
Small farmers and producers will feel the heat
How do you slap a sensor on a head of lettuce, freshly pulled from the dirt? Or a still-warm egg sitting in sawdust? Many food items don't go through a production line and are inherently not serialized. This new ruling puts more onus on the manufacturer – in these examples, the farmer – to find ways to start labeling and tracing food products all the way from the soil to the supermarket.
And while the country's largest farms are increasingly tech savvy, many small farmers are using applications that are as homegrown as their produce, including manual processes and spreadsheets, rather than sophisticated enterprise resource planning (ERP) software to manage their business activities.
But they'll have to adapt. While enterprise order management and supply chain visibility have thus far primarily been embraced by middle-market to large enterprises, now every size stakeholder along the supply chain will be required to be invested in technology and traceability. Even the smallest suppliers will need to have this data centrally available and be able to transmit up and down the supply chain – from harvesting to facilities to transit.
Other supply chain partners aren't off the hook
Most of this work being done is in the first mile. But retailers have work to do, as well, beginning with identifying and understanding their suppliers, as well as those suppliers' capabilities and readiness in relation to the FDA rule. And if a retailer finds their suppliers ill prepared, they might want to start looking for alternates.
Like small farmers, small or specialized retailers might have a longer road to compliance. While a big-box grocery store might buy from larger vendors who operate as a corporate enterprise, many markets that sell more specialty foods or organics are more likely to source from multiple small, niche farms or family run businesses that haven't been able to invest in modern technology. As a result, these businesses could now be required to track food from thousands of suppliers. What we will see is companies that are experts in the growing, harvesting or producing of their goods now need to become supply chain technology experts, too.
Storage and transportation will, of course, play a part in compliance; knowing where the products are, along with temperature readings, will be important, even if the product is sitting in the yard or warehouse waiting to be picked up or unloaded. However, the onus for compliance is not really on these players. Once the traceability list products arrive at a warehouse, for example, labeling will likely have occurred. At that point, warehouse employees should be able to quickly find out time and location of harvesting or food production, and that information will need to be easily passed on to transit partners. If a recall occurs, technology can help them easily locate all the product that's affected, rather than embark on a multi-day treasure hunt that wastes precious time and resources.
Compliance is achievable with some adjustments
This all sounds like a tall order. But it isn't an unreasonable one – and, despite its challenges, this ruling shouldn't put anyone out of business.
First, companies have three years to figure this out. Over the next 12 months, expect to see stakeholders assessing what this means for their business. Many will hire consultants to help them better understand new industry standards or map their end-to-end.
As they identify the processes and quality assurance required to comply, business leaders will be also doing some serious analysis of pricing and resources, including labor and technology. Over the next year, we should see them work out where they need to implement technology, processes and people to satisfy the FDA's requirements – as well as how much they can pass the cost of those adjustments on to the end consumer, without affecting demand.
Expect these adjustments put into place in 2024-25, to be prepared for showtime in 2026.
Safer lettuce and other silver linings
Although the FDA's new rule will require some adjustments, it will leave the entire food and beverage supply chain – not to mention the American consumer – better off. The standardization of the first mile will have countless downstream benefits for supply chains. Innovation will spread, as many companies will be modernizing their technology and processes and sharing those best practices within their networks. We might also see positive externalities in niche areas, like more modern equipment in refrigerated trucks.
And of course, the new rule should help stop dangerous outbreaks in their tracks. Until we can completely prevent these events, we'll need to continue modernizing the ways we track food, down to the smallest possible level. It will require effort and investment, but we'll all be better off in the end.