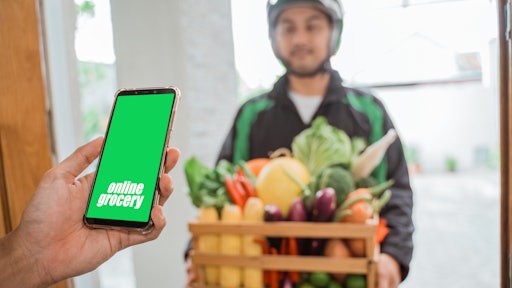 AdobeStock_346469883
Maintaining the freshness and quality of foods and consumable goods is a notorious challenge across supply chains, so much so that companies across the world are wracking their brains to come up with the most effective strategies to tackle it.
The pandemic has further aggravated this need, and consumers are now demanding 24/7 temperature control for safety (TCS) at grocery stores, restaurants and even from last-mile delivery services. The return to college dorms, classrooms and offices should inspire a whole new system and infrastructure that guarantees privacy and safety for consumers, which is why last-mile TCS, in particular, plays a vital role.
The International Finance Corporation states that temperature-controlled logistics represents a crucial yet under-recognized tool for improving food security, ensuring economic prosperity and even helping limit carbon emissions and guaranteeing public health. So, in times when ordering more food online, from birthday cakes to seafood platters, TCS becomes a fundamental aspect for the entire logistics industry to revisit. 
How can TCS help advance freshness and drive a better customer experience throughout the entire supply chain?
New standards of the post-pandemic world
Both the e-grocery and restaurant take-out segments are seeing a golden era, but bigger sales don't come for free. The need for enhanced service and greater efficiency was only heightened by the pandemic, and customer expectations remain sky-high. And meeting those is key for business. Out of all customer pain points, the most common one is that the delivered food isn't warm or fresh enough, making up for 17% of complaints.
But, freshness standards are critical even once food is delivered. Orders that are left without adequate temperature control, such as those left in an apartment or office lobby, equate to a potential health risk. And, with different touchpoints, varying packaging and improper handling, sanitation can remain a notable challenge even in the post-pandemic world.
Moreover, younger consumers particularly have crowned environmental awareness as their principal value. However, if food waste – to some extent aggravated by imperfect supply chain processes – was a country by itself, it would rank third in terms of carbon emissions. Investing in temperature-controlled infrastructures is thus of paramount importance.
TCS solving food logistics problems
The reason why freshness can be difficult to achieve lies in the different characteristics of foods, imposing different requirements on their treatment in the supply chain. It can be challenging to design and implement a truly comprehensive temperature-controlled structure, but fortunately, technology is here to help.
Cloud interconnectedness has introduced an era defined by easy monitoring and fast responsiveness. Through Internet of Things (IoT) systems and smart sensors, temperature within storage and distribution warehouses can always be monitored in real-time, meaning that any fluctuation can be immediately accommodated. 
This level of visibility is then key to guaranteeing customers that their foods are handled safely. Apart from that, storing and logging temperature data points represents a gold mine for storage operators: By logging and analyzing temperature data points, they can identify opportunities for efficiency optimization and enable processes such as preventative equipment maintenance in the long run. 
Temperature-controlled vehicles are then an extension of those technologies in the last-mile delivery itself. Some trucks and autonomous delivery vehicles already leverage moveable insulated walls that can be adjusted to create compartments for goods with different temperature needs. Even without the need to halt the delivery, drivers can also manage the smart refrigerating units to help maintain the desired temperature, for example by directing dry cold air into a specific section.
TCS for enhanced customer experience
From logistics providers to food retailers and even restaurants, the main focus of TCS is directed toward perfect storage and transport conditions. But, the food journey doesn't end when it's left at the delivery pickup table at a restaurant or arrives at the lobby of the company where the customer works. 
With the pandemic having shifting preferences toward off-premise dining and in-store pickup, the exact moment until the food gets into the customer's hands deserves particular attention. This true last-mile is an extremely fragile stage but can represent a key competitive advantage. Mastering a contact-free, asynchronous pickup that ensures top quality of the delivered goods can transform the customer experience once and for all.
TCS can therefore be extended, even for when the food waits to be picked up at a restaurant or a customer location, be it a dorm, hotel, office complex or residential building. For example, deploying climate-controlled boxes with both cold and hot storing options at those locations can help ensure that the food is maintained in optimal conditions to maximize freshness until it's ready to be collected by the customer. 
With IoT-enabled features, the customer can simply pick up the food whenever it suits them best. Particularly for restaurants, this means saying goodbye to long queues for people waiting for their takeout order. And, through smartphone apps and QR codes, security is enhanced too – a huge factor considering that 1.7 million packages are reported stolen, lost or spoiled every day.
TCS represents a key aspect of food logistics. Yet, companies and providers looking to make progress in this area shouldn't only focus on storage and transport. To provide the ultimate customer experience and food safety standards, visibility needs to fall on the entire process, including the very last part of the supply chain.