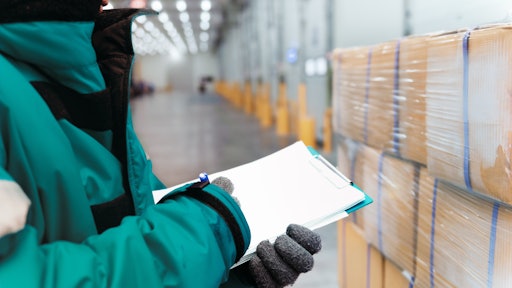 AdobeStock_252296405
For third-party logistics (3PL) companies storing food and beverages, maintaining temperature control in warehouses is essential to ensure product quality for their customers reliant on brand reputation. Inadequate temperature management can endanger service-level agreements and long-standing partnerships with warehousing customers, jeopardizing multi-million-dollar contracts. Although product loss is rare, 3PLs must always be vigilant about preserving the quality of their customers' products.
Maintaining temperature control in the food and beverage space has significantly evolved over the past few years, with new technology emerging to make smarter cooling a reality. Innovation will save warehouses money, reduce the sector's carbon footprint and offer customers real-time visibility into their service-level agreements.
In many 3PL warehouses throughout the United States and around the world, ambient temperatures have historically been tracked via manual processes or local data loggers (not connected to the cloud). Wired and wireless sensors have more recently emerged to augment or replace the cumbersome legacy tools and processes used for decades.
To perform manual temperature checks, warehouse staff members record temperatures with thermometers at defined time intervals. When staff members notice temperature spikes, they report these excursions to management. Thermometers can provide accurate temperature measurements; however, they only provide a snapshot in time, rely on human transcription and sometimes offer skewed data due to improper calibration.
In response to issues posed by manual temperature checks, automated and remote temperature sensors have recently become popular in tech-forward warehouse operations. Internet of Things (IoT) technology enables a continuous view of ambient warehouse conditions for both staff and management. Sensor solutions are either wired or wireless, with the latter allowing for remote monitoring from anywhere in the connected world.
With temperature sensors providing real-time, distributed visibility into ambient warehouse conditions, the data they gather can be used to predict and identify non-intuitive cooling trends. For instance, when a heated mass is brought into a cold storage area, the ambient temperature becomes warmer, depending on the size and temperature of the new mass. At scale, this variable effect becomes significant when many large pallets are brought into an area. With continuous temperature data, warehouse operators can identify if these trends are occurring and optimize their transportation agreements or cooling efforts accordingly, for example, identifying "overly warm" pallets at receiving and either reject or charge more to cool and store such items.
Temperature sensors guarantee visibility
Temperature sensors can be placed in any location throughout a warehouse, allowing for detailed temperature mapping. For instance, warehouse staff can place sensors on new pallets to ensure safe ambient conditions in the exact location of the product. With temperature sensors, warehouse operators no longer need to venture into cold storage areas to manually track temperatures.
The mobility of wireless temperature sensors allow for 3PL operators to comply with complex service-level agreements. If a customer requests increased visibility into their product, warehouse operators can easily move wireless temperature sensors to the location of prioritized products.
Most temperature sensors connect to cloud dashboards, which enables warehouse staff to export real-time temperature reports on specific pallets or sections of inventory to their customers. This feature provides product visibility throughout the supply chain to food and beverage producers and increases customers' confidence in their 3PL partners.
Temperature management as an energy management technique
Tracking real-time temperature variations can also be a method for warehouses to reduce electricity costs. This is important because energy is the second-largest operating expense in a warehouse, only behind labor costs. Refrigeration accounts for approximately 60% of a cold storage warehouse's electricity consumption.
Real-time temperature data provides an alternative to speculative and impractical manual data recording and imprecise setpoint controls. Poor data recording abilities have historically forced warehouse operators to choose between high electricity costs and potential improper storage of customers' products. In many cases, operators make the decision to "over-cool" large sections of their warehouses to avoid product quality and compliance issues. This overcooling is both costly and avoidable.
For warehouses to reduce their electricity cost associated with over-cooling, operators need to know the temperatures within their warehouse are very accurate, granular levels. For instance, ambient warehouse temperatures tend to vary near doors. Operators can strategically place sensors to measure temperatures in specific locations. Deploying real-time temperature monitoring sensors, operators can use temperature maps to identify "hot spots" and create a more precise warehouse cooling plan that increases efficiency.
Operators can also use temperature mapping to better implement load shifting and reduction strategies. Since energy costs vary throughout the day, warehouse operators can overcool their warehouses when electricity is cheap and reduce load when electricity is expensive. With granular temperature data from wireless sensors, operators can more confidently implement such strategies to reduce energy costs without concerning valued customers about their products' quality being affected.
Temperature sensing is a profitable way to increase trust with customers
Innovation is greatly needed within the aging industrial cold storage space. According to JLL, the average age of a U.S. cold storage warehouse is 42 years. New technologies can be implemented in cold storage warehouses to increase efficiency, reduce human error and safely store food and beverages.
With IoT and big data revolutionizing major industries worldwide, automatic temperature tracking has the opportunity to provide important insights into warehouse cooling, a major cost within the industrial space. Increased visibility into warehouse operations will reduce costs and assure customers that their product is being safely stored in the 21st century "smart cold storage warehouse" of the future.