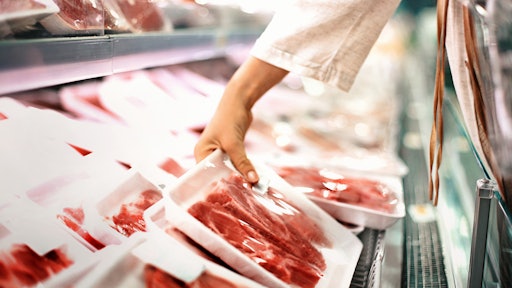 Getty Images
The Food Safety Modernization Act (FSMA) is dubbed "the most sweeping reform of FDA's food safety authority in more than 70 years." Other forms of food safety regulation encompass Good Manufacturing Practices (GMPs), retail food protection, imports/exports and more. That's why it's important that all employees not only understand the various food safety regulations, but can also execute accordingly.
Food Logistics sits down with Michael Sperber, global business manager for UL's Everclean program, to discuss how supply chain disruptions impact food safety and how the success of food safety lies within a well-educated workforce.
Food Logistics: 2021 started off with supply chain disruption after supply chain disruption. From a food safety standpoint, what should companies be doing now to improve food safety in the cold chain within a retail environment?
Michael Sperber: Unfortunately, supply chain disruptions are going to be part of business operations for quite a while. Shortages and shipment delays put more pressure on foodservice companies to diversify their supply chain. The urgency with which new supply chain partners are selected under pressure can result in shortcutting due diligence. Under these conditions, vetting supply chain partners is more critical than ever as well as processes that ensure dependability and food safety prioritization. Restaurants, grocery stores and any other business that handles food should leverage tools like scorecarding and third-party audits to verify that supply chain partners follow best practices completely and consistently.
Food Logistics: What are some food safety regulations coming down the pipeline for 2022 that companies in the cold food chain should be aware of within a retail environment? Include everything from food processing to packaging to transport and warehousing within a retail environment.
Sperber: Food regulations are complex by nature because each state or local enforcement agency has the ability to adopt some or all of the FDA guidelines and best practices. Suppliers in the foodservice supply chain must understand the local regulatory landscape in the states in which they operate. However, prioritizing certain fundamental capabilities like traceability, proof of condition and care of food throughout transit or processing is a good idea regardless of regional requirements.
Food Logistics: What advice do you have for those retail organizations who maybe aren't as prepared with regards to getting up to speed on food safety regulations? How/where should they start?
Sperber: The guidelines proposed by the FDA aim to reduce the risk of a foodborne illness outbreaks. Increasingly, they are promoting the use of emerging technologies — everything from Internet of Things (IoT) sensors and supply chain software to blockchain. These technologies are designed to increase frequency and consistency of food safety measures and allow for easy traceability in case of a food contamination incident. They also offer a great way to access data and ensure proper implementation of food safety protocols.
Equally as important as technology is adopting a food safety culture. In organizations with a culture of food safety, everyone from the corporate executive to the customer service associate feels accountable. All employees are trained on the importance of food safety and the consequences of food safety failures and are empowered and encouraged to take action. With some training, incentives and communication, organizations can create a culture of food safety that begins to make incremental improvements in food safety.
Food Logistics: The FDA released facts increasing core food safety programs as well as emerging issues of concern. Thoughts?
Sperber: The New Era of Smarter Food Safety, one of the fact sheets released by the FDA, was an initiative originally introduced just prior to the pandemic. This re-release aims to refocus foodservice stakeholders' attention on the value of technologies to achieve more robust food safety across the supply chain. The potential for technology to advance food safety is unquestionable. Consider IoT sensors placed in food packages that continuously monitor temperature and locations so that buyers can see if foods were maintained at the proper temperature during transit and how long they were in transit. Blockchain can map a food's journey across the entire supply chain from farm to table, enabling accurate and instant traceability in case of an outbreak.
While harmonization of these technologies and platforms is still under consideration by organizations like the FDA, we expect these technologies will become increasingly prevalent and play a role in advancing food safety across the global supply chain.
Food Logistics: What are some things not addressed above that may be pertinent to our readers?
Sperber: While tech-enabled devices and forward-thinking concepts like food safety culture may dominate news headlines related to food safety, a sometimes overlooked but essential component that is critical to the success of food safety is a well-educated workforce. COVID-19 impacted the foodservice industry dramatically. Many essential foodservice workers on the front line of preparing and handling consumers' food products were temporarily laid off or lost their jobs permanently. Alongside a resurgence in demand for dining out, labor shortages of qualified foodservice workers persist. The people filling these roles are often completely new to the foodservice industry. The CDC and FDA tout the importance of vital food safety knowledge, training and practices. At a time when food safety is paramount, the industry lacks knowledgeable and experienced foodservice workers. To build a true food safety culture, the workforce must be well educated in the basic principles of food safety.