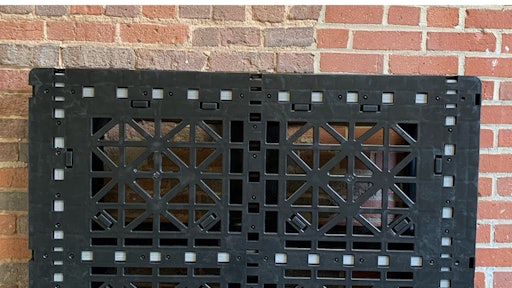 Pallet Alliance
To support the goal of ensuring quality transportation of temperature-sensitive goods in the food and beverage industry, the Food Safety Modernization Act (FSMA) introduced requirements for refrigerated trucking operators to supply proof of temperature compliance, when requested, on a load-by-load basis. Unfortunately, this creates an enormous burden on carriers and receiving warehouses to validate these shipments, which demand high accuracy for delivery ETAs, as just-in-time inventory management and downstream supply chain visibility demands are increasing. These data needs – temperature and location – can be measured with devices on trucks or on freight. However, the haphazard way in which the data is collected on logged devices by carriers and aggregators makes it difficult to operationalize it at scale. Additionally, the need to manually locate and recover data logging devices adds labor, delays and additional failure points into compliance efforts.
The industry has long recognized that automatically logging and reporting temperature, location and other environmental conditions at the pallet level would be an ideal solution and provide the most accurate readings of product temperature at all locations within a trailer, allowing for that data to be reported to shippers and receivers without the need for manual intervention. Unfortunately, providing this capability in a scalable, reliable, cost-effective and easy-to-use way has proven elusive, partly because the food and beverage industry relies heavily on managed wooden pallet pools or inexpensive recycled wooden pallets. Even with recent spikes in hardwood pricing and the downstream effects of dramatic increased prices, reusable wooden pallets remain the best obtainable price-per-shipment for producers. However, current major pool providers do not provide cost-effective, reliable, fully instrumented pallets, and the recycled wooden pallet market is unlikely to offer a standardized instrumented pallet.
One possible solution — affixing Internet of Things (IoT) devices to pallets prior to shipment — can work in limited applications for smaller customers, but isn't a viable option for high-volume, multi-site companies. Devices typically come already connected to a platform that can be used to configure the device to log and report data but add significant costs and require multiple steps to provide shipment visibility. But, if a customer must manually attach the device to a pallet, pair that device with a shipment, associate that shipment with their customer account, along with other necessary actions to transform device information into useful, accessible data (i.e., alerts, advance delivery notification and automated uploading of logs), most will choose to continue to do without IoT tracking at the pallet level.
To deliver cost-effective automated IoT tracking and tracing to shippers, Pallet Alliance collaborated with CargoSense to produce an IoT-enabled, heavy duty plastic pallet solution that offers shipment monitoring and data logging without requiring manual device installation or association. This IoT-enabled platform delivers logging and near real-time alerting, as well as integration with customers' existing IT systems, and enables customers to leverage IoT data streams to understand their exact usage characteristics and optimize processes and pallet inventories, minimizing costs.
When measurement is conducted across a shipper's entire supply chain, not only are logistics managers able to monitor individual shipments, but executives also receive the high-level aggregations and KPIs needed to optimize large operations. With temperatures measured and automatically validated on a per-truckload basis, consignees know before a truck arrives at a dock that the temperature has been maintained, dramatically reducing the work of arrival-time verifications. Additionally, GPS data provides both predicted ETAs and accurate as-measured ETAs. All of this is accomplished in a carrier-neutral way, so shippers are no longer dependent on their carriers for data, nor do they have to integrate disparate data sources to cobble together visibility.
Any solution that is deployed must be simple and cost-effective. For large producers, it must also be scalable, with tools that enable simple application of alert templates, bulk address updates for geofencing and a distribution network to recover devices. To deliver maximum value and ease of use, it must be capable of integrating with a wide range of shippers' and suppliers' enterprise resource planning (ERP) systems. IoT-enabled pallets exceed these requirements by bringing together the latest in sustainable plastic pallets and IoT to provide customers a scalable, easy-to-use means to achieve their budgetary, timing and environmental constraints across their supply chain.