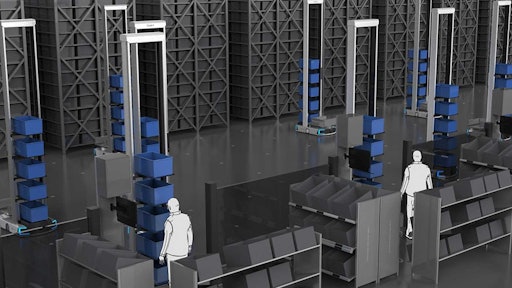 Geek+
Geek+ introduces new robot RoboShuttle RS8-DA to its RoboShuttle family, with a an 8-meter, or 26-foot, robot reach and flexible tote-picking capabilities. The company says it has the highest reach in the industry and was designed specifically to lean into the trend of e-commerce and warehousing maximizing the use of facility space. Geek+ claims the new robot can optimize space utilization five times. 
Per PR Newswire: 
Built on a slim and robust chassis design, flexible doorframe, and double deep telescopic fork arms, the robot can navigate narrow aisles and reach a maximum height of 8145mm. Using its fork arms, the robot can access the inventory rows of varying depth placed as low as 285mm and as high as 7820mm, targeting horizontal as well as vertical warehouse space.
Equipped with an intelligent depth camera and high precision sensors, the robot can adjust its arms to pick boxes of varying sizes, optimizing overall shelf space. The storage location can also be allocated according to the size of the box, improving inventory organization. Connected to the WMS and driven by intelligent algorithms, the robot autonomously transfers up to 8 totes to and from the workstation, automating picking, replenishment, reverse logistics, and inventory checking processes.
Check out the new robot here: