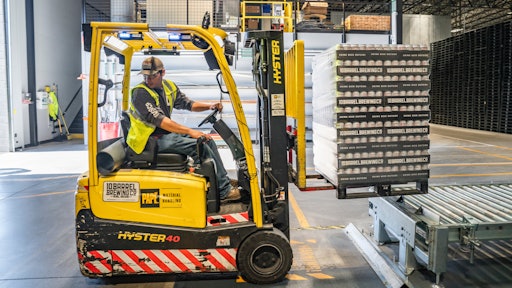 Photo by ELEVATE from Pexels
Twinlode CEO Retires to Focus on Charity
Twinlode Corporation is seeing its CEO transition into retirement as Lawrence "Skip" Eastman pivots to focus on his non-profit.
Eastman began his retirement at the end of January but will remain on Twinlode's board of directors. As he celebrates more than 40 years in the supply chain and warehouse industry, the CEO will now divert his attention to Point to Life Ministries International, providing basic needs to underprivileged individuals and steers them toward independent living.
USCS Sees CEO Evolution
As United States Cold Storage's (USCS) previous president and CEO has retired this past December, Larry Alderfer has now taken over.
Moving to CEO from chief operating officer, Alderfer believes the team will set the direction for the cold storage industry as customers' needs evolve. The logistics and cold storage industries are drastically changing with automation and analytics continually advancing. He has been within the industry since he was 16 years old and with USCS since 1998.
David Harlan retired on Dec. 31 after 40 years with USCS.
Cimcorp Promotes New Manager of US Operations and Tech Services
Joel Kussman steps up from site manager at Cimcorp to United States operation and technology services manager after six years with the manufacturer. He will lead the Cimcorp U.S. office in Norcross, Georgia.
The manager spent significant time in both the U.S. and Finland, which both Cimcorp president Rick Trigatti and Kussman believe will give him more insight on commanding the U.S. office.
While he has only been with Cimcorp since 2014, he has more than 17 years in management.
The promotion announcement follows Cimcorp's recent subsidiary opening in Madrid.
Paul Todgham Appointed Cognex Chief Financial Officer
Previous Levi Strauss executive Paul Todgham is stepping into Cognex Corporation's chief financial officer role.
Effective March 9, Todgham will lead the company's global finance and administration divisions based out of Natick, Massachusetts. He will report to Cognex president and CEO Robert J. Willet, who has faith that the new hire will support a long-term value creation.
Todgham was previously at Levi Strauss & Company for six years in leadership roles and held similar roles prior to that at Ross Stores, Inc.
Integrated Warehouse Solutions Hires Dealer Development Manager
Integrated Warehouse Solutions is investing in dealer growth in North America with the appointment of John Gaughan as dealer development manager.
While Gaughan's experience in material handling assists the company with its dealer strategy, he will also contribute insights to support growth in material handling. He will also lean on his relationships in the industry to push the company forward, which he has built up over 30 years in material handling.
Golbon Fights for Innovation with New Director
Senior sales executive Ryan Huber is stepping into the position of director of Golbon Convenience Store Services. He will lead the team in developing innovative solutions aiming to remain at the front of the convenience industry.
Golbon's goal is to stay ahead of the rapidly changing industry with modern and inventive solutions in convenience. Huber was hired with this goal in mind, due to his compelling history with convenience suppliers, distributors and operators.