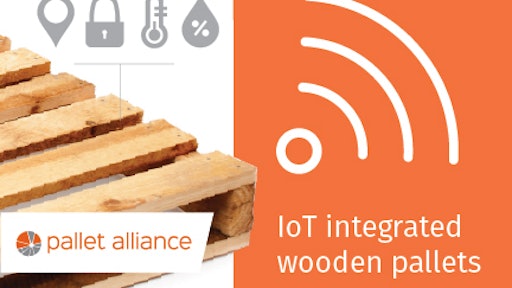 Pallet Alliance
Pallet Alliance, a leading innovator in comprehensive pallet management programs for multi-site manufacturing and distribution companies, will highlight its IntelliPallet platform, the industry's first enterprise-scale pallet management service to integrate IoT-enabled location and environmental sensors into wooden pallets.
Introduced in November 2019, the IntelliPallet platform provides a range of connectivity options, including mobile (cellular), Bluetooth and LoRa WAN protocols, enabling Pallet Alliance to implement optimum pallet tracking options that deliver custom end-to-end IoT connectivity, location and data analysis, tailored specifically to each customer use case.
Other Pallet Alliance exhibition highlights will include on-site demos of the IntelliPallet platform with technology partners CalAmp, a global technology solutions pioneer transforming the mobile connected economy; Semtech, a leading supplier of analog and mixed-signal semiconductors for advanced IoT communications applications; and Viaanix, a leading provider of LoRa devices and other custom IoT solutions.
"We are looking forward to exhibiting at MODEX this year, and introducing attendees to the capabilities and features of our new IntelliPallet platform," says Mike Jones, a principal at Pallet Alliance. "The IntelliPallet technology offers a wide range of flexible and economical wireless options, including the ability to integrate end-to-end IoT connectivity without customers having to convert their existing wooden pallet systems, which has the potential to transform the logistics industry for supply chain and operations professionals."