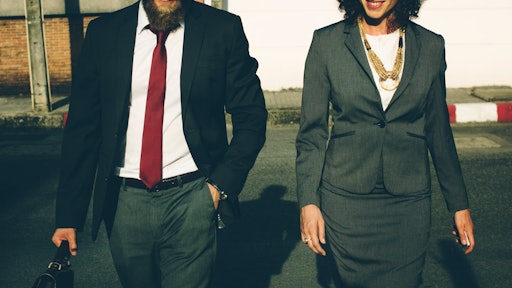 Pexels
Chris Poelma joins PCS Software as chief executive officer
PCS Software Inc. has announced that Chris Poelma has been appointed by the PCS Board of Directors to lead PCS as its chief executive officer, effective January 1, 2020.
Poelma was most recently the president and general manager of the small business division of NCR where he oversaw the expansion of NCR's SaaS suite of solutions to restaurants globally. As such, Chris is well equipped to build on PCS's long history of innovation and growth through new markets, products and services, and acquisitions.
Trade expert joins RILA's public affairs team
The Retail Industry Leaders Association (RILA) is pleased to announce Blake Harden has joined the association as its new vice president of international trade.
Harden brings extensive trade experience to the role. She joins RILA after serving three years at the Committee on Ways and Means, Subcommittee on Trade where she worked as trade counsel to ranking member Kevin Brady (R-Texas).
At RILA, Harden will lead the association's international trade public policy efforts, which are a top priority for leading retailers. Harden will drive RILA's strategic trade policy agenda and coalition activities aimed to combat the negative impact tariffs have had on the industry and will serve as the leading expert for several of RILA's communities engaged on trade issues.
IANA elects 2020 board of directors and officers
On January 1, 2020, the Intermodal Association of North America installed its 2020 board of directors and officers, welcoming three new members: Robert Cannizzaro, Virginia International Terminals Inc.; Michael Burton, C & K Trucking LLC; and Trevor Ash, CIMC Intermodal Equipment.
Kevin Lhotak, president of Reliable Transportation Specialists, was re-elected chairman of the board. In addition to serving on the IANA board, he is a member of the board of the North American Chassis Pool Cooperative and the Intermodal Motor Carriers Conference of the American Trucking Associations.
Serving along with Lhotak as officers are: vice chairman Noel Hacegaba, deputy executive director at the Port of Long Beach; and treasurer Derrick Broome, vice-president – intermodal, at C.A.T. Global Corp.
Additionally, Jason Hess, Union Pacific Railroad Company and Maryclare Kenney, CSX Transportation, were re-elected as directors. The term of service for each of these board seats is three years, beginning January 1, 2020.
CRB welcomes Eric Danielson as director of business development
CRB is pleased to announce Eric Danielson has joined the company as director of business development.
Based in the Kansas City office, Danielson will be helping lead the business development efforts for CRB's Midwest Division. He will work with the Kansas City, Dallas and Denver offices to help the organization's "sellers-doers" win work and grow CRB's presence in the region.
In his new role, Danielson is eager to help CRB's teams identify a portfolio of ideal clients, determine what services they need, and find a way to become an indispensable business partner, both internally and externally. One of his key objectives is to restore the Midwest division as CRB's highest revenue and most profitable division through a ONEsolution approach.
Label Insight names Todd Morris as new CEO
Label Insight announced the appointment of Todd Morris as its new chief executive officer. Formerly global president of Catalina, Morris will lead the company's rapid growth as the new e-commerce search and discovery engine for CPG brands and retailers, helping shoppers find products based on their personal needs across diet, health, sustainability, ingredients and other product attribute preferences
Morris brings deep executive experience, industry relationships and understanding of the changing needs of American shoppers and the CPG ecosystem. He spent 17 years in executive leadership roles at Catalina, a leader in purchase-driven performance marketing, shopper intelligence and digital media for CPG retailers and brands. Most recently, as president of Catalina, Morris had P&L responsibility for approximately $650 million in revenue across seven countries.
Publix vice president to retire; new vice president announced
After more than 44 years of dedicated service, Publix Super Markets' Vice President of Product Business Development for Bakery and Meat Pete Mowitt has announced his decision to retire April 30, 2020.
With this retirement, Publix is pleased to announce the promotion of Charlotte Division Regional Director Norman Badger to vice president of product business development for bakery and meat.
Badger, 41, began his Publix career in 1995 as a front service clerk in Aiken, South Carolina. After working in a variety of positions, he was promoted to store manager in 2007, district manager in 2014 and to his current role in 2017.
Kimberlee A. Humphrey named president and CEO of Association for Manufacturing Excellence
The Association for Manufacturing Excellence (AME) is pleased to announce that Kimberlee A. Humphrey was named AME president and chief executive officer.
Humphrey has a long history with AME as a member and volunteer. She has served in several volunteer roles including director of alliances for AME's management team, Southeastern Region board member, AME Excellence Award examiner, and AME International Conference committee member. She succeeds George Saiz, who recently retired.
Outside of her AME volunteer roles, Humphrey has significant experience as a lean expert. For the past decade, she has held various process excellence, project management, and supply chain roles for Newport News Shipbuilding. Prior to this, Humphrey was executive director of the Virginia Conflict Resolution Center, the founder of a Baldrige-based consulting and training organization, and held several supply chain, quality and operations leadership roles of increasing responsibilities for domestic and international companies in the automotive, business system and public transit software solutions industries.
Oilfield Water Logistics appoints Price Moncrief as chief financial officer
Oilfield Water Logistics announced the appointment of Price Moncrief as chief financial officer, effective January 20, 2020. Moncrief, a seasoned finance and corporate executive, will lead OWL's strategic financial management as the company continues its expansion.
Moncrief joins OWL from Concho Resources Inc. where he was senior vice president of corporate development and midstream and was responsible for driving both corporate strategy and midstream strategy, which included water infrastructure initiatives. From 2012 through 2018, Moncrief led the execution of Concho's capital planning and financial strategy as Senior Vice President of Finance and Vice President of Capital Markets.
Ellen Davis joins Consumer Brands Association
The Consumer Brands Association announced that Ellen Davis will join the organization's senior leadership team as executive vice president, industry engagement. Davis has spent her career in consumer-facing industries, most recently as senior vice president at the National Retail Federation and president of the NRF Foundation.
As president of the NRF Foundation, Davis introduced several game-changing initiatives and programs that helped reimagine the purpose and objective of the organization. Davis conceptualized and launched the NRF Foundation Honors, an event that has raised $15 million since 2015 to fund the foundation's efforts. She also led the launch of RISE Up, the NRF Foundation's training and credentialing program to help people secure jobs in retail and advance into meaningful careers, which has seen 75,000 participants since its launch in 2017. She is also widely credited with coining the phrase "Cyber Monday," which now signals the beginning of the online holiday shopping season.
In her role, Davis will oversee the Consumer Brands Association's membership, events and education. Davis will join the association on March 2 and report to Freeman.
Optimas Solutions appoints three executives to its leadership team
Optimas Solutions announced the appointment of three industry executives to the company's leadership team, including Marc Strandquist as president of the Americas, Mike Tuffy as president of international and Kate Daly as senior vice president of global human resources. These industry veterans will focus on business growth and organizational strategy while strengthening operations and service excellence.
Gary Nemmers joins the Magaya Corporation board of directors
Magaya announced the appointment of industry leader and senior software executive Gary Nemmers to its board of directors. Nemmers brings extensive experience working with private equity backed software companies and has worked within the supply chain industry sector for over 20 years.
Nemmers most recently served as CEO and board member of IQMS Software, where he spearheaded significant EBITDA expansion and doubled the revenue before the company was acquired by Dassault Systèmes in January 2019.
Previously, Nemmers served as COO at HighJump Software, senior vice president at Infor and was the founder and CEO of DataTrend Information Systems, which provided ERP solutions to the JD Edward and PeopleSoft community. His educational background includes a bachelor's degree in Behavioral Psychology from Northwestern University and an MBA from Kellogg School of Management.
3Gtms announces additions to board of directors
3Gtms, LLC announced that it has expanded its board of directors, adding some of the most accomplished and strategic minds in the supply chain industry. 
Paul Mercadante is a managing director at Sumeru Equity Partners. He is focused on the firm's hardware and software investments and sits on the investment committee. Prior to co-founding Sumeru Equity Partners, he co-founded and was a managing director of Silver Lake Sumeru, the middle market investment strategy of Silver Lake and predecessor fund to Sumeru Equity Partners. Paul has extensive operating and investing experience in the technology sector.
Sanjeet Mitra is a managing director at Sumeru Equity Partners focused on the firm's software, cloud and hardware company investments and sits on the investment committee. Prior to co-founding Sumeru Equity Partners he was a principal at Silver Lake Sumeru, the middle market investment strategy of Silver Lake and predecessor fund to Sumeru Equity Partners. Sanjeet also worked in the Investment Banking Division at Goldman, Sachs & Co. in San Francisco.
Mark Haller is a principal of Sumeru Equity Partners. He joined Silver Lake Sumeru in 2012, the middle market investment strategy of Silver Lake and predecessor fund to Sumeru Equity Partners. Prior to joining Silver Lake Sumeru, Mark worked in the Investment Banking Group at Goldman, Sachs & Co.
Stuart Kerr is the CEO and owner of ISO Vision LLC, where he performs strategic consulting for private equity firms and helps companies develop go-to-market strategies. Stuart has extensive expertise in growing and managing technology businesses and has held leadership positions at Fleetmatics, TheLadders.com, and NeXT. In addition, Stuart has consulted for Investcorp, Goldman Sachs, Rothschild, and Sumeru Equity Partners. Stuart also serves on the board of Azuga Telematics. 
Gary Kowalski began his career at General Motors (GM) and served in a number of executive roles focused on operations, manufacturing and logistics. Prior roles also include president and CEO of Vector SCM, a joint venture between GM and Menlo Logistics in which he served as GM's lead logistics manager worldwide. Gary also served as vice president of Emery Worldwide, the global heavyweight air cargo subsidiary owned by Con-way's predecessor, CNF Inc. Most recently, he was senior vice president and chief operating officer of Menlo Logistics, LLC, a $1.8 billion global provider of logistics, transportation management and supply chain services.
Gene Tyndall is executive vice president and chief strategy officer of Tompkins International. Gene has served more than 100 multinational companies, improving their operations and supply chains for competitive advantage and profitable growth. Formerly, he was president of Supply Chain Executive Advisors, president of Ryder Global Supply Chain/Logistics Solutions, and senior partner/leader of the Ernst & Young Global Supply Chain Management Consulting Practice. He was also an Officer in the U.S. Navy. 
NSF International taps auto industry for new chief information and continuous improvement officer
NSF International named L. Lesley Ma to lead its global information technology and continuous improvement efforts. Ma, a longtime automotive industry executive who most recently served as global chief Information officer (CIO) for Cadillac, now serves as CIO and continuous improvement officer for the global public health organization.
In her new role, Ma leads NSF's information technology and continuous improvement efforts globally, including the systems and processes that power NSF's public health services in more than 175 countries.
Acosta announces new board of directors following successful recapitalization
Acosta Inc. announced its new board of directors following the Company's successful recapitalization earlier this year, positioning it with the strongest balance sheet in the industry. New appointees include the following premier experts in the retail and consumer packaged goods (CPG) industry:
• Joe Crafton: Beginning as a partner in 1988, Joe Crafton held a variety of leadership positions with Crossmark, Inc., a CPG sales and marketing agency, retiring as CEO in 2014. During his tenure at the helm of Crossmark, the company became the North American leader in sampling and event marketing and led the industry in retailer solutions and project work. Prior to Crossmark, he held a variety of sales and management positions with The Procter & Gamble Company. He is currently a principal with Wingshooter Investments, LLC.
• Mark Gross: Mark Gross served as CEO of Supervalu from 2016-2018 and Co-President, Chief Financial Officer and General Counsel of C&S Wholesale Grocers, Inc. from 1997-2006. Under Gross' direction, Supervalu embarked on a major business restructuring, successfully repositioning the business as America's largest publicly-traded grocery wholesaler. With more than 20 years as a grocery executive and as a former attorney with Skadden, Arps, Slate, Meagher and Flom, Gross now leads Surry Investment Advisors, advising grocery retailers and investors regarding operations, mergers, acquisitions and divestitures. He is also the Lead Director and Audit Committee Chair of Tops Markets, a $2 billion grocery retailer.
• Joe Hartsig: Joe Hartsig currently is a Senior Vice President at Walgreens. Over the past several years, he has had responsibility for the Retail Products business as Chief Merchandising Officer. In this capacity, he oversaw buying across both stores and e-commerce, as well as managing owned brand and merchandising planning. Hartsig has nearly 30 years of brand marketing experience in the technology, retail and CPG industries, having previously served in leadership roles at Walmart, Sam's Club, Motorola, SC Johnson, Pillsbury and Conagra.
• Grant LaMontagne: Grant LaMontagne has more than 40 years of CPG experience, with much of that time spent at The Clorox Company as he rose through the ranks to become Senior Vice President, Chief Customer Officer. He subsequently served as President, Consumer Sales/Customer Development for Kimberly-Clark North America and is currently a senior advisor with McKinsey & Company. From 2005-2011, he served as Chairman of the Sales Committee for the Grocery Manufacturers of America.
Transplace appoints Greg Sebolt as new executive vice president of strategic capacity services 
Transplace announced the appointment of Greg Sebolt as the company's new executive vice president of strategic capacity services, the company's over the road truck brokerage business. This appointment underscores Transplace's continuing investment in delivering efficiency, flexibility and cost savings for North American shippers. 
With more than 20 years specializing in third-party logistics, Sebolt is passionate about rethinking global logistics and creating new opportunities for transportation networks to boost efficiencies and maximize service to the end customer. He has led teams in analyzing complicated supply chains to create more collaborative and cost-effective logistics strategies.
Sebolt began his career in the supply chain group of Andersen Business Consulting and has held executive leadership roles at Coyote Logistics, General Freight Services and Zengistics. Sebolt holds a Bachelor of Science degree in marketing and logistics from The Ohio State University.
Walmart announces change in leadership
Walmart announced that Dacona Smith will become the chief operating officer – Walmart U.S. Dacona started as an hourly associate nearly 30 years ago at a Walmart store in Pauls Valley, Oklahoma, before serving as Assistant Manager, Co-Manager and Store Manager in several stores in Oklahoma and Texas.
Also in Walmart U.S. Operations, Kelvin Buncum is being promoted to executive vice president, Neighborhood Markets. Kelvin currently serves as RGM for the North Georgia region. Prior to that role, he worked at Sam's Club, serving as an RGM and previously as Vice President, Innovations and Global Business Processes. Prior to Walmart Kelvin worked for a range of businesses, from start-ups to Fortune 500 companies.
On the Walmart U.S. Merchandising team, Steve Bratspies has chosen to leave the company after more than 14 years of dedicated service to Walmart. With his decision, Walmart announced that Scott McCall will become its new chief merchandising officer.
Additionally, in Merchandising, Latriece Watkins is being promoted to executive vice president, consumables. Latriece has been with Walmart for more than 20 years, starting out as an intern on the Realty team. She has served in a variety of merchandising roles at Walmart and Sam's Club, including adult beverages, snacks and beverages, and consumables and OTC.
Meng Chee will join Walmart as its first executive vice president, chief product officer. This new role will focus on delivering outstanding customer experiences and leveraging today's technology to do it. Alex Kreuger, Senior Vice President, Voice of the Customer, will lead an expanded Customer Care organization under Janey, with responsibility for all customer care touchpoints. Alex joins the team from Supply Chain, where he has been overseeing our fulfillment centers.
Turning to Sam's Club, with Dacona's move, Lance de la Rosa, is being promoted to Executive Vice President and Chief Operating Officer – Sam's Club. Lance joined Walmart more than 30 years ago as an hourly trainee and quickly moved up the ladder as Co-Manager, Store Manager, District Manager and Divisional Manager. Lance then held several Operations leadership roles, including Regional General Manager for the Northeast at Walmart and Senior Vice President (SVP), East Division and SVP, Operations Transformation at Sam's Club.
Vinod Bidarkoppa as Senior Vice President, Sam's Club Technology. Vinod is a proven leader with nearly 25 years of global technology expertise, working across omni-channel retail, healthcare and the airline industry. Most recently, Vinod served as the SVP of Technology at UnitedHealth Group. He has also served as Group Technology Executive and Divisional Chief Information Officer (CIO) at TESCO and was Group CIO at Future Group. Vinod will begin his role on Feb. 5, and report jointly to Suresh Kumar and Jamie Iannone.