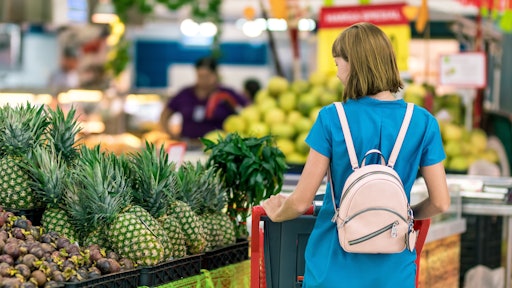 Pexels
Online grocery shopping is becoming increasingly popular among consumers, though traditional brick-and-mortar grocery stores aren't prepared for the growing demand.
A Food & Beverage Sector Report found that leading retailers have begun to prioritize their e-commerce presence by expanding their online assortment and fulfillment options. Online grocery is expected increase at a CAGR of 13% through 2024, increasing total online sales to $162 billion.
Grocers are responding to increasing demands. Safeway offers home delivery within two hours of placing an order. Instacart delivers groceries in two hours from Whole Foods, Target, Costco and Petco, while meal-kit services offer pre-prepared meal plans with home delivery.
Now, grocers are building automated mini-warehouses inside their stores and opening up "dark stores" - locations that look like supermarkets but are closed to customers - to make deliveries and prepare pickup orders, CNN reports. Walmart has reportedly trained more than 30,000 workers to fulfill customers' online grocery orders, but that often leads to congested aisles within its own stores, especially during peak shopping teams.
A CBRE report found that the growth of online grocery sales is prompting the U.S. market for cold-storage warehouses to have strong growth with a demand of 100 million square feet over the next five years.
"Few sectors of commercial real estate will undergo as much transformation in the coming years as the cold-storage industry due to e-commerce's impact on this previously underpenetrated market," says Matthew Walaszek, CBRE Associate Director of Industrial & Logistics Research, Americas. "We will see robust demand, further innovation in delivery and automation, and possibly more consolidation among major players."
For example, Albertsons is testing automated "micro-fulfillment centers" in the backs of its stores that are dedicated to order fulfillment.
As a customer enters their order using Albertsons' e-commerce interface, the order will then be delivered to the automated system, allowing Takeoff's solution to take over the fulfillment process. AI-enabled robots and system of totes and conveyors will collect items for online grocer orders in minutes. The items will then be delivered to an Albertsons employee to prepare the order for the customer.
In addition, Walmart's Salem, New Hampshire location is piloting a system with autonomous carts that gather customers' grocery orders and bring them to Walmart workers who then prepare them for delivery or pickup.
CNN reports that analysts believe that these models are an advantage over large, centralized warehouses as they are often located further away from customers than stores. Micro-fulfillment centers can save grocers in delivery costs.
In Kindred's whitepaper "Robotics in Fulfillment: When Automation Becomes the Newest Warehouse Team Member," the company details how emerging technologies are drastically changing the warehouse space.
Automation and robotics have improved many tasks that are typically assigned to warehouse staff. By using new technologies, tasks are performed at a quicker pace and with less effort. This allows warehouses to shift human capital to more valuable functions and gain greater efficiencies.
According to the report, once the e-commerce boom began in 2015, SKUs at average warehouse or fulfillment centers increased by 18.5 percent. The rise helped increase demands on pick, packing and shipping operations; however, it left many operations short-handed as they aimed to fulfill orders at a faster rate to keep up with the likes of Amazon.
However, dark stores are growing in popularity as they incorporate automation and are manned by employees to pick certain goods that are purchased online.