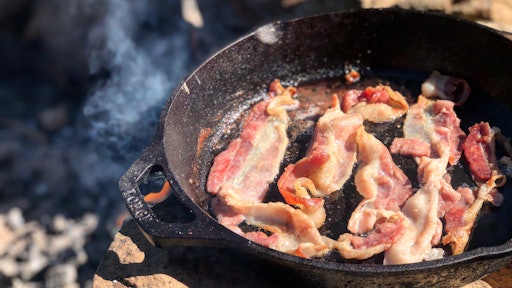 The ongoing trade war between the United States and China has hit nearly every industry as manufacturers and growers stockpile goods as they await a resolution.
Now, pork producers are stocking up up frozen pork bellies, up 34% from last year's total and the highest they've been since 1971.
According to the U.S. Department of Agriculture's Cold Storage report, frozen pork bellies in cold storage totaled 40,668,000 lbs., an increase from 2018's total of 30,354,000 lbs. However, the number is down compared to Aug. 2019, as frozen pork bellies in cold storage totaled 45,723,000 lbs.
Despite tariffs on the pork, exports have remained strong due to the African Swine Fever that has ravaged China's pork supply.
The crisis could give the U.S. the upper hand in upcoming trade talks as prices for hogs continue to rise, forcing the country to purchase the meat from the U.S. in large quantities. If the virus spreads further, China may make concessions in its negotiations with the U.S.
"We are not sure if the market appreciates how a worsening epidemic of African swine fever for China's massive pig population could further force China's hand on a broader trade war compromise," U.S. analyst Ross Gilardi tells CNBC. "The growing threat is rampant pork price inflation for the masses, which puts more pressure on China to lift 62 percent import tariffs on US pork even though US pork imports are already up sharply versus pre-trade war levels."
Based on reports from exporters for Oct. 4-10, net sales of 292,200 MT reported for 2019 were up from the previous week and the prior four-week average.