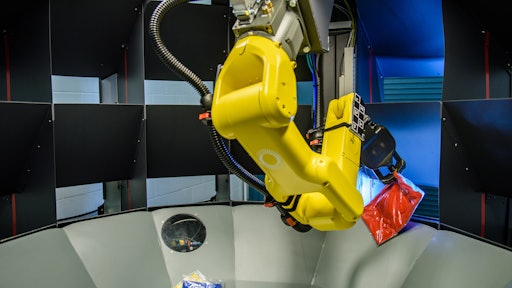 Kindred
Just two years ago, "machine learning" and "artificial intelligence" were phrases hardly uttered in the warehouse space. Now, it's very commonplace as facilities are switching over to emerging technologies to help relieve pain points in the production process.
"Robotics across all industries are changing rapidly in a number of ways," says Zach Gomez, director of customer success for Kindred.
In Kindred's whitepaper "Robotics in Fulfillment: When Automation Becomes the Newest Warehouse Team Member," the company details how emerging technologies are drastically changing the warehouse space.
Automation and robotics have improved many tasks that are typically assigned to warehouse staff. By using new technologies, tasks are performed at a quicker pace and with less effort. This allows warehouses to shift human capital to more valuable functions and gain greater efficiencies.
According to the report, once the e-commerce boom began in 2015, SKUs at average warehouse or fulfillment centers increased by 18.5 percent. The rise helped increase demands on pick, packing and shipping operations; however, it left many operations short-handed as they aimed to fulfill orders at a faster rate to keep up with the likes of Amazon.
"The challenge with automation is that current automated solutions require every piece to be the same size and shape and come in the same orientation," Gomez explains. "There's solutions that solve for that, but obviously with food, everything is a different size or shape and it's very unstructured and seasonal. What is distributed in December doesn't match what's distributed in May, so it's important to be flexible."
Right now, the warehousing industry is facing a challenge when it comes to flexibility as automation requires everything to be the same. Designing for automation requires more control on the warehousing side, though that tighter control can be difficult to gain.
"Humans are great at that ability [picking and packing]. Right now, robotics doesn't have that ability," Gomez says. "Even machine learning and AI are still not at the capacity of what a human can do."
Though, tighter specifications and determining which technology is right for your warehouse can help combat these challenges.
Kindred outlined five types of robotics that are currently dominating the fulfillment operation in a warehouse.
Automated Storage and Retrieval Systems (AS/RS). Designed to retrieve and put away goods, warehouses choose an AS/RS based on their needs and software will manage a majority of their operations. The machine grabs materials between aisles that move along racks to retrieve goods and allows employees to work more efficiently while reducing physical activity.
Goods-to-Person (G2P as Applied AS/RS). Created to deliver a desired product, package or SKU to a fixed pick station to help staff fulfill orders. Some devices may return goods to their slots that are no longer needed.
Automated Guided Vehicles (AGVs). As a growing option for the warehouse space, the technology automates warehouse forklifts, pushcarts and small-vehicle fleets with improvements to artificial intelligence and visual detection systems. AGVs carry goods and supplies from one or multiple locations to another, delivering items to workers so they can focus on other tasks. However, high investment costs and limited flexibility have halted the implementation of AGVs.
Autonomous Mobile Robots (AMRs). AMRs—a slight upgrade to AGVs—can reach a more autonomous state. These robots, carts and trucks are able to move independently without needing direct intervention or assistance from a human. With solutions integrated with fixed-location robots, it can bring goods and materials from shelves to the final station that is fulfilling orders.
Piece-Picking Solutions. Often referred to as robotic arms, piece-picking solutions focus on the movement and protection of goods within a certain location. Currently, the machines are used to help warehouses with product receiving and storage, and support pick-and-pack for goods that move at high volumes. In addition, piece-picking solutions make it easier for companies to perform activities for new SKUs.
"One thing that all those technologies have in common is that they can benefit the food industry. All are meant to improve efficiencies and reduce impacts on human labor," Gomez says.
Gomez suggests that AGVs may be the easiest to implement because the motorized cart can reduce strain on humans as it eliminates walking long distances.
However, it is still crucial to be flexible when implementing robotics as there are infinite factors that affect automation. For example, layout of the operation, temperature of the warehouse and number of aisles and racks can play a factor into how much time it takes to fulfill an order.
The future of robotics can take two paths, the paper suggests. There will either be further development of existing models or the inclusion of new tools to support other activities. With e-commerce expected to grow at a rapid pace in the coming years—particularly in the food and beverage space—robotics in the warehouse will only increase. According to the whitepaper, 10 percent of all U.S. warehouses have begun using automated robotics. In order to stay competitive, companies will have to determine which solution is the best for them.