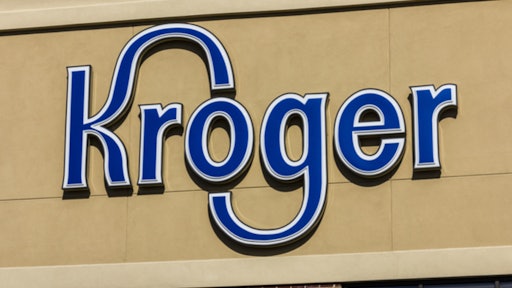 Kroger and Ocado have determined that the Cincinnati region will be the location for the first customer fulfillment center (CFC).
"Kroger is joining with the best partners in the world to co-innovate and leverage technology to redefine the customer experience," says Rodney McMullen, Kroger's chairman and CEO. "We are incredibly excited to partner with Ocado to transform the industry and deliver on our Restock Kroger vision to serve America through food inspiration and uplift. This Kroger shed, powered by Ocado, will accelerate our ability to provide customers with anything, anytime and anywhere."
The CFC, an automated warehouse facility with digital and robotic capabilities, will be constructed in Monroe, Ohio. The CFC model will be replicated to serve customers across America, with the company planning to open 20 additional CFCs in the coming years.
The CFC, also referred to as a shed, will be 335,000 square feet and is expected to create over 400 jobs.
"Kroger is committed to helping position Cincinnati and Ohio as a destination for digital and technology talent. We are proud to choose our HQ state of Ohioas the first location for this first-of-its-kind customer fulfillment center in the U.S.," says McMullen. "We thank Governor John Kasich, JobsOhio, and REDI for enabling Kroger's $55 million capital investment and creation of 410 new Ohio jobs."
Kroger and Ocado formed a partnership earlier this year to bring the Britain-based company's innovation and technologies to the U.S. Together, the companies are developing the strongest supply network to support a seamless customer experience.