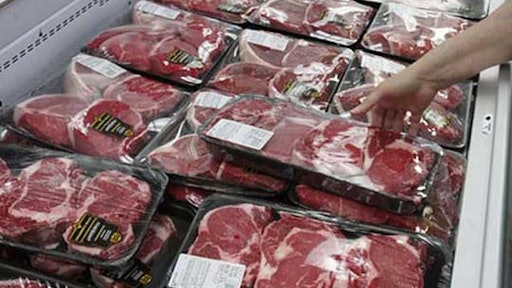 Surges in supplies and trade disputes are causing meat to pile up in US cold-storage warehouses, the Wall Street Journal reports. According to federal data, the level of beef, pork, poultry and turkey being stockpiled is equaling out to be 2.5 billion pounds.
While US consumers' appetite is growing for meat, it isn't enough to keep up production, leaving the meat industry reliant on exports. However, Mexico and China recently placed retaliatory tariffs on pork products and other goods, the Wall Street Journal reports. Other meat product products are also becoming more expensive which is starting to slow sales.
Growing meat stockpiles may bring down prices for US consumers, restaurants and retailers. Yet, overseas sales slowing down and the rising stockpiles may threaten profit for some meat processors. According to the Wall Street Journal, Chicago Mercantile Exchange saw prices drop 14 percent.
In an attempt to combat the slowing down demand, some farmers and processors are scaling back. Maschhoffs LLC, a hog-farming company, is putting on hold a $30 million investment to expand its breeding operations and upgrade truck washes, the Wall Street Journal reports. Other companies have reduced hours and turned away hogs.
The recent strength in the US economy boosted domestic consumers' appetite for meat, the Wall Street Journal reports. Farmers, ranchers and meat packers went to meet that demand by building new barns across the country. It is predicted that the meat industry will produce a record 102.7 billion pounds of meat this year.
However, cold-storage warehouses are filling up. The Wall Street Journal reports that 2.5 billion pounds of red meat and poultry were being stored in facilities across the US at the end of May.
Exports are critical to balancing out the growing supply of meat. There is only a certain amount of product that you can shift to certain channels, and if meat is stored long enough in cold-storage it become unprofitable and will be sent to rendering plants to produce fats and pet-food ingredients.
When China placed duties on pork, the industry saw an 18 percent drop over the first five months of the year, the Wall Street Journal reports. On the other hand, Mexico, the top exporter of US pork, placed tariffs on the meat as well, bringing sales to an all time low.
The Trump administration reportedly see the hardship that farmers are feeling from retaliatory tariffs and are offering $12 billion in aid.
However, for cold-storage warehouse operators, the growing meat stockpile is creating opportunities. According to the Wall Street Journal, Cloverleaf Cold Storage Co has been upgrading its technology to track the location of individual pallets to help the company run its warehouses at 90 percent capacity. NewCold has also opened up a new facility this year.