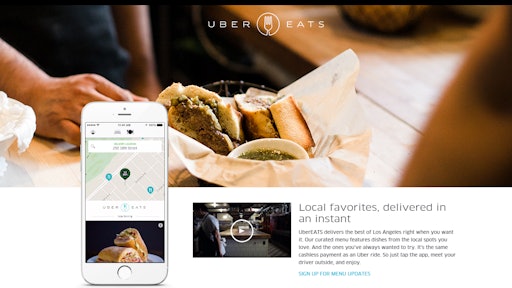 Uber today launches UberEATS, its first standalone app that isn't about getting a ride, according to Wired. UberEATS is a food-ordering app that will be available in Toronto, Canada. It will let you order food the same way you order wheels–quickly and efficiently, with the added plus that you can track its progress from the moment you tap a button until it arrives at your door.
For the past year and a half, the company has been testing a service by the same name inside its ridesharing app. It lets you pick from a couple of options to receive food almost immediately. The in-app version is currently available in 12 cities, but Toronto's new UberEATS app is different. It will offer between three and five daily dishes, labelled Instant Delivery, that will arrive within just a few minutes of your order. But, in addition, Uber's new standalone app is taking on the entire food-order industry. It's basically attempting to be a better Seamless.
UberEATS is a significant move for a company that is worth a reported $62.5-billion, based on the promise that it's the future of the logistics business. One day, the logic goes, Uber will move anything anywhere. This app offers a window into what that future could look like. And it suggests Uber will follow a portfolio strategy for its apps–building standalone software for different services much like Facebook has done by breaking out Messenger from its main Facebook app.
To read more, click HERE.