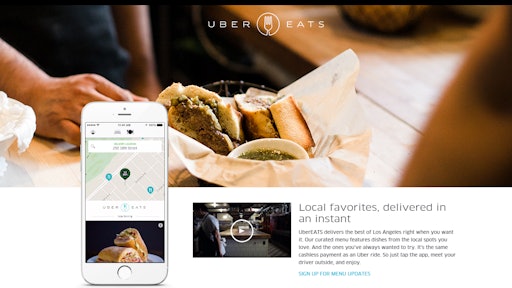 Uber Technologies Inc. is preparing to go live with a full-scale meal delivery service across 10 cities in the U.S., an expansion that will test the company's ability to use its drivers to move goods.
In the coming weeks, customers in such cities as Los Angeles, Chicago, New York and Austin, Texas, will be able to use a new, dedicated UberEats app to order from the full menus of dozens of local restaurants and have their food quickly delivered by an Uber driver, a company spokeswoman said in an interview.
Uber aims to build a new stream of revenue in food delivery, a highly competitive and still-speculative business where a range of venture-funded startups—from Postmates Inc. to DoorDash Inc.—already vie for customers. Some of these companies have struggled to demonstrate they can operate profitably, leading to difficulty raising new funding at high valuations and a slowdown in hiring.
One of Uber's early ride-hailing competitors, Sidecar Technologies Inc., experimented with delivering food and packages over the past year before shutting down last month and selling its assets to General Motors Co. In a blog post on Wednesday, Sidecar co-founder and Chief Executive Sunil Paul said his company "out-innovated Uber but still failed to win the market…because Uber is willing to win at any cost and they have practically limitless capital to do it."
The UberEats delivery service, an expansion of a lunchtime-only service Uber began offering in a dozen cities last year, will use its network of more than a million drivers to transport goods, in addition to people. In recent years, Uber has had mixed results when it tried its hand at local logistics, transporting everything from designer suits in New York to toothpaste in Washington, D.C.
To read more, click here.