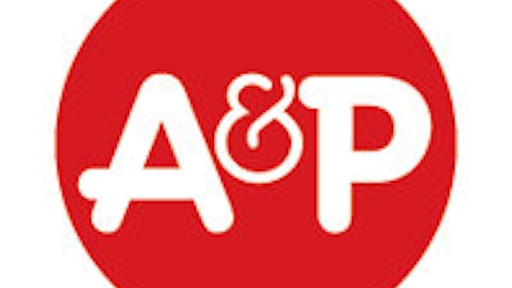 A&P issued a statement acknowledging that it is currently seeking strategic alternatives for its business, but said a sale of company assets was only one of its options, according to Supermarket News.
The statement was issued following a wave of speculation sparked by scheduled meetings between the Montvale, N.J.-based retailer and union labor leaders this week. As reported first by Supermarket News, union sources said they were informed the company was seeking a sale and had been in contact with potential purchasers, but that unions had not yet met with any potential buyers.
The New York Post on Wednesday reported that A&P was shopping 137 of its 301 stores, basing its report on what it called a list of targeted stores.
Company sources limited their comments to the following statement: "As we informed our employees and union and trade partners in March, A&P is currently reviewing strategic alternatives for its business. The review includes, but is not limited to, raising new capital from investors, considering new business partner relationships and exploring the sale of certain assets of the company. Because of its improved capital structure, the company is well positioned to consider these opportunities.
"All A&P, Best Cellars, Food Basics, Food Emporium, Pathmark, Superfresh and Waldbaum's stores are open for business as usual and will remain so throughout the strategic review process. The company is committed to continuing to serve its customers and communities as it always has and intends to keep its stores fully staffed. The review process is ongoing and no decisions have been made. The company has not set a timetable for the completion of the process, and will communicate further when the Board of Directors reaches a decision regarding a specific action or otherwise concludes its review of strategic alternatives."
To read more, click HERE.