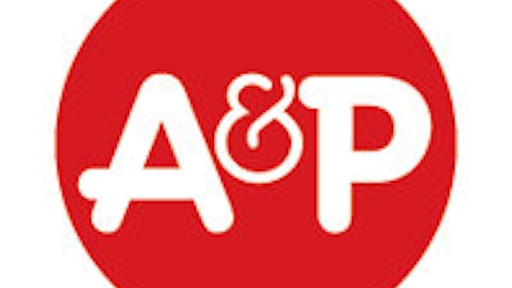 Grocery store operator A&P is filing for Chapter 11 bankruptcy with plans to sell off stores as it faces increasingly tough competition, according to the Associated Press.
This marks the second time in five years that the Montvale, N.J.-based company has filed for bankruptcy. This time around, it said it has more than 100,000 creditors along with more than $1 billion in liabilities and over $1 billion in assets.
The company plans to sell as many of its 296 stores as possible and said in a filing with U.S. Bankruptcy Court in New York that it has bidders for 120 of those operations with expected proceeds of $600 million.
The grocery chain has face tougher competition from companies like Wal-Mart Stores Inc. and Target Corp. expanding their grocery options. The business has grown even more crowded and competitive with companies like Whole Foods Market Inc. and Fairway Group Holdings Corp. catering to a more health-conscious market.
The company's formal name is the Great Atlantic & Pacific Tea Co. It was formed in 1859 as The Great American Tea Co. and renamed to its current form in 1869. A&P operates in Connecticut, New York, New Jersey, Pennsylvania, Delaware and Maryland under various names, including PathMark and Waldbaum's.
http://finance.yahoo.com/news/p-files-ch-11-bankruptcy-123315797.html
Editors Insight: This second bankruptcy filing in five years for one of the nation's flagship food retailers points to the dramatic shakeup the food industry is experiencing, largely due to new purchasing technology that is changing the way consumers buy food. The food supply chain has to be capable of allowing the food processors, wholesalers and retailers to "change on a dime" as the consumer exerts greater control over their food purchasing choices.
Consumers are learning that they can use their smart phones and iPads to shop and order their food as frequently and in any quantity they wish. The technology that the food supply chain has adopted in recent years has given consumers these new capabilities, and as a result, consumers are exercising their options more and more. The supply chain has unleashed a sea change and that sea change is now driving the supply chain.
As consumers realize they can access more information faster, they are shaking apart the long established food industry operating model. The traditional supermarket remains, but it no longer dominates the food retail landscape. The country's largest food retailer today is a general merchandiser. Convenience stores and dollar stores are grabbing a bigger share of food spending. E-commerce remains small but is growing rapidly.
Supply chain technology providers are responding to this change with a steady clip of software and hardware tools that allow food companies to succeed in this new playing field. Astute supply chain companies recognize the need to respond with a truly commerce ready enterprise. 7-20-15